---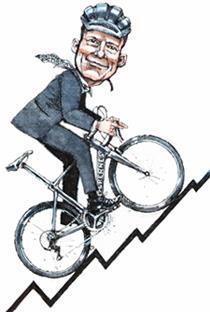 Morten Malle (pictured), investment director, Lærernes Pension, tells Rachel Fixsen how the fund stays agile
At a time when several Nordic pension funds are bringing more of their asset management in-house, Lærernes Pension, the Danish pension fund for teachers, stands out with its firm outsourcing approach.
Insourcing arguably makes more sense the larger a fund is and with DKK97bn (€13bn) of assets at the end of 2017, Lærernes Pension ranks as one of the country's bigger labour-market pension funds.
But just before setting off on a cycling tour in Catalonia, the pension fund's investment director, Morten Malle, tells IPE about the benefits of travelling light. "We are a very lean organisation, and we have a lot of external management," he says.
"When it comes to the implementation of our investment strategy, we are divided into two teams. One team, led by the fund's CFO, Henrik Walther Mogensen, takes care of the unlisted side – private equity, infrastructure, real estate and forestry, and then there is my team of just four people, who are responsible for the investment strategy and handle the listed portfolio."
This may not be a structure you see everywhere, but it works for the Hellerup-based fund.
"We work in close quarters, and this method promotes agility – if necessary we can change our investment exposure fairly quickly," says Malle.
But the main advantage of outsourcing, in his view, is that it lets you see the big picture.
"I think it underpins a long-term focus and you don't worry too much day-to-day about the value of a specific fund – which could lead to not taking enough risk because you end up constantly having your eye on threats," he says.
Has Lærernes Pension ever thought about moving to a more in-house approach, though?
"We have considered it and, in fact, half our Danish mortgage bonds are managed in house, as are government bonds and two hedging portfolios.
"But when it comes to the more risky assets, they are managed externally," he says.
Malle has observed the trend at some other funds to insource more and more asset management, and acknowledges that the cost argument favours this approach.
"If you do the calculation just on the basis of how much you pay to external managers and how much it costs to do the same thing in-house, I can see the argument – I can do the maths. But you also have to take into consideration the fact that doing so could that be a threat to your strategic focus.
"Also, with more people in the operation, there could be issues coming up within the team. The team may not work well together and perform. On the other hand, you could have a team that does extremely well, and then demands more money to manage – and if they are not given it, then move to another pension fund," Malle says.
All in all, managing the teachers' pension fund externally is worth the money, he says. "Otherwise we would not do it."
All of Lærernes Pension's members participate in the same one portfolio, and the scheme is run on a guaranteed, average-rate pension basis. Since the pension fund was set up in 1993, the investment portfolio has seen a high level of asset growth and Malle says that is expected to continue.
Assets under management are now close to DKK100bn, and this figure is expected to double at least within the next decade.
Apart from it reliance on outsourcing, Lærernes Pension's investment management is also distinguished from that of its peers through its use of a strategic allocation with a high degree of quant management with a value bias, Malle says.
"And when it comes to ESG, our approach is solely based on exclusions – which means we have a very long exclusion list.
"Other pension funds are moving towards dialogue with companies, but we have discussed this with our board, and an explicit decision has been taken by them to stick to the way we do it now," he says.
Although in asset price terms, Lærernes Pension's asset allocation is broadly split 50/50 between equities and bonds, with alternative assets playing a smaller role, about 70% of the portfolio's risk comes from equities.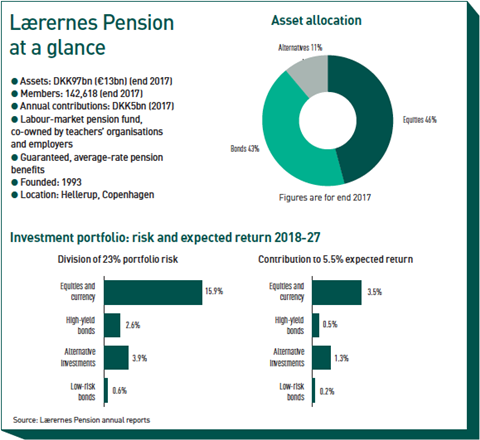 The second-largest risk factor in the portfolio is alternatives, with a 17% risk allocation, followed by high-yield and emerging markets bonds at 11% and just 2% of risk coming from investment-grade bonds – including Danish mortgage bonds and government bonds.
"To a large extent we think in risk terms when we do our allocation, and the allocation is driven by the choice of how much risk should we take and long-term expected returns," he says.
Malle describes the investment portfolio as a hybrid of a portfolio on the "efficient frontier" and a leveraged maximum Sharpe ratio portfolio. In constructing the portfolio, factors are being rewarded for expected return and diversification and punished for risk.
"We only leverage the portfolio 15%, so it's not an all-weather portfolio, and we're not aiming for that," he says.
Whether the pension fund could have a more risk-balanced portfolio has been discussed with the fund's board a few times. "One solution would be reducing the equity exposure and increasing the fixed-income exposure, but this would leave us with a much lower expected return. Another would be leveraging the portfolio much more, but the board is not happy about using a lot of leverage," he says.
An all-weather, or risk-parity portfolio, with a decent expected return would, he says, require leverage to be increased to several times its present level.
Instead, the pension fund prefers to have a relatively high exposure to equity risk – and tolerate the inevitable loss-making phases such a strategy involves over time. "For me, it's better to live with that, given the long-term return equities are expected to provide. If the market drops, we are able to absorb that. We are in a position where even if we lose 100% of our equities, we would still be solvent. If equities fall 30% to 40%, we will buy back the equity risk."
Malle explains why higher gearing could pose problems: "When it comes to the daily management of the portfolio, there are a some issues with leverage. It assumes you can always access the borrowing, but there could be a scenario where your counterparty says: we don't have the balance sheet to do that anymore, and then suddenly you have to do some reallocation.
"We have kept to 15%, and that is the leverage on our own balance sheet. But within the portfolios there is some off-balance-sheet leverage involved as well, of course – within the MSCI it may be 20%," he says.
In December, Lærernes Pension set its new investment strategy. The fund revisits its investment strategy every year, taking a 10-year view on financial markets and the balance sheet.
The strategy aims for an expected return of 5.5% and risk level of 23% – measured in the same way as laid out in the Solvency II regulation – that is, value at risk 99.5% with a time horizon of one year, Malle says.
Lærernes Pension also has strategies in place for reaping risk premia in areas it considers most promising – mainly equities, but also style.
"Through quant managers we pursue styles that are value-biased, but on top of all these investments, we have a portfolio named 'strategies' – with its own separate risk budget – and here we try to harvest more exotic premia such as the credit premium in European covered bonds and the premium arising from large price movements in listed equities," he says.
Such strategies are particularly useful in a low-yield environment – a financial climate that Malle sees prevailing for some time yet. "I foresee us having negative short-term rates in Europe for some time, but not for ever," he says.
What could change things? "Maybe a severe trade war could limit the substitution that is possible across borders, and perhaps the worries about Italy's debt situation could start something.
"But it does seem that we will have low rates, stretched markets and investors searching for yield for a while yet, though we still expect to make a 5.5% return measured as a geometric average over the 10-year period 2018-27," he says.
Lærernes Pension's allocation to alternative investments is set to increase from its already relatively high level.
"When we do forward modelling, we expect this high growth in our balance sheet to continue for the next 20 years, so there is a good case for investing in illiquid assets.
"Over the coming five years, our target for real estate, infrastructure and forestry is to increase the allocation from about 15% now to about 20%.
"That may not seem like a large increase, but in the next five years, our assets will probably grow by 50%, so it will require a lot of work to go from 15% to 20%."
Within real estate, the pension fund's strategy differs between its domestic and foreign exposure. The domestic part is residential-focused, forming an asset base that is expected to produce a stable cash flow and decent return, Malle says.
On the foreign property side, however, the aim is to create a more diversified real estate portfolio, made up of European and US investments but also including Asian and South American assets.
Infrastructure is mostly related to renewable energy, and some of the investments take the form of club deals carried out in cooperation with other pension funds.
Forestry also plays a role for Lærernes Pension. "We have significant investments in forestry and we continue to see the asset class as a good diversifier, though the challenge here is the return," Malle says.
The pension fund is working on a long-term strategy for exposure to fossil fuels, and its board decided in December that the fund should divest from some of the most risky carbon-producing activities – coal mining, oil sands and Arctic drilling.
External managers mandated by Lærernes Pension will have to take account of this new strategy, Malle says.