---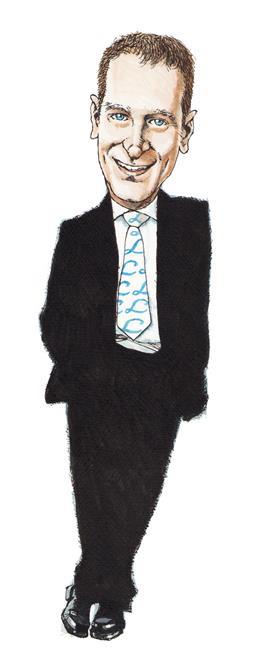 Christoph Schlegel (pictured), head of pension investments at Linde, outlines his fund's economic scenario planning and dynamic investment approach to Carlo Svaluto Moreolo
Few would deny that a paradigm shift is taking place in investment, as the financial markets move through uncharted territory. Not many investors, however, are ready to embrace that change.
The Linde Group, a DAX 30 international gases and engineering group, has done that. In an effort to bring its pension management up to scratch, the company believes it has an innovative strategy to manage its pension liabilities. Christoph Schlegel, Linde's head of pension investments, leads the team that is tasked with harmonising the investment strategies of the company's coterie of pension funds.
In outlining Linde's 'principles and beliefs' in pension management, Schlegel stresses that the strategy is not derived from "backward-looking optimisation".
He refers to classic and revised versions of the Markowitz optimisation method for building strategic asset allocation, which the funds have abandoned. Instead, explains Schlegel, the pension investments team employs "forward-looking scenario analysis" to identify asset classes that have superior risk-return features.
Such forward-looking scenarios, Schlegel says, lie at the core of the revamped strategy, and represent the answer to the challenges posed by today's financial markets.
Over recent years, the Linde Group has grown both organically and through acquisition to a business making €17bn in revenues, with a market capitalisation in excess of €33bn.
Linde at a glance
• Location of the pensions investment team: Munich
• Total assets of pension schemes (end 2013): €6.07bn
• Total liabilities of pension schemes (end 2013): €7.14bn
• Organised as a CTA (contractual trust arrangement) in Germany, with €700m AUM
• The parent company manages pension schemes in the UK, the US, Netherlands, Switzerland, Ireland and other countries globally
As well as a €700m defined benefit plan in Germany, managed through a contractual trust arrangement (CTA), Linde has pension funds in the UK, the US, the Netherlands, Switzerland, Ireland and other EU and non-EU countries.
The largest of these is the UK, with £3bn (€4.2bn) of assets under management. The plan became part of Linde in 2006, after a £8.2bn (€11.35bn) merger with the British Oxygen Company. Soon after this merger, which increased pension liabilities on the company's balance sheet, the financial crisis hit. That triggered major changes in the way Linde dealt with its pension bill.
Schlegel recalls how, after the crisis, funds started focusing on dynamic asset allocation to react to market movements. That is when the market offered opportunities in equities and credit, which the Linde funds took advantage of. "But those decisions were driven by market movements," adds Schlegel.
"We had parked the question of how we would define our long-term strategy, because we thought then was not the right time to do that – it was the time to look at the market and find opportunities."
When the market began 'normalising', says Schlegel, the company went back to the question of long-term strategy. "Although, things had apparently stabilised, it became clear we could not go back to the old method. We needed something new."
That is when Schlegel's team began using scenario analysis as the foundation for the investment strategy. The pension investments team has used this approach for three years now, and Schlegel confirms it has had a positive impact on returns.
The approach consists of elaborating "economically plausible" scenarios five years into the future. The team has identified global scenarios such as 'normalisation of monetary policy', 'financial repression' and 'secular stagnation', which have been refined to include regional asymmetries, given the divergent paths of the US, UK and EU recoveries.
Within each scenario, the team identifies the key drivers of asset price performance, such as central bank policy rates, 10-year government bond yields, the euro/dollar rate or the oil price.
The next step consists of looking at the portfolio and defining the behaviour of each asset class under each scenario. At this point, the team has to use time series data in order to make "informed assumptions", but Schlegel maintains this is not an optimisation exercise.
The last step is calculating a scenario-weighted average for each asset class and factoring in scenario dispersion. "By looking at scenario dispersion as well as scenario-weighted returns," adds Schlegel, "we can focus on risk-return efficiency."
For Schlegel, "we are at unprecedented times", when past data holds little significance, and this is the key to why optimisation-based methods of calculating risk exposures are unsuitable. He concedes, however, that applying a scenario analysis approach is an added challenge, as qualitative approaches are met with scepticism.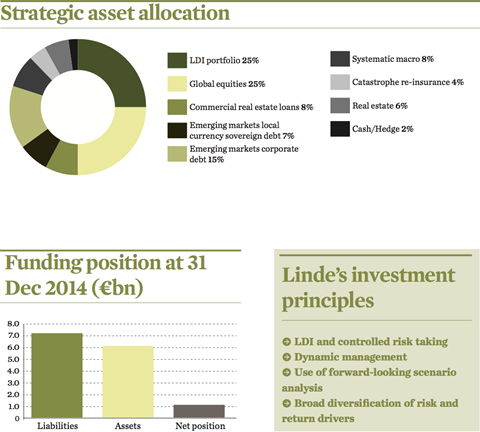 Scenario analysis goes hand in hand with a value-at-risk analysis, guided by a principle of controlled risk taking. Defining the risk the funds can take vis-à-vis the liabilities, says Schlegel, complements the use of forward-looking scenarios.
Linde has chosen the CTA set up, like many of its DAX peers. This means it carries the liabilities on its books but has no funding obligations. "Because, we are not obliged to set a target return to meet our objectives, we do not have to be focused on short-term performance."
In 2008, Linde set up a pension investments team within Group Treasury. The team, led by Schlegel, supports the decision-making of each fiduciary and investment committee.
Schlegel explains that the company's largest pension plans – particularly those in Germany, the UK and the US – have governance structures that are robust enough to make their own investment decisions.
But he continues: "My team comes into play to help those local pension plans, by developing their strategy and helping them manage their assets. As a corporate entity with all pension liabilities on one balance sheet, you want harmonised behaviour of all plans. It does not necessarily mean that every plan has to do the same thing, but the strategy and the principles need to be the same."
It also acts as an "in-house investment team" for all the Linde pension funds. Schlegel holds various roles in each pension scheme – a trustee for the UK scheme, a fiduciary role in Germany, the US and Canada, and an adviser in Switzerland and Ireland. Schlegel's work consists of sharing the expertise and knowledge he gained working across the Linde pension plans.
Linde's UK pension fund
Linde's UK DB pension plan, the BOC Pension Scheme, is closed to new employees, but open to future accrual. Christoph Schlegel, head of pension investments says the scheme, with close to £3bn (€4.3bn) in AUM, is on a de-risking path.
The scheme's trustees and the sponsor have agreed a memorandum of understanding on the long-term investment and funding strategy.
This defines exactly the funding level at which investment risk and the discount rate will be reduced. The long-term target is to achieve a high funding level using a conservative liability measure.
Under the agreement, should funding fall below a given level, the deficit will be filled by increased company contributions and future returns above the discount rate according to a pre-agreed split.
In terms of longevity risk, rather than looking at risk transfer to a third party, the strategy is to generate excess returns.
The scheme has effectively built a 'longevity buffer' that smooths the impact of changes in longevity assumptions on the technical provisions over time.
Schlegel, says: "There has been a cordial effort by the trustee board and the sponsor and we feel we have reached a good solution for both sides. We make sure we use conservative estimates on liabilities and longevity, but the philosophy is to avoid reducing investment risk, too much or too quickly."
With around €7.14bn in liabilities, and assets of €6bn, Linde's funding position is strong relative to many of its DAX peers. Recently, the interest rate hedging level of the German pension fund peaked at below 50%. However, both the company's return and LDI portfolios are dynamically managed using triggers. Therefore, as bond yields tumbled, the level of interest rate hedging reduced. Hedging is now at a very low level and there are no plans to increase it.
Schlegel says: "We felt that selling swaptions offered quite good value, since there were many constrained, regulated investors that need to maintain hedging at a given level. Our organisation, on the other hand, can sit through this level of low interest rates."
Schlegel believes rates will rise within five years, but in the meantime, with no funding constraints, the company is better off with a low hedging level.
In a stagnation scenario, with rates at near-zero level for a prolonged period, hedging pension liabilities requires a change of mindset, he says. "If your discount rate is already so low, your assets only need low single-digit returns to keep the funding level stable. Then, if there is still some growth in the global economy, it should be possible to find secure assets that deliver a few percentage points above cash. We do not need perfect matching. We would be happy with assets that deliver a return above cash."
Those securities, believes Schlegel, are to be found outside the fixed-interest-rate bond space. "In a scenario of ultra-low rates, the mindset needs to shift to 'cash plus spread' investing."
The plans, especially the German one, have increased exposure to those types of assets. Schlegel refers to the allocation to real estate debt, senior secured loans and short-duration emerging-market credit. Based on the same 'cash plus spread' approach, Linde has allocated to liquid alternatives – a broad category that includes smart beta and other systematic exposure to risk premia and natural catastrophe reinsurance.
The exposure to the latter, he says, is based on "sound structural arguments". At the moment, premiums are depressed, because of the absence of large natural disasters since 2011, but the exposure still delivers a return that is higher than most fixed-income assets, and the correlation to economic scenarios is low. What if there are heavy catastrophe losses? Schlegel explains: "If the reinsurance portfolio loses 30% in a disaster year, it's a 1% loss in the overall portfolio. That can happen in a week with the equity portfolio."
Another striking feature of the strategic asset allocation, which reflects the corporate's investment beliefs, is the very low allocation to corporate bonds, and the absence of regional equity mandates and illiquid investments (save for the reinsurance allocation). The corporate bond positions were mostly liquidated when yields first fell below historical lows, but Schlegel admits that, in hindsight, it happened too early.
The equity portfolio was restructured in the aftermath of the crisis. From regional mandates, the company moved to a global approach "to give managers the broadest possible opportunity set". Three managers with different styles – quantitative, growth and value – select stocks for the equity portfolio of the German fund.
As for illiquid strategies, such as private equity and infrastructure, the company has strong views on why they are not part of the strategy. "I do not dispute that, from an academic point of view, investing in infrastructure would be a good fit. But for a medium-sized pension fund such as ours, the odds are not in our favour. In those structures, much of the underlying return goes to the middleman rather than the provider of capital, and rightly so. If you are just a 'dumb' provider of capital, with no knowledge in that area, why should the return accrue to you?"
The other reason Linde does not invest in infrastructure and private equity, which is even more relevant, is its propensity for dynamic asset allocation. This, together with the use of qualitative analysis, is a key component of the overall strategy that Schlegel oversees. "We want to develop the investment strategy further, by focusing on changing valuation of asset classes over time, to allow an ideally anti-cyclical behaviour," he concludes.