---
Mark Fawcett, the CIO of NEST, tells Carlo Svaluto Moreolo what the future holds for the UK's fast-growing defined contribution scheme
The National Employment Savings Trust (NEST) was officially launched in 2011. It has since become one of the most prominent pension schemes in the UK and beyond, despite still being a small fund from an assets under management (AUM) perspective.
The UK government set up NEST as part of its auto-enrolment programme, which requires employers of all sizes to provide a workplace pension scheme. Employers can choose NEST from among a range of 'master trusts', the defined contribution (DC) pension vehicles created following the introduction of auto-enrolment.
The majority of UK master trusts are for-profit schemes created by insurers and asset managers. The reason why more than 250,000 employers have chosen NEST is not just that it is free to join and use for them. It is also one of the lowest-cost schemes in the market. The scheme levies an annual management charge (AMC) of 0.3% on the total value of a member's fund and a contribution charge of 1.8% on each new contribution into a member's retirement pot.
More importantly, NEST has gained recognition among employers, employees and the pension industry as an organisation determined to secure its members' retirement future. A recent testimony of the scheme's long-term vision for members is its investment in a Climate Aware fund managed by UBS Asset Management. NEST helped the firm design the fund and seeded it with £130m (€154m).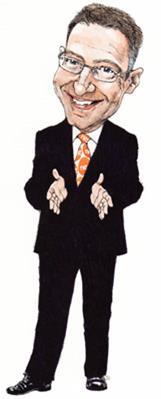 The investment represents about 20% of the scheme's developed equities portfolio and 10% of total investments in the default strategy. This means almost every member of NEST is invested in the fund. The systematic, rules-based fund seeks to mitigate the investment risks associated with climate change. But it is also designed to take advantage of the opportunities arising from the fight against climate change.
The launch of the Climate Aware fund is the latest milestone in NEST's history. Thanks to auto-enrolment, in six years the scheme has gone from zero to 4.5m members – AUM will grow quickly as a result. Delivering value for money for members will become more demanding over the years.
That awareness has informed the design of the scheme since the beginning. Mark Fawcett, CIO, recalls that the NEST story began with the design of a robust governance framework. The trustees needed a structure that would help them understand and deliver what members need. Fawcett says: "One of the things we agreed on very early was the importance of having an in-house investment team to support the trustees. They are ultimately responsible for investment decisions, but they delegate a certain amount to my team. Getting the balance right between what the trustees do and the support we give them as an executive is important. We thought about that even before we invested the first pound." The scheme's management, adds Fawcett, felt that building an internal investment team could drive decision-making more effectively than an external consultant.
"We always thought about how we could future-proof the organisation, making sure we could grow to the scale that we are meant to achieve. When we are taking millions of pounds of contributions every year, we want to make sure we have an investment approach and operational structure that can handle that amount of money and invest efficiently," says the CIO.
One of the ways to achieve its goal was establishing a target date fund structure for the different cohorts of members, as opposed to a traditional lifestyle approach. That allows the scheme to customise the asset allocation for every cohort. It also eases the administrative burden of switching from high-risk to low-risk assets for each member individually.
A third key task is building the investment team. The scheme has recently appointed John St Hill, previously a senior portfolio manager at the Pension Protection Fund (PPF ), as deputy CIO. The appointment suggests that NEST is looking towards a not-so-distant future when it will manage assets internally.
The PPF, the UK's lifeboat fund, has recently in-sourced its asset management capacity in a move that received attention and praise from the institutional investment community. Of NEST's future plans Fawcett says: "We have a road map where, at some point, we will internalise some of the asset management. The decision for that needs to be based on delivering value for money for members. There will be a cost element but also a quality element."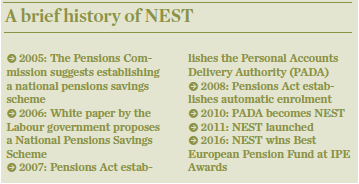 Before any of that can happen, notes Fawcett, the organisation needs to come under the regulatory oversight of the UK's Financial Conduct Authority (FCA). Other, much larger UK pension schemes, such as the Universities Superannuation Scheme or rail workers' pension scheme Railpen , have had to follow that path in order to internalise the asset management function.
Thanks to its robust governance structure, the scheme has already built a sophisticated investment approach and a diversified portfolio. Initially, says Fawcett, the scheme began with searching for managers to cover the major asset classes. It also invested in a multi-asset fund to achieve greater diversification. As assets grew, and the organisation developed internally, the scheme started to add investment into individual asset classes. The most recent addition to the portfolio is in a high-yield mandate.
The governance model evolved over time as well. In defining the strategic asset allocation, the scheme shifted from broad volatility constraints to a combination of asset groupings constraints. Fawcett says that today NEST divides the investment universe into equities, investment-grade credit, high yield and growth credit and real assets. The scheme uses control ranges and a reference portfolio, as well as volatility and other risk measures. Risk management involves tools such as stress testing, scenario analysis and stochastic modelling.
"The limits under which the board delegates investment decisions have evolved as the number of asset classes we invest in has evolved. When we set up the governance structure, we knew we had to continuously review it to make sure it is fit for purpose and follows best practice for an organisation that is growing so rapidly," says Fawcett.
Looking ahead, Fawcett sees NEST becoming more involved in real assets. He says: "We will continue to increase the range of asset classes in our investable universe. Historically, DC schemes haven't been great at investing in real assets, other than Australian superannuation funds, which have led the way. When we invested a substantial proportion of the portfolio in property, that raised a few eyebrows. But that's fine, because we know we're cash positive and can manage the illiquidity."
Fawcett emphasises that value for money is crucial in NEST's approach to DC pensions. The concept is topical in the UK institutional investment community at the moment. The FCA is conducting a study into whether asset managers are capable of delivering value for money to clients. But Fawcett says that NEST does not follow the debate in the UK institutional investment community with great trepidation.
He explains: "As a pension scheme, we haven't got terribly engaged and involved in that debate. We have always been really clear with fund managers, in terms of what we want from them and the price we are prepared to pay for it. We negotiate hard on behalf of our members, and we are informed buyers, thanks to the extensive research we do.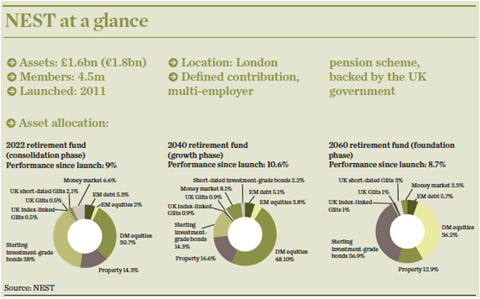 "We are very deliberate on where we choose active and where we choose passive approaches. Sometimes people have a perception that NEST is a mainly passive investor, which is absolutely not the case. In that sense, the debate about the blurring of those lines doesn't really apply to us."
Fawcett says that managers may see that there is a particular benefit to working with NEST, in spite of the scheme's resolute approach to fee negotiations. He argues: "We will help with the design of the fund if we think it will be high quality and will be suitable for a range of pension funds and other investors. The UBS Climate Aware fund is a clear example of that. As a seed investor we got attractive terms for that, but at the same time there's a benefit for UBS of getting the fund off the ground and having NEST as a seed investor. It's a real win-win situation. Our members benefit from having high quality at low cost, and we believe the managers benefit from a relationship with NEST."
But the pillar of the NEST philosophy is a focus on the diverse needs of members. Fawcett says: "Understanding our members is our first investment belief. It is a fundamental part of designing the right investment approach. We began researching the membership even before people joined."
The lessons learned from the dialogue with members are many, says Fawcett. "We expected that the default fund was going to be crucially important. We were perhaps surprised by the fact that the share of members going into the default fund would be as high as it is. I would imagine over time, as members become more used to pension savings, that percentage will fall. But it tells us that people don't want to make investment decisions, so it's important that the default fund is of the highest quality it can be and delivers good value for money." At the same time, Fawcett says the importance of complementing the fund choice with equally high-quality funds has never been overlooked.
Evidence from conversations with younger members has also driven unconventional decisions. Younger members of NEST, those in the so-called foundation phase, are invested into lower-risk products compared with the average DC lifestyle scheme. They are protected from volatility because they were found to be the most "vociferous" about losing money.
Fawcett explains that investing young members' funds into low-risk assets does not reduce long-term returns. But it helps enormously in building trust in pension savings. "The worst possible outcome would be if they stopped saving because they thought they were losing money," says Fawcett. Interestingly, portfolios in the foundation phase performed much better in recent times of stress, such as January 2016, compared with those in the growth phase.
Another lesson learned is that members are saving for a post-retirement income. That has led NEST to set up its blueprint for retirement. Members in the default fund will enjoy a blend between income drawdown, a cash fund and saving towards an annuity as they approach retirement. The innovative approach was developed following extensive research with members.
As a modern DC pension scheme, NEST represents the future of pension savings in the UK. But DC pension schemes like his need to take control, according to Fawcett. "There are three drivers of outcomes – contribution rates, investment returns and costs. We do not influence the contribution rates, but we can help build trust in the scheme so that people continue to feel happy to contribute. We can influence investment returns by choosing the right investment strategy and try to deliver consistent returns to different cohorts. We can also influence cost by making sure that we buy high-quality services at the right price." That is, in essence, what NEST's strategy is about.