PFZW's decision to divest from hedge funds was just one element of a comprehensive investment overhaul. Liam Kennedy spoke with PFZW's Peter Borgdorff, director (pictured left), and Jan Willem van Oostveen, head of investments (right), about the way the fund has renewed its thinking about itself and the world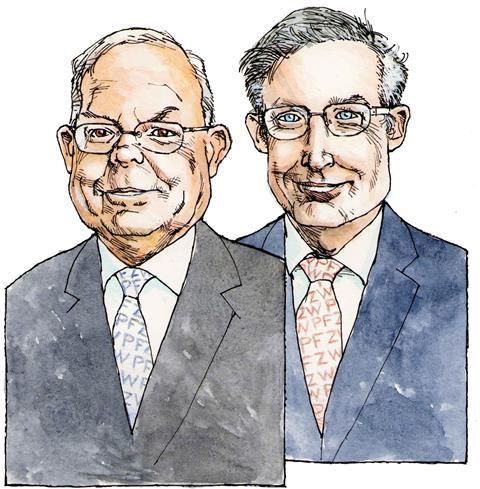 How do you go about regaining trust in your financial institution when that trust has been eroded over a number of years? The answer is not simple.
According to a survey carried out last summer by the Dutch pensions regulator, the DNB, trust of fund members in their own pension fund has fallen from more than 80% in 2007-08 to less than 60% in 2014. Ironically, the DNB itself has been the cause of much of that erosion in trust. Post the 2008-09 crisis, it imposed a number of special measures on underfunded pension funds, including cuts in future accrual and in the indexation of pensions in payment.
Unsurprisingly the initiatives have not been popular, and funds like PFZW, for the health and welfare sector, have suffered in the esteem of their members. But there has hardly been a more vocal proponent of pension fund members' interests than Peter Borgdorff, director at PFZW. One of the ways his fund has sought to rebuild trust is to rethink what it does from the bottom up.
As asset owner of €178bn, PFZW has a closely defined fiduciary management arrangement with its asset manager PGGM, which executes its investment policy and administers the back-office systems that pay monthly pensions. Large Dutch pension schemes, unlike their international counterparts, must be legally separate from
their asset management organisations. Accordingly, PFZW and PGGM became separate entities in March 2008. While PGGM has more than 100 staff, PFZW, as asset owner, consists solely of a small full-time secretariat, with Borgdorff as director and Jan Willem van Oostveen as head of investments and financial affairs.
PFZW's 11 initiatives
• Think in terms of four sources of return (interest rates, liquidity, equity, inflation) and their specific implementation.
• Increase alternative public market strategies.
• Shift policy in case of extreme market imbalances or imperfections.
• Increase efficiency, avoid portfolio overlap and cut costs.
• Increase positive sustainability footprint (eg, impact investments) fourfold.
• Lower negative sustainability footprint (eg, carbon emissions) twofold.
• Systematic integration of sustainability in investment process.
• Shift allocation towards Netherlands.
• Anticipate future legislation.
• Evaluate all portfolio building blocks to achieve greater compliance with investment framework.
• Explicitly address intelligibility and controllability.
The board is responsible for the terms of the pension arrangement, as well as for the policy of the fund and its sound execution. It is accountable to a pensions council, which consists of members, pensioners and employers, while a board of supervisors oversees policy.
In 2013, PFZW renewed its six-year asset management contract with PGGM, but a service-level agreement is agreed each year between the two. Last year, new fiduciary management and policy advice frameworks were put into place, along with a product-approval process and client-facing risk reporting to a level determined by PFZW with a countervailing power within PGGM. Fiduciary management is now a dedicated unit within PGGM.
PFZW at a glance
• Covers the Dutch health and welfare sector
• Assets: €177.7bn
• Members: about 2m
• Policy funding ratio: 104%
• Location: Zeist, the Netherlands
PFZW's new investment framework, as determined through its White Sheet of Paper project
"The investment framework describes our convictions and principles with regard to investment. These form the basis for our conduct: what we do, what we do not do and the conduct we demand of others. The resulting investments are focused on efficient achievement of our pension ambition and incorporate sustainability, and are intelligible and controllable."
Last year, PFZW also embarked on what it terms its 'White Sheet of Paper' (WSOP) exercise. The aim was to determine how it could invest in a way most suited to its financial ambition (to pay indexed pensions), in which sustainability is fully integrated and in a way that is intelligible and controllable. Unlike most initiatives, which start with PGGM, this project was very much PFZW's.
The project has lasted one-and-a-half years, involving interviews with 26 board members and experts, with input from more than a dozen external speakers. "We started with a lot of external people to look at what we should do, how we should change and how they see our pension fund," van Oostveen says. The outcome was a series of investment convictions and principles PGGM must now implement.
Achieving PFZW's goal of indexed pensions will be tricky, given long-term lower return expectations and the current interest-rate environment. PFZW, like other pension funds since the first financial assessment framework (FTK) was introduced in 2007, makes no promises about pensions other than outlining its ambition to achieve a real pension outcome for members rather than a nominal one. This is a central element to the Dutch 'defined ambition' pensions system.
In terms of investments, the '2020' investment policy has five main objectives: return and risk parameters; sustainability; intelligibility; controllability; and costs, which together have been interpreted to include 11 initiatives (see PFZW's 11 initiatives). All asset classes have been assessed in terms of their ability to help meet the overall goals of the fund. And PFZW has moved fast in some areas, such as in exiting hedge funds, perhaps the element of the new policy that has attracted the most attention both in the Netherlands and internationally. Hedge funds have been almost entirely divested, according to van Oostveen, which in part fulfils the goal to improve cost efficiency.
The first of the 11 initiatives is to abandon the previous 24 asset class definitions used by PGGM (23 since the hedge fund divestment) and to categorise all investments in terms of their return sources – namely interest rates, liquidity, equity and inflation. Here PFZW assesses itself to be 80% compliant in terms of the 2015 investment plan and fully compliant in terms of the overall policy agenda.
"This does not mean the portfolio is less complex, although complexity and how to manage it was a huge pillar in this project," says van Oostveen, who was head of internal alpha at PGGM for 10 years before he moved over to PFZW. "This is the responsibility of the board, and the board has to explain it to the outside world as well. Over recent years, we have made our portfolio more and more complex. Is this complexity necessary to meet our ambition, or is it overkill?"
Borgdorff says the key is not a reduction in complexity in itself but a combination of management of complexity, costs, returns and transparency. "What we saw in hedge funds was that returns were not what was promised, and transparency did not meet our requirements, particularly in ESG and costs. But complexity can serve our goal to achieve sufficient return to provide a good pension. It's not a binary world where you say if something is wrong you will divest – it's a balance between all the issues."
Other initiatives, such as increasing domestic investments, serve a more openly political agenda. Borgdorff has been publicly lukewarm about PFZW's commitment to the Dutch government's NHI mortgage securitisation vehicle, and said last year that the fund was taking part "with slightly forced enthusiasm". Nevertheless, he has conceded it would not be remiss to rebalance the portfolio somewhat towards the Netherlands, given the massive international diversification that has taken place since the mid-1990s. Some of these domestic investments are likely to be in infrastructure, which itself meets the second goal – to increase alternative private market investments.
For PFZW, a key to restoring trust lies in a greater role for the fund in the area of sustainability, in part to reflect members' wishes. The fund is part way to meeting its objectives of measuring and reducing the carbon footprint of its investment portfolio. Here it admits that the least progress has been made.
The two main targets are to halve the carbon exposure and increase investments in impact investments fourfold, from €5bn today to €20bn, with both targets to be achieved by 2020. Listed equities are a good place to start when measuring carbon exposure, and PFZW calculates its share of CO2 arising from its €55bn listed equity portfolio to be 1.2m tonnes.
Van Oostveen concedes carbon measurement is harder for other asset classes, where disclosure is patchy or non-existent. PFZW must also determine how it is to allocate its carbon exposure across the corporate capital structure – from equities to bonds (its credit holdings alone, in corporate bonds, high yield, emerging market debt and structured credit, total more than €21bn). The head of investments is agnostic about the precise allocation of carbon emissions but calls for a workable industry standard.
"We are also a member of Eumedion [the Dutch corporate governance association], which is trying to force companies to use integrated reporting, following the guidelines of the IIRC," adds Borgdorff, referring to the International Integrated Reporting Council. But Eumedion's focus is purely on Dutch listed companies.
In private market investments, where PFZW has more than €36bn in private equity, infrastructure and real estate, the focus will be on new investments, where PGGM can be clear from the outset about the information it requires and is more likely to get. It's not as simple as investing in renewable energy, which would clearly not have the right risk/return characteristics.
"In infrastructure, there is a lot to do, and in real estate we have already been working with carbon emissions for years," continues van Oostveen. "We have a structure in which managers report to us, so this looks like the easier investment category. What we want is a change of mentality in the industry, but this is not a goal in itself. It should lead to a more sustainable world. In that way, we are agnostic about the way we measure emissions, but the plan should be workable and lead to a change in behaviour."
Impact investment is well known in the US but relatively new to Europe, which makes PFZW's goal to quadruple its exposure to €20bn, with a focus on medicine, water and the environment, all the more challenging. "We have been through a search process, and we see there are managers in the market able to manage impact investments, but it is a small group, and dedicated managers are pretty rare," notes van Oostveen. The first investments are expected to be announced in the second half of this year.
Borgdorff and van Oostveen admit that PFZW has given itself a tough timetable to implement its White Sheet of Paper programme by 2020. By then, perhaps, a new collective defined contribution framework for Dutch pensions will itself have changed the way members view their pension fund, which will lead to a new set of challenges and goals.