---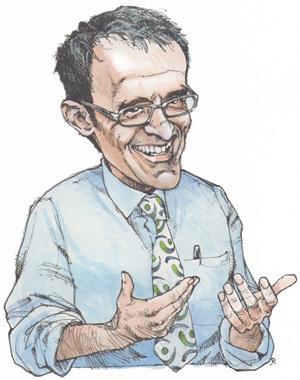 Paolo Stefan (pictured), director of Solidarietà Veneto, tells Carlo Svaluto Moreolo about the Italian fund's regionally-focused investment strategy
Italy is a culturally diverse country, and this is reflected in Italian life, including institutional investment. Therefore, if you are visiting Solidarietà Veneto's offices on the Venetian mainland, you will meet an Italian investor, but one with Venetian features. Solidarietà Veneto is fond of its roots in Veneto, a wealthy north-eastern region with a long-held tradition of entrepreneurship.
At a first glance, Solidarietà Veneto looks like any other Italian pension scheme. With assets under management of about €1bn, it is based on a multi-portfolio structure and it is more risk averse than some European peers. But a closer look reveals that Solidarietà Veneto is a unique, inspirational example of state-of-the-art institutional investment in Italy.
The fund caters for employees of companies based in the Veneto region. What separates it from its peers is its tight connection with the regional economy, says Paolo Stefan, director of the fund. Another Italian regional fund, Laborfonds, from neighbouring Trentino, has also focused on the local economy, so far through private debt.
Solidarietà Veneto, named to evoke feelings of solidarity between fellow Venetian workers, was among the first Italian pension schemes to invest in private equity. Predictably, these investments were focused on companies operating in its home region. As a region, Veneto is a fertile ground for private equity investors, as the economy is built upon thousands of small and medium-sized companies rich in skills, innovation and international ambitions.
Solidarietà Veneto was set up in 1990 and grew through a series of agreements between local branches of trade unions and employers' associations. This strong regional attachment is the scheme's DNA, says Stefan. Since the initiation of the private investment strategy, he spends more time talking to local firms about what the scheme could potentially do for them as an investor.
Solidarietà Veneto at a glance
• Regional second-pillar multi-sector defined contribution (DC) fund
• Assets: €970m
• Membership: 50,100 (6,030 companies)
• Location: Venice
• Founded: 1990
The message, however, is often misunderstood. Veneto, explains Stefan, is "a region imbued with entrepreneurship", but many entrepreneurs are in their 50s or 60s, and have an old-fashioned approach to business.
"It is very hard work," Stefan says. "I fear entrepreneurs are not yet ready to embrace the idea of seeking financing from outside the banking channel. Firms ask why they should seek loans or equity investment from us instead of banks. We present ourselves as long-term investors, as we will still be there when the banks curb lending. Often, we are asked what we get in return. Our aim is to develop the system, one where we can provide welfare and make investments at the same time. We make ourselves available both to employees and employers. That is our social purpose."
These efforts have borne fruit. In 2013, the scheme launched an alternative debt strategy focused on 'minibonds', initially committing 5% of assets, and allocating the investments to three of the funds offered within the scheme structure.
The minibond portfolio is managed by Finanziaria Internazionale (Finint), a local banking and asset management group, and currently valued at around €40m. It is invested in three private companies – Rigoni and Pasta Zara, both food companies, and Corvallis, a software outfit – the region's Hydrobond project. This consists of a pool of debt assets to finance the modernisation of Veneto's water and sanitation infrastructure. The portfolio is also invested in a local road project.
The strategy can target listed and unlisted debt instruments of different sizes, with the condition that they are issued by local companies. Stefan says that the best opportunities were found in the listed minibond market.
Minibonds were introduced in Italy by Mario Monti's government to stimulate the economy and have enjoyed mixed fortunes. Asset managers greeted the initiative with enthusiasm and launched numerous minibond funds.
But many institutional investors did not like the idea. There was a shared concern that the investee companies were seeking pension fund backing because they did not qualify for bank finance, implying they were risky investments. The fact that many of the minibond funds were backed by banking groups raised further suspicion. Stefan says that transparency within the nascent sector has improved. If certain investments have made their way to the market, he argues, it is an indication that they are high quality.
Solidarietà Veneto embraced private equity last year. In February 2015, the scheme allocated €7m to Fondo Sviluppo PMI, a private equity fund backed by Friulia and Veneto Sviluppo, two local government investment funds. Another €7m was committed to Assietta Private Equity III (APE III), a fund managed by Assietta, a Milan-based private equity specialist.
Fondo Sviluppo PMI mainly targets majority stakes, in local businesses with turnovers up to €50m, and aims to offer managerial support to investee companies. The APE III fund invests in firms of a similar size, with low leverage, and plans to expand internationally, but targets minority stakes.
The target allocation to private equity amounts to €30m. The scheme is currently conducting due diligence on new private equity investments.
"The purpose of the alternative investments is to achieve diversification of both the bond and equity portfolio," says Stefan. Diversification, is one of the pillars of the fund's investment philosophy.
To uphold that diversification principle, the scheme has designed four portfolios that suit different phases of members' working life, thus implementing a 'soft' lifecycle approach. Prospective members can choose whichever portfolio they prefer, but the scheme goes to great lengths to advise them which portfolio suits them.
Like many Italian pension schemes, Solidarietà Veneto has named its portfolios to reflect their risk profile, using recognisable names: Garantito TFR, Prudente, Reddito and Dinamico. The Garantito TFR portfolio offers a guaranteed return, and is allocated to bonds, with just a 5% equity exposure. It is managed by Cattolica Assicurazioni, with which the scheme signed a six-year agreement, renewable for another six years at the same conditions. The mandate expires in 2019 and was fixed under favourable market conditions, much to Stefan's satisfaction.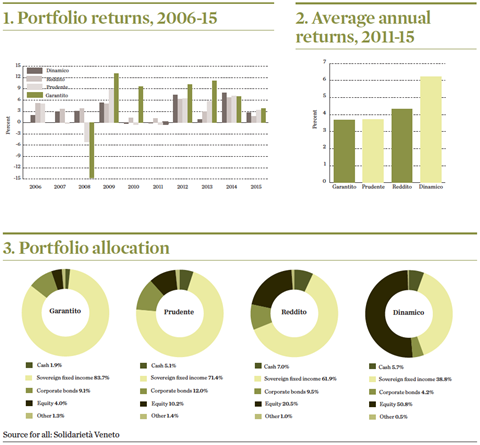 The Prudente portfolio originally allocated 90% of assets to fixed income and 10% to shares, but the equity portion rose to 15% at the latest strategic asset allocation review. The fixed-income portion is split into 60% short maturity (1-3 years) and 20% in pan-European sovereign bonds, with 5% in minibonds. The scheme is appointing a new manager for this portfolio to replace Groupama Asset Management.
The equity portion within the Prudente portfolio is invested following a rigorous socially responsible investment (SRI) approach. But this has not proved to be attractive to members, says Stefan. The scheme has discussed expanding the SRI approach to the whole portfolio, but so far there are no concrete plans.
These portfolios are designed for workers who are within 10 years of retirement. The Reddito and Dinamico portfolios are dedicated to younger members.
The Reddito portfolio has 75% in fixed income, including short-maturity pan-European fixed income, with 5% in local private debt. The remaining 25% is in equities, with 20% in OECD equities and 5% in local private equity.
The Dinamico portfolio, designed for its youngest members, is equally split between equity and fixed income. The equity portfolio is invested in OECD-listed equities with active management, but includes a 5% local private equity component. Fixed-income assets are allocated to pan-European fixed income, 30% in short-maturity, 10% all maturities and 5% in corporate bonds. The remaining 5% is again allocated to private equity.
The equity portion of the Dinamico portfolio is actively managed against an OECD benchmark by Pioneer Investments in a mandate that runs to 2018. Stefan says Pioneer had been outperforming the benchmark by eight percentage points at one point during 2013. Recent underperformance has dented the record, but 10-year annual performance for the overall portfolio is 4.5%
Market turbulence at the beginning of 2016 affected all four portfolios, which registered negative performance in January and February. Garantito was down 0.19% against a 0.26% dip of the benchmark, Prudente slightly underperformed the benchmark (minus 0.53% versus minus 0.35%), Reddito lost 1.52%, while Dinamico fared a bit worse than its benchmark (minus 3.28% versus minus 2.41%)
However, long-term performance is more reassuring. Over the last decade, cumulative returns were 37.9% for Prudente, 34.2% for Reddito and 42.7% for Dinamico. These results compare favourably with the cumulative benchmark return, which is 25.7% over the same period.
The asset allocation review is set for three years beginning in May 2016. Stefan explains that the scheme's asset allocation had to be adapted to the new guidelines established by the no 166 law of 2014.
This law replaced the previous regime that had been in place for almost 20 years. It allowed Italian pension funds to invest in emerging markets, and established qualitative criteria for making asset allocation decisions.
However, the framework also introduced new quantitative limits, particularly regarding currency exposure. Pension schemes are not permitted to have foreign currency exposure above 30%, and Solidarietà Veneto had to change its benchmark accordingly. Stefan explains: "We always focused on having significant international diversification, which affected our exposure to currencies. As a result of the new law, we had to contain the level of diversification we previously sought."
"Given the profile of our members, and the portfolio choices that were made by us and them, they will earn a replacement rate of 80% at retirement, even with real rates at zero"
The scheme, argues Stefan, seeks an appropriate level of diversification to serve the interests of its varied membership better. Unlike its peers, whose members tend to choose the largest and less risky portfolios, Solidarietà Veneto has achieved a good distribution of members and assets across its portfolios. The 'fringe' portfolios, Garantito TFR and Dinamico, have enjoyed greater traction compared to other schemes with a similar structure.
Communication with members is important, Stefan says, so efforts will be stepped up. Italy's social security fund, Istituto Nazionale della Previdenza Sociale (INPS), is keeping its promise of transparency made by chairman Tito Boeri, and is informing Italians in greater detail about their retirement prospects. "Existing and prospective members are likely to require more and more information from us," says Stefan.
Stefan sees engagement with members as a key component of his work. At the end of 2015, the scheme undertook a comprehensive study of its membership with the help of MEFOP, the Italian government's pension think tank. "My view is that, given the profile of our members, and the portfolio choices that were made by us and them, they will earn a replacement rate of 80% at retirement, even with real rates at zero. Therefore, we do not have to target an aggressive asset allocation. Instead, we can focus on keeping abreast of inflation."
That view will change completely, he warns, if the Italian government goes through with its plans to increase retirement flexibility. The government has made no secret that it is looking at allowing workers to retire early under certain conditions. If that becomes law, Stefan says the scheme will have to conduct a deep review of its strategic asset allocation. "We keep a close eye on the future development of pension legislation," says Stefan, "but the current asset allocation makes us feel calm, and we do not have to push ourselves towards a riskier strategy."