Pension funds dominate the Icelandic capital markets gobbling up opportunities
Key points

Pension assets were equivalent to 158% of GDP at the end of 2018
6% annual growth is envisaged in the next four years
Assets look set to grow by three or four times GDP by 2067
Iceland needs foreign investment in its economy as well as overseas opportunities for its pension funds
Iceland often top lists of equality, safety and peace rankings and was recently ranked as the best country to retire in, according to a study by Natixis Investment Manager's Global Retirement index.
In the Natixis report, Iceland climbed from second place and scored highly on retirement finances, health, material well-being, government debt, interest rates, inflation, income equality, income per capita and unemployment.
Despite the accolades, the enviable position of having a fully funded pension system also creates problems.
A recent study of the Icelandic pension system by Institutional Asset Management at Arion banki, shows that the pension system could have assets equivalent to three or four times that of GDP by 2067, compared with 158% at present. Large positive inflows are expected for at least the next decade, in asset and GDP terms (figures 1 and 2).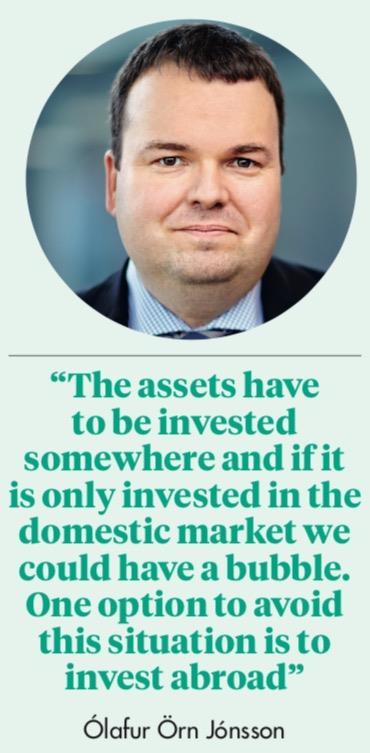 Ólafur Örn Jónsson, senior portfolio manager at Arion banki, says having such a large volume of pensions assets relative to GDP is already problematic. "The assets have to be invested somewhere and if it is only invested in the domestic market we could have a bubble. One option to avoid this situation is to invest abroad," he says.
According to the Icelandic Financial Services Authority, the country's pension funds invested 28% of total assets internationally at the end of 2018. This was up from 20% when currency controls were introduced in 2008 but still short of the 30% allocation prior to the restrictions. Jónsson says it is expected that pension fund investments internationally will have risen to 40% by 2026.
Since new investment guidelines in 2017, the maximum investment limit for international exposure is 50% but with currency hedging it can exceed that level.
Jónsson says that not everything will be solved by international exposure as liabilities remain in Icelandic króna. "We have to have inflows from international investors into Iceland as well in order to mitigate the large size of the system. We cannot solely rely on boosting international investments since our liabilities remain in ISK," he says. This remains an option while current foreign currency reserves are at historically high levels and the economy is ticking along, but there might come a time when this is not the case. "What if foreign currency is not so readily available?" he says.

Jónsson has looked at both occupational and public sector funds as well as private pensions. Total assets at the end of 2018 was over ISK4.44trn (€32.3bn) with a growth rate of 6% for the next four years and positive inflows until 2033. In order to better forecast he used assets, premiums and pension pay-outs according to pension fund annual reports at the end of 2018. He used Statistics Iceland's population forecast to 2067 to predict pension premiums and pay-outs. Assumptions on GDP and real wages in the first three years are from the central bank but after that 1% GDP growth and unchanged real wages is assumed. A 3.5% real return on assets is also assumed. Jónsson says that while the returns may seem high it is industry standard and in line with actuarial assumptions.
Jónsson says the size of the pension sector creates pressure on the economy and solutions will not be easy. "Having a pension system that is three or four times the size of GDP would be an issue even for larger economies. We do not have any simple solutions to this. There has been talk of cutting the payments into the system or improving the links between pensions and the social security system," he says.
One solution that has been suggested is infrastructure investments. The country is currently revising its private-public partnership legislation in order to facilitate financing and attract capital (see separate article).
"If infrastructure projects are well-set up it could attract both international and domestic capital from institutional investors and in the long run boost GDP, creating a virtuous cycle," Jónsson says.
Reform agenda
Iceland is preparing for reforms of its pension regulations. One issue has been the lingering consequences of the 2008 global financial crisis and the resulting capital controls. These controls were removed in 2016 and new investment guidelines introduced the year after.
The controls forced pension funds to only invest domestically which resulted in pension funds owning a large proportion of all listed stocks and bonds. This has led to questions about share prices and the liquidity of the bond market as well as concerns over competition and how pension funds can act as effective active owners. Other issues highlighted are management relationships as well as the homogeneity of the investment groups. The review wants to ensure the functioning of markets and boost confidence of international investors.
A report was published earlier this year on the role of pension funds in the Icelandic economy. The report, commissioned by the prime minister, recognises the risk associated with the size of the Icelandic pension funds and proposes lowering the perceived risk of the pension funds as corporate owners.
Its recommendations also favour raising target allocations internationally to increase asset diversification. In addition, pension funds would be obliged to publish ownership and voting reports annually.
Denmark: Fresh blood replaces the obsolete
1

2

3

Currently reading

Iceland: A dominant force

4

5

6