---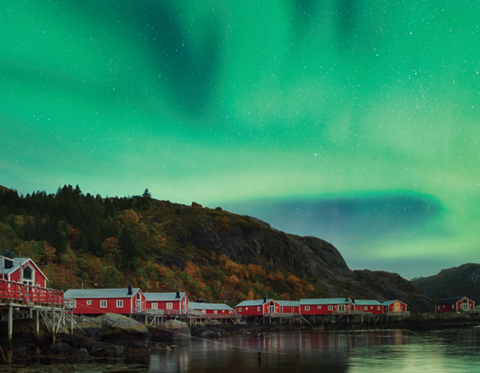 The lifting of capital controls will allow Icelandic pension funds to invest more overseas
Key points
• Icelandic pension funds have started a wave of portfolio rebalancing by moving assets abroad
• Pension funds have 25% foreign allocations although up to 40% would be advisable
• Foreign asset allocation is key, given population growth and increases in statutory pension contributions
he 2008 financial collapse of Iceland's banks put a halt to many things. One was the process of portfolio diversification that pension funds had been engaged in for the previous decade.
With pension funds taking the lead, between 1997 and 2007 Icelandic investors' international allocations rose to 30% from zero, according to Reykjavik-based Gamma Capital Management. But with the restrictions on capital flight that were imposed at the height of the financial crisis now lifted, the second wave of portfolio rebalancing is to start, Gamma predicts.
The issue of increasing allocations to foreign assets is one Gamma has been analysing on behalf of local pension funds, says Valdimar Ármann, the firm's chief executive: "We are a big advocate of the fact they need to diversify their savings abroad, and the reasons why they should do that have not diminished," he says.
Funds have about 25% of their assets invested overseas, but this proportion should be closer to 40% in Gamma's view. "We have calculated that to get to that level, the funds will need to allocate up to $9bn (€7.3bn) abroad in the near term, since pension fund inflows are still larger than outflows."
This, he explains, is because of the country's positive demographics, and the recent increase in statutory pension contributions by the employer from 8% to 11.5% making the total contribution 15.5%.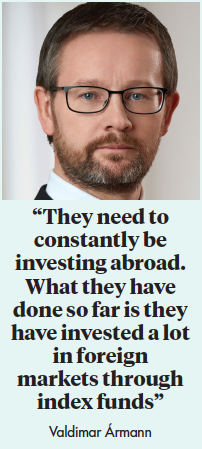 The increase in employer contributions is set to delay the point at which Icelandic pension funds have net outflows to 2050 from 2034 under the current contribution rate (see figure).
With the additional inflows, the total amount of new capital the pension system will need to invest abroad is probably closer to $25bn over the next 10 to 15 years, Ármann estimates. "They need to constantly be investing abroad," he says. "What they have done so far is they have invested a lot in foreign markets through index funds since around 2005."
However, the Icelandic financial crisis of 2008 which led to the imposition of capital controls, brought this rebalancing to a halt.
The pension funds have been able to resume foreign investments to a limited extent over the last two years as the central bank granted certain allowances, but only since the middle of last year, when the capital controls were fully lifted, have the pension funds been freed from a regulatory standpoint.
Sigurgeir Tryggvason, CEO of Icelandic asset manager Summa, says that as a consequence of these capital controls, the portfolios of the pension funds are comparatively concentrated in Iceland. "Given the demographics and relatively high saving rates, the capital inflow to the pension funds has been high and the size of the Icelandic pension system in relation to the size of the economy is high," he says. This can lead to further concentration risk for the funds, he says.
There is an awareness of the need to increase international diversification, and "soft pressure" for them to do this, Tryggvason says, but notes there are no hard measures in place.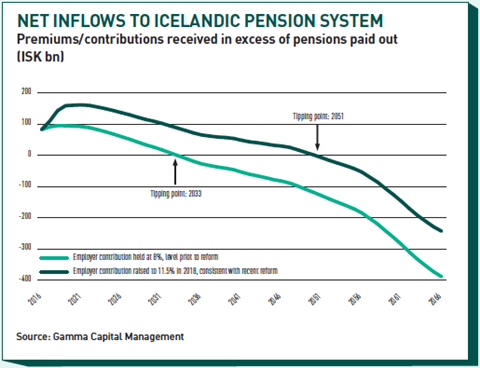 Current interest rate differentials complicate the picture. "Given the high real interest rates in Iceland and the recent strengthening of the Icelandic kroner due in part to the positive current account, the short-term attractiveness of going into the low interest rate environment and high valuations in the neighbouring countries is limited at the moment," Tryggvason says.
Concerns that competition could be compromised by the domination of pension funds as corporate owners in Iceland have been addressed in a recent government report.
The study produced by working group led by Gunnar Baldvinsson, CEO of the ISK184.9bn (€1.52bn) Almenni Pension Fund has made a series of recommendations, including that funds draw up strategies on corporate ownership policies.
However, Ármann says the discussion about pension fund ownership is unfair. "It is not in the interests of the funds to distort the economy in any way, and they have been coming up with some good initiatives on corporate governance — so they are having a good influence in my opinion," he says.
As part of their foreign diversification, the pension funds will have to broaden the range of asset types from equities, asset managers say. "The best reason for investing abroad is risk diversification, so they need to take on more investments that are safe, such as fixed income, real estate and infrastructure projects," Ármann says.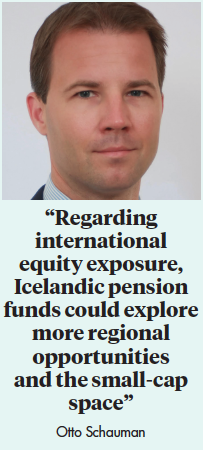 "What they are trying to do is to diversify away from the risks of investing in the Icelandic economy and protect against a weakening in the currency.
"For that reason, the funds' foreign investments need to be relatively low risk," Ármann says.
Gamma has been working to find suitable projects abroad for Icelandic institutional investors, and has launched two funds in the UK and one within the US which should suit pension funds as well, he says.
"The UK funds holds property and social infrastructure assets, and the US fund invests in credit within the seafood industry," he says.
Gamma has also established relationships with foreign fixed income managers and plans to establish specific fixed income strategies as well as broader global fixed income products, he says.
Tryggvason agrees that within their international diversification, funds should increase their share in real assets and alternative investments.
At Aberdeen Standard Investment, Otto Schauman, its head of distribution Finland, says it could be good for pension funds to take a closer look at absolute return strategies in times of increasing volatility. "Regarding international equity exposure, Icelandic pension funds could explore more regional opportunities and the small-cap space," he suggests.
Within bonds, he says the high returns in the domestic market do not encourage international diversification as similar returns are difficult to find elsewhere.
"However I do think diversification will be important in this space as well," he says. "For example, Indian bonds still offer nice yield, with low vol and low correlations with major global fixed income asset classes".
While the arguments for geographical diversification are clear, the ideal timing for pension funds to implement the portfolio adjustment is less so. "One should fix the roof when it is not raining and the conditions in Iceland at the moment are favourable to diversify to foreign investments – it could become more challenging in other times," says Tryggvason. "This is clear, but timing the market as such is quite difficult," he adds.
Because timing is difficult, Schauman says the diversification rule needs to be applied. "Increasing foreign investments at an even pace over time makes sense. Also, keeping some dry powder in times when worldwide market volatility is increasing is perhaps not such a bad idea," he says.
IPE In Iceland – 2 October 2018
IPE In Iceland is a new forum dedicated to senior Icelandic pension fund investors. Informative, Iceland-specific and free to attend for qualified pension funds, this unique one-day forum brings together investment decision makers with asset manager specialists, European pension fund peers, chief economists and key local stakeholders.
Join to hear speakers address macroeconomic drivers, foreign market conditions, alternative investment strategies, ESG approaches and strategic asset allocation.
Iceland woos foreign institutional investment
Ten years after its catastrophic financial crisis, Iceland's recovery and booming tourist industry have brought it to a crossroads. It is at a point were foreign institutional investors could capitalise, argues Valdimar Ármann, chief executive of asset manager Gamma.
"There is opportunity for seasoned investors to take projects to the next level," he says.
The opportunities within the tourist sector are varied, he says, ranging from snowmobiling to hotel construction and transportation.
Within these areas, he says, investors can decide whether they want to build, own or operate real estate and infrastructure supporting tourism — or do all three.
Transport infrastructure in particular is needed in order to rebalance the tourist locations on the Icelandic map.
"Iceland is a very big country, which is the same size of England, but most tourists only visit the capital and the southern part of the island," he says.
"So there is a large opportunity, which would open up new nature areas to visitors."
As things stand, there is a danger that tourist visits will remain concentrated on the south, which could have negative consequences — including immediate practical effects such as a lack of available parking.
"Looking ahead, Iceland is in need of fixed income investors especially," Ármann says.
However, the Icelandic central bank imposes a penalty on fixed-income investors, requiring them to deposit 40% of the investment's value into a zero-interest account for 12 months.
This restriction deters not only players from countries with low bond yields looking to profit from higher Icelandic interest rates via carry trades, he says, but also long-term investors who favour the country's economy from a fundamental standpoint.
Despite Iceland's distance from Norway, Sweden and Denmark, he argues that Icelandic investments do belong in Nordic portfolios.
"Iceland is part of the Nordic region, so any Nordic investors should have Iceland in their portfolios — and now is a good time for them to make that inclusion," he says.
Iceland: Preparing for a second wave
1

Currently reading

Iceland: Preparing for a second wave

2

3

4

5