European defined contribution schemes have lagged the trend to illiquid investments
Key points
The low level of real yields is pushing investors towards illiquid assets
Defined contribution schemes have lagged behind this trend
Investment in illiquids is through funds
Defined contribution (DC) schemes have been sluggish to invest in illiquid assets relative to their defined benefit (DB)siblings, but changes are afoot that may see this reversed.
With developed market real yields below zero, and most asset classes subject to price inflation, Mercer's latest European asset allocation report noted that the "challenging environment for investors" meant that they would "need to consider less familiar asset classes and more flexible strategies in order to meet return objectives".
One way to achieve this is to seek illiquidity premia, "alternative assets that offer some additional return in exchange for reduced liquidity and greater complexity as well as providing a regular income stream".
The main illiquid assets are private equity, private debt, infrastructure and direct real estate, although the latter is considered separately. The average allocation to illiquid alternative assets in Europe increased from 4% in 2008 to 22% last year, according to Mercer, which found that the "main asset classes expecting to see inflows are private debts, secured finance and infrastructure".
"There is a slow shift away from the assumption that if you have a scheme where the bulk of participants are in their 20s to 40s, all you need is a global equity portfolio, to an understanding that you need diversification through access to different risk premia"

Stephen O'Neill
DC schemes have, however, lagged the trend. This, says Stephen O'Neill, senior investment analyst at the UK's Nest scheme, because of the transfer of risk from sponsor to participant. "However," he says, "there is a slow shift away from the assumption that if you have a scheme where the bulk of participants are in their 20s to 40s, all you need is a global equity portfolio, to an understanding that you need diversification through access to different risk premia."
Nevertheless, illiquidity concerns remain a brake. This seems counterintuitive, given the long-term investment horizons of pension funds, but DC schemes have to price daily and need access to their assets, as Stefan Beiner, head of asset management at the Swiss Federal pension fund Publica, explains: "The greatest risk associated with illiquid investments occurs when an investor has an immediate need for cash. As a result, this could lead to so-called emergency sales: an illiquid asset must be promptly sold regardless of the associated price."
However, he says, "the corresponding risk is significantly reduced if the investor has a sufficient amount of highly liquid assets. Thus, the investor does not become a forced-seller." Publica has identified three liquidity needs: the monthly pension payment; the rolling of the currency hedging overlay programmes and realisation of gain/loss; and the re-balancing of asset classes within their specified bandwidths. It assumes an overall liquidity requirement of just over 20%.
The problem of illiquidity appeared in the wake of the UK's Brexit referendum in June 2016, when many investors in direct UK real estate found their funds had been 'gated', in what some saw as the biggest seizing up of investment funds since the global financial crisis. The feared Armageddon did not come to pass, and by the end of the summer it was business as usual, but the events did not ease investors' concerns. Nevertheless, schemes in general tend to accept this risk with real estate, but run shy of it with illiquid alternatives, although, as Chris Smith, senior investment consultant at Willis Towers Watson, argues "the only real difference between real estate and other illiquids is in historical practice".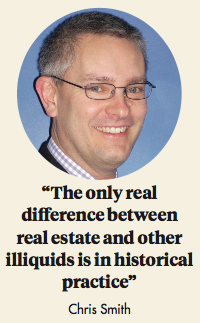 While the UK's Nest scheme is yet to invest in illiquids it achieves the required level of liquidity in its real estate portfolio by blending 70% direct UK property with 30% global Reits. "The latter provide both liquidity and diversification," says O'Neill. This approach is not confined to real estate, but is realisable in other illiquid asset classes, as he explains: "Something like this is already possible with, for instance, infra, where there are investable global equity infrastructure indices. You can also look for a hybrid of listed and unlisted infrastructure." Smith agrees, saying similar solutions for PE and PD should also be possible.
Nest is "looking intently" into illiquids, says O'Neill, prioritising private credit, such as direct loans and collateralised loan obligations, which "have good yield characteristics above public debt and are more liquid and less costly than, say, private equity," he says. Publica, says Beiner, has made first investments in private corporate and infrastructure bonds as part of the expansion of its universe.
Direct investment is a challenge, virtually impossible for all but the biggest schemes. The Australian market has tackled the issue of scale through super trusts, where the pooling of assets allows diversification through direct holdings. While this may be the way the European market goes, it is still a way off hitting the necessary scale. Smith says that in the UK market, NEST is the main, if not only, one that can benefit from this scale: "Even the bigger bank-run schemes can't at the moment rival this."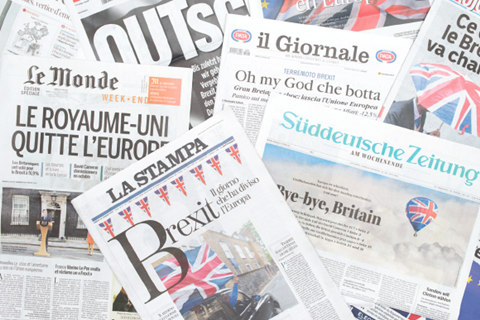 For most, the route into illiquids is through funds. Partners Group, which both Smith and O'Neill referenced, with $66bn (€55bn) under management in private debt, private equity, private real estate and infrastructure, is the first fund group to offer DC schemes diversified portfolios of illiquids on a significant scale.
Another solution is the creation of diversified private debt portfolios by moving down the market cap scale of corporates, thus allowing the packaging of a more diversified portfolio of loans for the same amount of cash. The volatility of smaller caps can be managed through diversification, while still tapping into the illiquidity premia of private debt.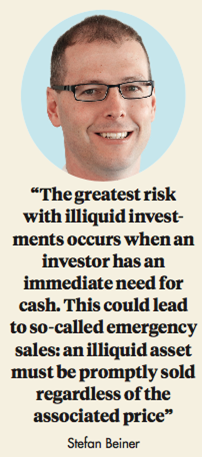 There are, in addition, regulatory concerns. UK auto-enrolment schemes face the hurdle of a 75bps charge cap, which came into effect in April 2015. The high fees of alternatives funds can make this an uncomfortable fit for those forced to manage costs, as O'Neill says "irrespective of returns". There are ways to accommodate this, though: "One way we manage this over the portfolio is that our developed market equity exposure is entirely passive, which gives us a certain headroom." The proliferation of alternative fund providers over the past decade is also helping: according to Preqin, a record 1,865 funds globally were chasing $624bn in capital in 2017. This "heightened competition", Smith notes, is leading to a "downward pressure on costs".
Many alternatives funds charge performance fees, which rules them out for DC schemes, which need certainty on charging. Providers are responding to the needs of the DC market, as Smith explains: "Some providers, though, are tailoring their offerings to this by dropping performance fees, while raising base charges." While this may be a case of 'the Lord giveth and the Lord taketh away', at least it provides investors with a degree of certainty over their cost base.
Regulation also throws up possibilities. Take, for example, Solvency II, the regulations affecting the holdings of European insurance funds. Nest's O'Neill reckons that this will provide arbitrage opportunities that DC funds such as his can take advantage of. "For example," he says, "two different assets with similar risk/return characteristics may be treated differently from the perspective of the insurance fund, and we would look to take advantage of this." It's still early days, though, and O'Neill concedes "it's difficult to predict exactly how this will play out before Solvency II beds in".
As ever, a many layered interaction of supply and demand factors is driving events. But, the form that the illiquid proposition takes for DC schemes is still fluid.
UK auto-enrolment: Good start, must do better
1

2

3

Currently reading

Illiquid investment: Investors resist the illiquid plunge

4

5