More than 140 asset owners, asset managers, wealth managers and other finance groups have asked major index providers to exclude manufacturers of controversial weapons from their mainstream indices. Will they get what they want?
On Monday, readers of the Financial Times' fund management supplement may have come across a page with the heading "open letter to global index providers". The letter – co-ordinated by Swiss Sustainable Finance (SSF) – was also published in two Swiss newspapers.
It detailed a request for global index providers to exclude controversial weapons – such as cluster bombs and landmines – from their mainstream indices "in order to align their products with what has become standard practice among institutional and individual investors".
The open letter, whose signatories have combined funds under management of $6.8trn (€6trn), was sent to representatives of FTSE Russell, Morningstar, MSCI, S&P Dow Jones Indices and STOXX. IPE contacted all of the named index providers to find out how they were responding.
In a statement, S&P Dow Jones Indices said its philosophy was to offer choice to investors.
"Our indices address the needs of a diverse universe of market participants and no particular index is a 'one-size-fits-all' solution to investing or benchmarking," it said.
"To accommodate the diversity of investor viewpoints and objectives, we currently offer, for example, a spectrum of indices based on environmental, social and governance (ESG) indices for investors who seek to decrease their exposures to or exclude certain companies or sectors from their investments.
"We continue to engage in an open dialogue with investors and other market participants as they look to develop more index-linked portfolios that closely align with their ESG goals."
Alternatives on offer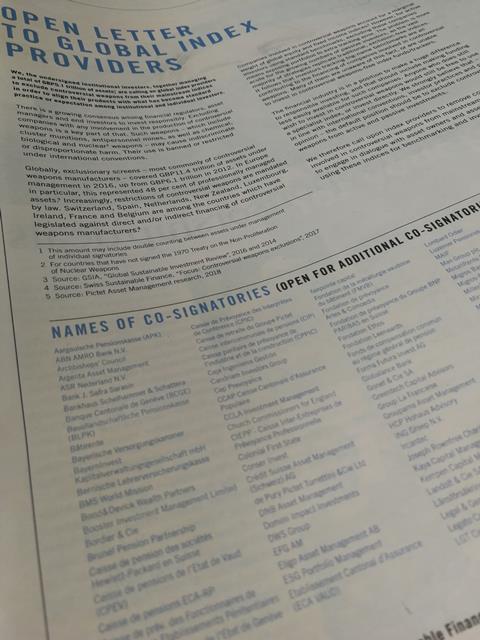 MSCI said it believed market cap-weighted global investable benchmarks should aim to represent the broadest investment opportunity set available to international institutional investors, and that many international investors had made this point.
"Therefore, our market cap-weighted investable benchmarks are not constrained by specific investor opinions, preferences or constraints including those of controversial weapons manufacturers and distributors," it said in a statement.
MSCI also emphasised that it created many indices that took into account investor preferences. In 2011 it launched an index that excludes companies with ties to cluster bombs, landmines, depleted uranium weapons, chemical and biological weapons, and other types of munitions.
It also had other ESG indices that screened controversial weapons, including a suite launched in October last year.
A spokeswoman for FTSE Russell referred IPE to a blog post the company published in December on the topic. In it, the index provider said that only a "very small number" of listed companies were involved in the manufacture of controversial weapons, but it had become increasingly common among asset owners to exclude them from their portfolios.
Citing the SSF's letter, FTSE Russell said it had been providing investors with tools to exclude controversial weapons from their portfolios for many years, adding: "To further this agenda, we are in the process of creating separate versions of our broad indices that will exclude companies involved with controversial weapons, which will be introduced in 2019."
It was important to recognise, added FTSE Russell in the blog, that investors had different ways of defining controversial weapons.
German index provider STOXX stated: "In anticipation to a growing demand, we have introduced a full range of new indices that adhere to current ESG criteria."
For example, its Europe 600 ESG-X index screens for controversial weapons, tobacco and thermal coal, as well as a "norm-based" screen that follows the United Nations Global Compact principles, as a result of which it excluded roughly two dozen companies.
"STOXX's commitment has always been to provide state of the art solutions to clients and market participants," it stated. "We commend Swiss Sustainable Finance's initiative for an open dialogue about this topic and are keen on participating."
Morningstar did not provide a comment.
Next steps
"By joining forces with other investors around the globe we can hopefully get this message through and make index providers once and for all exclude controversial weapons from mainstream indices"

Peter Damgaard Jensen, PKA
SSF has begun engaging with the large index providers, sharing with them the background on the initiative and a list of current co-signatories, as well as inviting them to enter into discussions.
A spokeswoman for SSF told IPE it would disseminate index providers' direct responses to the letter's signatories and aggregate their feedback to use as input into discussions. The organisation therefore declined to comment on the statements the index providers shared with IPE.
In the open letter, the signatories said controversial weapons manufacturers' inclusion in mainstream indices posed problems for investors. For active investors using standard benchmarks, excluding the companies meant exposing portfolios to tracking error. For passive investors, the problem was more acute because the vast majority of strategies replicated traditional indices without exclusions.
Initiated in Switzerland, the letter was opened to international investors in November.
PKA, a DKK275bn (€36.9bn) Danish pension provider, is one of the European asset owners to have put its name to the letter. Peter Damgaard Jensen, its CEO, said: "As a responsible investor representing more than 300,000 pension savers, controversial weapons [are] unacceptable and excluded from all our investments.
"However, many service providers of index products don't share this principle making it complicated for other investors to ensure that they in no way contribute to the funding for controversial weapons manufacturers.
"By joining forces with other investors around the globe we can hopefully get this message through and make index providers once and for all exclude controversial weapons from mainstream indices."
Eric Borremans, head of ESG at Pictet Asset Management, which spearheaded the initiative alongside SSF, said funding for controversial weapons manufacturers should be less readily available.
"Indices are used as the basis for many investment products, both active and passive, [and] we firmly believe that the default position should be to exclude them," he added.