Recent economic reforms and structural changes have created a positive outlook for India
Key points
• India could be on the cusp of structural change
• Such a shift would have important implications
• Prime Minister Narendra Modi's reforms remain controversial
• Long-term prospects are positive
It is easy to view India through the lens of headline politics, age-old tropes and the inevitable comparisons with China. It is also too easy to focus on emerging-market flows and short-term market movements that may guide tactical positioning but not long-term prospects.
Yet substantial structural changes have occurred and are continuing to develop at the political, institutional and corporate levels which together, says Rajesh Tiwari, CEO of Chanakya Capital, puts India at an inflection point in its development. "Wealth creation in India in a systematic way has only just arrived," he says.
The International Monetary Fund (IMF) has highlighted the main reforms that have contributed to India's reported high GDP growth rates, including the inflation-targeting monetary policy framework, the Insolvency and Bankruptcy Code (IBC), the goods and services tax (GST), and steps to liberalise foreign direct investment (FDI) flows and to improve the business climate. But what might be more significant are deeper structural changes that are not so immediately obvious to foreign observers. India is too big to ignore but the question for long-term investors is whether Tiwari is correct.
Indian politics today, says Tiwari, is far more representative of the mass of the population than it has ever been in the past. The poor and underprivileged castes within Indian society are finally getting a share in the real power structure of India, as shown by the case of Prime Minister Narendra Modi who comes from a lower caste.
"Modi has made attempts to create change in areas where no other politician has ever dared to tread," says Praveen Jagwani, CEO of UTI International, the international arm of an Indian asset management firm. Modi's policies, he argues, have been primarily directed at lifting up the poorest segments of Indian society. In contrast, the urban middle classes were upset by the sudden demonetisation of certain bank notes in 2016 and the introduction of the goods and services tax (GST) in 2017.
But elections due next year require money, and this year, Jagwani sees Modi as taking a softer line. "I don't think Modi is a bigot, but he is a shrewd politician and wants to ensure the longevity of his agenda. He came to power off the back of right-wing Hindu nationalists and while he can't please everyone, the job necessitates managing difficult trade-offs."
"Wealth creation in India in a systematic way has only just arrived"

Rajesh Tiwari
But Ajit Dayal, CEO of Quantum Advisors argues that "history will show that this BJP government has had more of a social and religious agenda than an economic agenda".
At the institutional level, the transformation that started in 1992 when Manmohan Singh was finance minister has reached a positive stage, argues Tiwari. There is a positive feedback loop strengthening the credibility and independence of a number of institutions, such as the Reserve Bank of India (RBI, the central bank), and the judiciary.
A long road
Cynics may argue that India is only just recovering from the rule of the Congress party. Dayal says it was a disaster for India for much of period after Jawaharlal Nehru's tenure as prime minister from 1947-64. Indira Gandhi, Nehru's daughter, nationalised banks, insurance companies, and energy.
"The Congress, starting with Indira Gandhi, set the tone for a corruption-ridden economic system controlled by crony capitalists," says Dayal. Foreign investors for decades were used to a supposedly "Hindu rate of growth" of about 3.5% a year from the 1950s to the 1980s before the liberalisations of 1991. The liberalisation of the economy and the move away from the old 'licence Raj' still have some way to go, but the direction of travel is supportive for continued long-term growth.
At the corporate level, there are signs of hope. Vinay Paharia, CIO of Union Asset Management sees a lot of innovation-led disruption in the marketplace, with a healthy blend of new entrepreneurs and old companies. A number of 'unicorns' (privately-owned start-ups valued above $1bn) have been created in India by a new generation of entrepreneurs in sectors such as e-commerce, ride-hailing and fintech.
Legacy companies have moved into new areas. Reliance, India's largest private-sector petrochemical giant, has used its large cash flows to fund fast-growing telecoms and retail operations.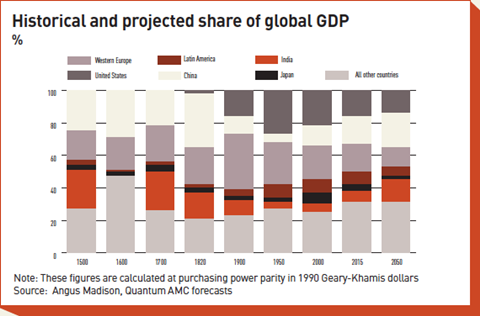 Dayal warns that the old established families still have a grip on government policy in vital areas of the economy where natural and national resources are at play. "No government has been able to break the hammerlock that the national or regional families have over access to capital and access to policy that determines who wins the natural resources," he says. Companies such as Infosys and Wipro – or older family enterprises, for example the Mariwala-controlled Marico consumer goods firm – are few and far between. As such, the influence on nation-building by these new or re-energised entrepreneurs is limited.
Modi's demonetisation and GST have caused much short-term disruption and controversy. Modi claimed that the objective of demonetisation was to crack down on 'black' (undeclared) money. But as Paharia points out, almost all old notes managed to get converted into new. A side effect, though, was the financialisation of assets, with the fintech sector helping to reduce the amount of cash being used in the economy.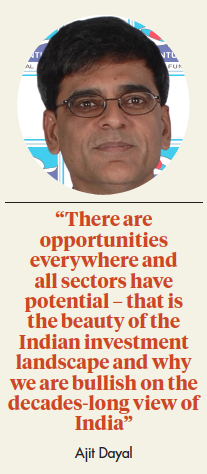 Dayal is even more scathing in his assessment. "History will see the demonetisation of 2016 as a way to ensure a BJP win in the state elections of 2017," he says. "By nuking the notes, the hordes of black money with the opposition parties was radioactive and could not be touched."
GST has had a reasonably smooth outcome with the government being able to collect comparatively higher revenues from 2019 as a result, says Paharia.
The problem with GST though, argues Dayal, is that policymakers have confused the necessity for the free movement of goods between states with the ability of states to tax goods and services at levels they choose as most appropriate to their circumstances. Goa should be allowed to tax hotel rooms at rates that make it a competitive destination with Phuket or Bali, yet the tax on a hotel room in Goa is linked to that of hotel rooms in Bombay and New Delhi.
Inflection point
The biggest challenge in the short term for India is capacity utilisation, says Paharia. An excess of capacity built in 2011-12 has led to utilisation as low as 65% to 70%, with an RBI figure of 75% recently being the highest for three years. Low capacity utilisation means weak investment demand. India is also vulnerable to global economic pressures arising from a rise in global inflation.
For investors, the positive news on India is that when an economy grows at a reported rate of 7% a year it creates opportunities across many sectors. Growth can be driven by three broad engines: domestic consumption; infrastructure investment; and exports.
For India, the domestic consumption story has been the strongest and the infrastructure theme has been the most problematic, says Dayal. Exports show a mixed record. Pharmaceutical companies are caught up in quality issues and are under investigation by the Food and Drug Administration in the US, while software exporters face the dual challenges of immigration-rule changes restricting 'body-shopping' and automation in technology and software, forcing them to rethink their business models.
"But there are opportunities everywhere and all sectors have potential – that is the beauty of the Indian investment landscape and why we are bullish on the decades-long view of India," says Dayal.
It may not be possible to tell whether India really has reached an inflection point in its growth trajectory but the long-term prospects look better than they have ever been since independence.