Index providers will continue to innovate but their business models look ripe for disruption
Key points
More indices are on the way to add to the 3.2m that already exist
New indices encode intellectual property and no longer just list available stocks
Index provision is a highly profitable business and incumbents should expect competitionBut no large asset manager has moved to self-indexing for a market-cap weighted index-based ETF
How much is enough? There are over 3.2m indices, according to figures just produced by the Index Industry Association, a number far exceeding the 44,000 listed companies worldwide.
That would seem to be quite enough of anything except perhaps the number of dollars, euros or pounds in one's bank account.
Yet more indices are coming. Consultants and rating agencies say there is little reason to be surprised that there are so many indices, and none expect innovation in the financial industry to abate. Indices, after all, are ways of sorting available stocks and bonds. The proliferation of ways to arrange securities has been enabled by advances in technology, both in the hardware used to create, transport and store financial data, and the software used to create investment ideas and glean insights from data pools that did not exist a few years ago.
Disruptive innovation
Index-based products represent digitally-driven competition that is disrupting the investment management industry. This is happening in the same way that industries from retailing to travel have been upended by technology tools and the ways of working made possible by them.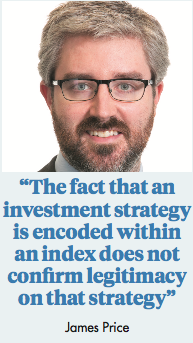 But why is such disruption taking place? As in other industries, two effects are paramount in the investment industry. First, costs are reduced as the value chain is separated into the activities comprising value creation and those comprising value delivery. Second, the choices available to consumers – in this case, institutional investment management portfolios – expand as suppliers devise new ways to create and deliver value.
The ensuing process benefits consumers not only through lower direct costs, but also through new ideas and new products developed by incumbents that adapt, or new entrants able to satisfy market demands. For the institutional investment management business, the proliferation of indices illustrates how index and benchmark creation has moved beyond the description of investable opportunities to become an investment management service. Index methodologies 'encode' investment processes, consolidating traditional asset management into a single function, in effect the intellectual property (IP) that comprises the value of a digital enterprise.
That consolidation requires careful due diligence of index-based strategies, whether delivered via wrappers or segregated mandates, as well as assessment of the validity of the index itself. But there is nothing in sight to stop the disruption. Meanwhile, analysts expect innovation in indices, including potentially index-like offerings from traditional stock pickers, and a preference for self-indexing by managers that drop established index providers to capture a share of the margin.
From market monitoring to innovation engine
Christopher O'Dea composes a message to Harry Markowitz , winner of the 1990 Nobel prize in economics for his work on portfolio diversification
You've come a long way, Harry.
You and your pals in Chicago could never have imagined where the investment indexing craze you kicked off in the 1950s and 60s would end up.
By some estimates there are now more than three million indices, far more than the number of stocks, and more on the way. Talk about spectacular growth.
Your ideas on mean-variance portfolio theory were so novel that when you defended your thesis Milton Friedman argued that the notion was not economics – so no PhD for you. Ever the gentleman, in accepting your 1990 Nobel you conceded that when you defended your thesis, portfolio theory was not part of economics… but now it is.
Is it ever.
Your work sparked a revolution which offered a new way of investing, first for institutions then for retail investors. Indices have evolved from being lists of stocks seeking to represent an opportunity set for investment managers to being intellectual capital in their own right, encoding ideas that just might make money.
One of the earliest predates your work – the Dow Jones Industrial Average. Few defend its rigour, it is just a list of 30 stock prices, but it drives headlines.
Your idea was simple, advocating that investors allocate only between a risk-free option and an efficient market portfolio, with tolerance for risk determining the percentage of capital in each. Index funds seeking to replicate the efficient market portfolio were created in 1973 (for institutions) and 1976 (for retail mutual funds). Exchange-traded funds, which use indices for portfolio construction but trade like stocks, were launched in 1993 in the US and 2000 in Europe.
According to a recent study of index innovation by Cass Business School, "via the products created by asset managers, investors benefit from the very competitive index industry which produces a wide range of indices for asset classes with different compositions."
And not just in passive vehicles. The greater part of index innovation has come with strategies that pursue specific investment factors that requires a good deal of active management of a portfolio, such as momentum-tracking funds that must constantly trade in order to own only those stocks with the fastest-moving recent prices.
The index business is experiencing intense price competition as managers strive to bring better ideas to the market despite the high cost of index data.
Some suggest further disaggregating fees. "It would seem to be more fruitful to pay for allocation and implementation in proportion to how they aid client outcomes," says Alliance Bernstein's Inigo Fraser-Jenkins in a recent report on indices. "This implies new fee structures, a change in incentives, new targets for managers and new thinking on the part of asset owners."
While it is impossible to predict how it will turn out, making decisions under uncertainty was a central tenet of portfolio theory – if too often overlooked by investors prone to exaggerate their ability.
Investment strategy
When an index is used as an investment strategy, three things are happening, says James Price, senior consultant at Willis Towers Watson . "After you've defined your opportunity set, there's stock selection, there's portfolio construction, and then there's implementation," he says.
"An index wraps those first two phases together. The index contains the security selection and the portfolio construction, and the asset manager that's tracking the index does the implementation," he explains. "When we look at a product, whether it's based on an index or an asset manager's proprietary process, we endeavour to conduct the same due diligence on both," says Price. "We undertake due diligence on the IP that's encoded within that index just as we would do the IP that's contained within a quantitative manager's investment process."
The index, Price says, "is really the delivery vehicle that transfers knowledge from the team building the strategy to the team that implements the strategy." When most indices were market cap-weighted, it was not critical to subject each step to scrutiny. But, the variety of indices requires vigilance. "Today, you absolutely have to do that so that you understand what's going on in the index that someone's tracking for you, or if you're a large institutional investor, that you might be tracking in-house," Price says. "That's quite a change."
Although the indexing process creates IP, which is recorded in a 'methodology' document, Price cautions against according validity to indices and index-based products. "The fact that an investment strategy is encoded within an index does not confirm legitimacy on that strategy over and above if an asset manager were to use that same strategy in a product without an index," Price explains. "That gets to the heart of the idea that somebody is designing and building an investment strategy, it's just they're delivering that strategy through an index rather than delivering it through traditional pooled fund management."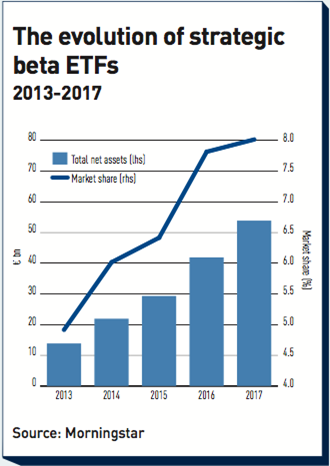 But not all indices are equal, and like any investment product, those that attract the most assets are most profitable for managers, and often most rewarding for investors.
A good index is one that is well-constructed according to some key parameters, says Hortense Bioy, director of passive fund research in Europe at Morningstar. First off, it should accurately reflect the universe that it's trying to represent. "It has to do what an active manager would do in that space, because you want a peer group," she says. Another requirement is that investors can actually own elements of the index universe. "You're not going to create a benchmark on something that you can't really buy or sell," she quips. Of course, it must be liquid, so that it's not too costly to replicate. And the rules, she says, must be transparent, "so you can predict how the index is going to behave in different market environments."
One traditional-sounding requirement is diversification. "We don't like narrow indices," Bioy says. "On many levels," she adds, "like market cap, sectors and style as well." Some investors use ETFs or strategies based on niche indices within core-satellite portfolios, but such products "are a risk," she explains. "We don't really like rating those," she says. "When three stocks represent 60% of a portfolio, what am I rating?"
What is clear is that in indices there is a degree of strategy design and manager input in most products that is not appreciated. Willis Towers Watson classifies investment products designed to track a momentum index, for example, as active rather than passive, since they tend to have high turnover and underlying portfolio positions that can differ from the market.
Perhaps more importantly than illuminating the intellectual capital inherent in investment strategies, index products have cast a spotlight on costs. That is largely an effect of digital disruption, which makes explicit the cost of each step in a supply chain from producer, through distributor, to consumer. Although investment managers are creating and distributing intellectual property, rather than physical goods, the indexing business has disrupted the investment industry by bundling two steps of the investment process – security selection and portfolio construction – and making implementation easier by conveying the message that investors can simply buy a strategy instead of hiring and monitoring a traditional manager.
Where are the costs?
The big cost in index-based investing is the index itself. "The index providers are making a lot of money" says Bioy. Not surprisingly, this is attracting attention. "We will start seeing competition in the index space because you have dominant players with high margins," Bioy continues. "Some companies are trying to disrupt that market, lower the margins, and lower the cost for investors."
Bioy point to new entrants such as Solactive, founded in Germany in 2007, which offers tailor-made indices across asset classes which are calculated and distributed worldwide, as well as licensing broad benchmark indices at "aggressive prices." (see A new breed of index provider, p67)
Some asset managers are self-indexing, that is, hiring calculation companies to perform the computation and validation of an index once designed, while handling implementation and trade execution. Self-indexing can reduce costs and allow institutions to tailor exposures to their own requirements.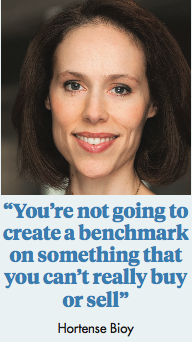 In a white paper last autumn, State Street Global Advisors (SSGA), sounding more populist than capitalist, noted that an "indexing establishment" – though unnamed – was "ripe for disruption." As the index provider landscape has become more concentrated, SSGA contends "a handful of index providers now dominate the industry." The result: "their pricing power has been amplified, raising concerns within the investment community."
The rules imposed by establishment index providers limit the ability of asset managers to bring ideas to clients in strategies arising from their investment research, SSGA argues. State Street converted two smart beta ETFs to self-indexing in December 2016 and manages a self-indexed ETF based on gender diversity.
For the moment, no large asset manager has moved to self-indexing for a significant market-cap weighted index-based ETF. Concerns about the independence of a self-indexed product are one difficulty.
But the fire of innovation is burning and there are likely to be many, many more index launches.
Technology and the rise of the geek
The tale of the tape, so to speak, is a tale about tech.
The evolution of indices is related to the development of technology that enables asset managers to create strategies that target ever more precise sources of potential return.
"There's been a massive evolution in the way indices are constructed, and all this has been facilitated because of advances in technology," says Hortense Bioy, director of passive fund research in Europe at Morningstar. "Today, anyone with enough computer power could put together an index – as long as it's got the data for the index."
The era of big data in investment management seems to be getting started. Innovations are occurring in two areas – index creation, where managers strive to glean repeatable, tradeable insights about products that can be delivered to clients through index-based wrappers or custom accounts, and index implementation and management, where providers disseminate the composition of index-based portfolios to investors.
Even blockchain, the technology underlying crypto-currencies, has a role in asset management. Vanguard Group, which managed $4.8trn (€3.9trn) in assets as of October 2017, announced a successful test of using blockchain to move index data between index providers and market participants over one decentralised database.
Working with the Center for Research in Securities Prices (CRSP) at the University of Chicago's Booth School of Business, Vanguard used a smart contracts platform from technology company Symbiont, to receive CRSP daily index data. Smart contracts are self-executing messages, which can automate workflows to expedite data delivery, eliminate the need for manual updates of databases, and reduce risks. The upside for investment managers, Vanguard says, are better benchmark tracking and cost savings, which could result in better returns.
Despite the growing importance of technology in implementation and data maintenance, the aim of investing is not about to change – investment managers still strive to generate better returns on capital than their competitors, at a more efficient cost. Big data and data science are transforming that mission as well.
In an industry where talent management was geared to finding and training chartered financial analysts, cutting-edge technology expertise has become the new differentiator.
It is particularly important in the index business. The rising cost of index data from the main providers places a premium on ensuring that any index-strategy is sufficiently researched to perform well enough that it will attract a financially-viable amount of assets.
With asset managers turning to self-indexing to keep costs down, the technology skills of third-party index designers and computation agents can make a new product.
Dresden-based Solactive Technologies is the digital research centre of index-provider Solactive (see article in this report). Solactive Technologies develops innovative applications for analysing financial market data, using techniques drawn from data science, big-data and artificial intelligence.
The company's recruiting site points the way forward for the investment management industry: Solactive Technologies is "permanently looking for" software developers, data scientists and machine learning engineers fluent in everything from routine Java to neural networks and neuro-linguistic programming.
In the world of index-based investing, geeks reign.
Indices and benchmarks: Let a million more flowers bloom
1

Currently reading

Indices and benchmarks: Let a million more flowers bloom

2

3

4