Global bond indices have started including the Chinese domestic bond markets in their benchmarks
Key points
Chinese bonds are now being included in global indices
This is a key step in the opening of Chinese domestic capital markets to foreign investors
The implications for capital flows are what makes the index inclusions so dramatic
China might one day replace the US as the benchmark for global fixed income
The dam has finally broken. China's huge onshore bond markets have been included in global bond indices.
Bloomberg led the way with China's inclusion in its Global Aggregate index from April and it is expected that other providers will follow suit this year. That is likely to result in a flood of foreign capital flowing into China's onshore bond markets. The inclusion of China's onshore bonds into the main international bond indices is the biggest change in capital markets, according to Hayden Briscoe, head of Asia Pacific fixed income at UBS Asset Management.
When fully accounted for in the Bloomberg Global Aggregate index, local currency Chinese bonds will be the fourth largest component following the dollar, euro and yen. Using data as of 24 January 2019, the index would include 363 Chinese securities representing 6% of a $54trn (€48trn) index upon completion of the phase-in, according to Bloomberg.
The significance of the events is that, as Mark Leung, CEO of JP Morgan China indicates, renminbi-denominated bonds have traditionally been underrepresented in the main global bond indices relative to the size of China's economy and the stock of renminbi-denominated debt outstanding. This is despite the fact that China has bond markets that are close to developed market standards.
Moreover, notes Jan Dehn, head of research at Ashmore, China's bond market is enormous. Its corporate and sovereign bonds comprise about 48% of total emerging market fixed income and more than 10% of the global bond market. "The size of China's markets means that these bonds will become a prominent – and eventually dominant – feature in both EM and developed market fixed income benchmark indices," he says.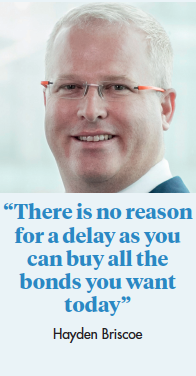 China's market
The inclusion of Chinese bonds into indices is an important step in the opening of China's capital markets to international investors. China's bond markets can be divided into three categories. The most familiar is the dollar-denominated freely-traded bond market of over $300bn. Foreign investors are active in offshore renminbi-denominated bonds traded in Hong Kong which gives rise to the CNH or 'Dim Sum' market of over $80bn. Where there has been little penetration, however, has been in the onshore renminbi-denominated bond market which totals $12trn of outstandings.
Bloomberg's decision for index inclusion was the result, it says, of the People's Bank of China (PBOC), Ministry of Finance and State Taxation Administration completing reforms that increase investor confidence and improve market accessibility. These included the implementation of delivery versus payment settlement, ability to allocate block trades across portfolios and clarification on tax collection policies.
The key for foreign investors though, says Briscoe, has been the opening of the China Interbank Bond market and Bond Connect which brought direct access to onshore markets. The latter is a joint venture between the PBOC's trading platform and the Hong Kong Monetary Authority. It enables international investors to use trading platforms including Bloomberg and Tradeweb with assets held at global custodians. UBS itself uses the interbank bond market to directly trade onshore bonds using an onshore custodian and Hong Kong banks to clear and settle in renminbi, the CNY market.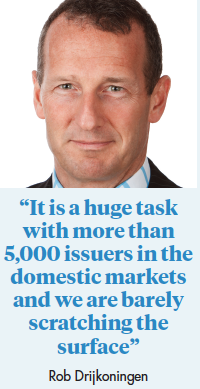 Waiting game
Perhaps what is surprising is that it has taken so long for Chinese onshore bonds to be included in indices given that more esoteric markets are already included in emerging market indices. "There is no reason for a delay as you can buy all the bonds you want today," says Briscoe. The delay has been to the detriment of investors given that Chinese bonds were 2018's best performing fixed income market. Chinese bonds are characterised by low volatility, low correlation with other bond markets and higher yields than developed market bonds, although lower than many other emerging market bonds.
Bloomberg has an incentive to include Chinese bonds given its primary business is selling trading terminals. Other index providers, though, have to satisfy the demands of fund management clients and investors. As Dehn explains, "they rightly act in their own private interest, which is what one would want private companies to do." However, he adds, index provision is a public good, which is why it is underprovided. "Global asset allocation would be far better served if international financial institutions, such as the World Bank, IFC [International Finance Corporation] or even the IMF, recognised the public good element of indices and stepped up to provide proper representative benchmark indices."
"We believe China's accessibility is continuing to develop in the right direction and are hopeful the feedback will be positive this year"
Dehn is disappointed that the main specialist emerging market fixed income benchmark provider, JP Morgan, does not deem Chinese bonds adequately tradable to be in its main emerging market local currency bond market index, although it has put China on Index Watch in 2016 for possible inclusion.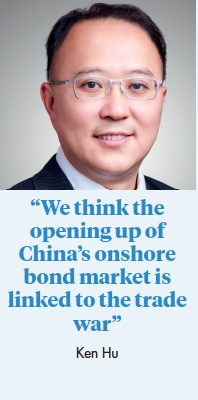 However, Leung of JP Morgan takes a different view. "The JP Morgan annual index governance meetings will take place over the summer to survey investor sentiment. We believe China's accessibility is continuing to develop in the right direction and are hopeful the feedback will be positive this year".
A problem for index providers as private companies is that their clients can block progress that would benefit end investors. Briscoe sits on the FTSE Russell Asia panel, which is scheduled to have its next review in July with the possibility of inclusion in the annual September index update. "What is delaying FTSE Russell has been US fund managers who are woefully unprepared to deal in onshore Chinese bonds," he says.
As Briscoe points out that US firms tend to have centralised dealing desks with no Asian hubs. That makes dealing in Asian time difficult. There is also a need to negotiate with their clients' custodians to prepare them for investing in a new marketplace. The PBOC and Chinese regulators have been proactive, says Briscoe, in helping investors, but, there are operational problems such as onshore foreign-exchange hedging, eligibility for pan-European UCITS funds and the liquidity in off-the-run bonds.
Macro benefits
For China, index inclusion helps the Chinese economy to fulfil several objectives, says Rob Drijkoningen, co-head of emerging markets debt at Neuberger Berman. First, creating additional avenues for inflows to compensate for potential outflows as the current account is anticipated to go into deficit soon. Second, to help the internationalisation of the renminbi following its inclusion in IMF's Special Drawing Rights. Third, to get more competition in domestic capital markets. The latter implies greater credit differentiation. "It is a huge task with more than 5,000 issuers in the domestic markets and we are barely scratching the surface with what is going on there," says Drijkoningen. One problem he sees is that domestic ratings need to be discounted by six or seven notches, so that a domestically rated AA would be a BBB on an international rating basis.
The implications for capital flows are what makes inclusions so dramatic. As Ashmore's Dehn argues, the issue of poor index representation with China being excluded is not just academic. "The vast majority of the world's institutional investors appear to closely hug benchmark indices," he says. "Many may not allocate to markets, which are not part of an index. As such, poor index representation amounts to a systematic bias in global asset allocation in favour of developed economies and against EM countries."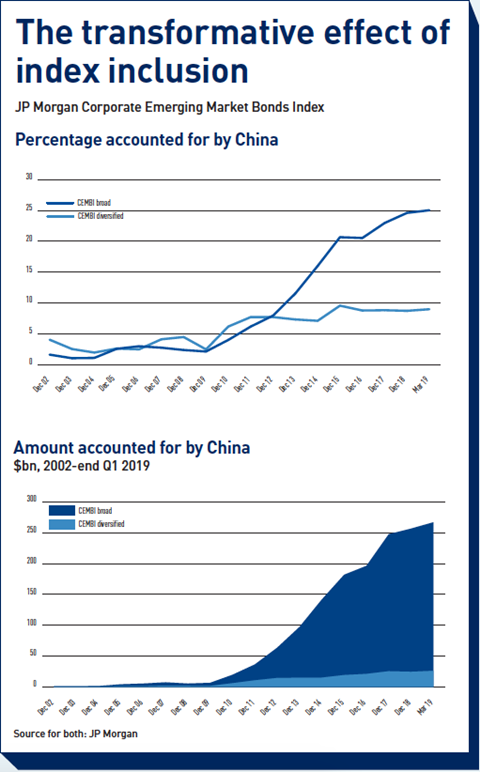 The timing of the index inclusions enabling the opening of China's onshore bond markets given the US/China trade negotiations may be significant, says Ken Hu, Asia Pacific fixed income CIO at Invesco. "We think the opening up of China's onshore bond market is linked to the trade war between the US and China," he says. Any trade agreement will mean that China will need to purchase more US products, transactions that will require financing in dollars. Last year saw $80bn inflows into China's domestic bond markets. Foreign ownership, however, is below 3% while in other bond markets, such as Australia and Canada, foreign ownership exceeds 30%.

In other emerging markets, such as Indonesia and Malaysia, it is even higher at between 30-40%, notes Hu. "In the next five years, foreign ownership of the onshore China bond market will grow to, say, 13%. A 10% increase in foreign ownership will lead to a $1.3trn of inflows into the market so each year $200bn-$300bn will flow into the onshore renminbi-bond market." If China needs to buy about $1.2trn of US agriculture and energy products the two sums would neatly match.
Chinese equities: slow progress towards full inclusion
Foreign investors have been able to invest in Chinese equities for decades through a variety of securities including Hong Kong listed H-shares of mainland companies, red chips (the subsidiaries of mainland companies listed in Hong Kong), B shares (foreign currency-denominated shares of mainland companies) and US listed American depositary receipts (ADRs). The size of this universe itself is huge, accounting for 30% of emerging markets according to MSCI.
But the domestic A-share market was excluded from the foreign institutional universe until 2002. That became open to foreign investors through the 2002 Qualified Foreign Institutional Investor (QFII) programme and the Renminbi Qualified Foreign Institutional Investor (RQFII) programme introduced in 2011. These schemes were restricted to qualified investors, but as allocations increased and application procedures became easier, index providers started to take notice.
"That started in China in 2013 with a slew of policy changes which led us to believe that we should definitely be having a conversation with investors," says Chin Ping Chia, head of research for APAC at MSCI. By May 2015, FTSE Russell had announced the FTSE China Inclusion index, created to prepare market participants for the inclusion of China A-shares in standard indexes. FTSE states that China A-shares will be included in the FTSE Global Equity index series (FTSE GEIS) as a Secondary Emerging Market starting this June.
For index providers and investors, the incorporation of the A-share market has been a gradual process following the stepped liberalisation of access. A key improvement was the 2014 launch of the Shanghai-Hong Kong Stock Connect – a joint venture between the Shanghai Stock Exchange and the Hong Kong Stock Exchange – which enables investors in each market to trade shares on the other market using their local brokers and clearing houses.
That process is still continuing. In February MSCI announced that it would be raising the percentage of A shares in its indices from 5% to 20% in stages from May and in November it would be including mid-cap stocks. After November, that would imply 20% of the free float of A shares would be included in the MSCI EM index accounting for about 3.3%, a level comparable to Mexico and Russia.
The end game from an index perspective is to include evertything. How long until this is achieveable depends on market access reforms. MSCI see four obstacles that need to be overcome.
First, the development of derivatives and risk management capabilities. Investors need to manage risk using futures and other derivatives so these instruments have to be in place before MSCI can approve the inclusion of more A-shares.
Second, the alignment of the settlement cycle. Currently, settlement is same day or trading day plus one, so China appears to be more advanced than other countries. But this creates problems as the settlement cycle is not synchronised with other countries where trades are settled two days after, so investors cannot easily switch between markets and China. As China has been operating like this for 20 years it creates challenges.
Third, there are problems with Stock Connect, although it works well. For example, Stock Connect cannot work during holidays in Hong Kong on working days in China and vice versa. As the day before a holiday is also non-trading, there are a lot of non-trading days in the calendar.
Finally, for large fund managers managing many separate funds all investing in the same stocks an omnibus structure is essential. That is a mechanism that allows a fund manager to aggregate all trades for different funds into one trade so all funds are effectively trading simultaneously. Otherwise a firm would have different funds trading at different prices on the same stock despite MIFID rules stipulating that all clients need to be treated equally.
Whether Hu is right in his view that there is a conscious decision to open China's bond markets as part of trade negotiations may not be as significant as the view expressed by Dehn, that "it is the destiny of Chinese markets to replace US markets as benchmarks for global fixed income, currencies and stocks". What is true is that, even if one disagrees with this view, China's domestic bond markets cannot be ignored.
Indices and Benchmarks: The Chinese dam breaks
1

Currently reading

Indices and Benchmarks: The Chinese dam breaks

2

3