Lack of a co-ordinated policy is hindering climate-friendly infrastructure investment
Key points:
The world is forecast to need €6trn annually in green infrastructure funding between now and 2030
Private sector requires encouragement to invest
Remedies include consolidated planning process or a national infrastructure agency
The G20 is seeking to standardise contracts and financing
Between 12-17% of infrastructure in developing countries is financed by the private sector, according to data from the World Bank. That figure will doubtless provoke a variety of judgements. But another, perhaps more intriguing, nugget has emerged: the comparable figure for mature economies is not known.
That lack of data is a concern to the World Bank, the Organisation for Economic Co-operation and Development (OECD), and the UN Environment Programme. All three urge a comprehensive and swift transition to greener infrastructure, as stated in the joint recommendations to the G20 finance ministers at the end of 2018.
In the recent study, Financing Climate Futures: Rethinking Infrastructure, the three organisations warn of a massive gap in climate-friendly infrastructure development – both in mature and developing countries. It states that $6.9trn (€6trn) per year is required by 2030 to meet climate and development objectives, compared with a current level of about $3.4trn-4.4trn.
Without a good knowledge base from which to start, infrastructure development is set to be patchy. Yet many governments do not fully grasp the problem, according to Virginie Marchal of the OECD environment directorate, one of the authors of the report.
"We try to push countries to adopt a conceptual map [of their infrastructure]. But, I think the challenge is availability and consolidation of information", she says. Private sector investors are often blamed for a lack of vision on climate change, but in this case, the emphasis is on public sector shortcomings.
The report paints a picture of disorganisation and disjointed infrastructure policy and planning. It also draws attention to an ad hoc, incremental approach to climate-friendly infrastructure projects, inbuilt resistance to mainstreaming green infrastructure finance, and fiscal mechanisms prioritising fossil fuels. As a result, the private sector, which could play a significant role in financing infrastructure, is not being incentivised. Instead, low-emission infrastructure investment remains less than 1% of the overall portfolios of institutional investors.
Factors explaining the incoherence include, for example, inefficiency, regulatory confusion, corruption and political conflict. In many countries, infrastructure decisions are spread between different and sometimes rivalling energy, transport and finance ministries. Not surprisingly, this creates data gaps affecting development, leading to inertia.
Hence, project pipelines are not defined by government, and government targets are usually unaccompanied by action. Examining renewable energy developments the OECD discovered that 17 countries in the G20 had set a target, but only four have an associated infrastructure plan outlining the projects involved. Similarly, six G20 members have a target for deploying electric vehicles, but none of them has a plan or budget to reach it (see figure).
On a fundamental level, governments do not always have the knowledge to deal with infrastructure due to an ignorance about investment channels, instruments and funds that can be used for sustainable energy infrastructure. Many still need to understand risk mitigation tools such as guarantees and insurance products, or transaction enablers such as warehousing.
"Both the government and civil service need to develop very specialist skills in order to deal with this complex area," comments Alistair Perkins, head of project finance and infrastructure debt at NN Investment Partners.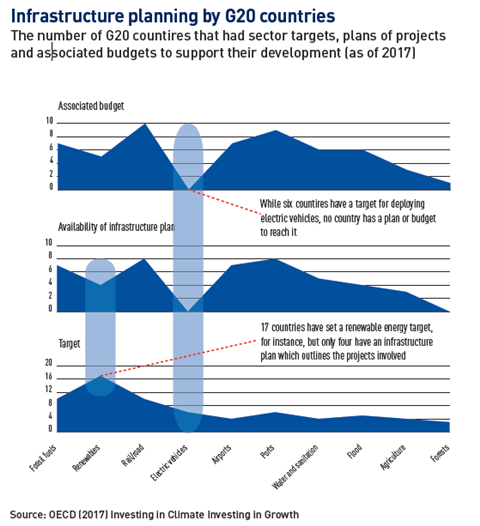 Indecision continues due to this shortfall. "Private sector investors cannot easily identify and source investment opportunities. Due to the lack of detailed infrastructure investment plans and poor integration of these plans into national policy contexts, it is not always clear what is needed," notes Marchal. Some of the information unavailable to investors is basic, such as what, when and where infrastructure should be built.
"This not about a lack of capital but a lack of well-structured, investable projects," says Mark Dooley, co-head of Macquarie's European energy and infrastructure business, expressing a consensus among both private and public players.
Yet remedies are available. Dooley draws attention to improvements in public sector measures. The contracts for difference scheme in the UK have provided a long-term predictable income stream for 15 years in energy projects.
In France, the government has consolidated permitting processes, creating better cohesion. "They unified the four parts of the project's developmental phase, including site, environmental permit, grid connection and revenue. Any challenge to the legal process is now dealt with in a single judicial case," notes Dooley.
In some countries, dedicated foresight teams within governments feed their insights into decision making: This means plans and resources are likely to be marshalled coherently, examples of these include Policy Horizons Canada, the National Institution for Transforming India, and the Singapore Centre for Strategic Futures.
Perkins applauds the Dutch system: "They do it pretty well because an infrastructure agency is charged with bringing forward new developments over the long term. It works best when politicians across parties are helped by a civil service over the long term because of the short-term political cycles in democracies," he says.
To loosen the knots in the system, experts advising the G20 suggest several remedies. First, the formulation of clearly defined project pipelines by governments. Secondly, the establishment of authorities unifying the infrastructure plans. But, perhaps most significantly for the private sector, the G20s recommends the designation of a separate class of infrastructure assets (see panel).
These activities will improve overall decision-making. At the same time, the better information and management will help identify the levers to climate-friendly investment.
The ideas have been discussed for years but in some countries there has been a reluctance to give government steer. However, change is in the air. For instance, the Energiewende (energy transition) in Germany has had a major influence, and the role of the public sector has been rising again. Initiatives such as the UK National Infrastructure Assessment in 2018 are a case in point.
This demonstrates a willingness to develop a long-term overview, improving government knowledge and providing for shifts in integrating climate change considerations. "Allowing the ideological divide to make the private sector prevail is not a solution. The decarbonisation of transport, for example, requires a lot more coordination between government and industry" says Perkins
Green finance: Financing environmental benefits
1

2

3

4

5

Currently reading

Infrastructure: Joining the dots on green projects

6

7

8