Leading Nordic pension providers are teaming up with asset managers to design and launch ETFs that compliment and help achieve their ESG goals
Key points
Exchange traded funds (ETFs) following ESG guidelines are becoming popular among Nordic pension providers
Stock lending policies are important to consider because of governance implications
Appealing to a broader investor base not only brings benefits of scale in pooled products, but helps spread an ESG message beyond large institutional investors
As environmental, social and governance (ESG) investment become more embedded in investors' thinking, some of the Nordic region's leading pension schemes are exploring innovative methods of achieving their targets.
Two of Finland's biggest pension providers – Ilmarinen and Varma – have teamed up with large asset managers to design and launch new exchange-traded funds (ETFs) based on ESG indices.
Ilmarinen, which manages assets totaling €46.5bn, has teamed up with DWS, Lyxor and BlackRock's ETF arm iShares over 2019 to allocate more than €1.5bn to US and European equities. The iShares fund, launched in May, tracks the MSCI USA ESG Leaders index, as does the DWS fund. The Lyxor fund tracks the equivalent European benchmark.
MSCI's Leaders indices rank companies using the benchmark provider's ESG scoring system, which allows for companies that improve their ESG ratings to join the index. It excludes the tobacco, alcohol, gambling and weapons industries in line with Ilmarinen's own exclusion policy.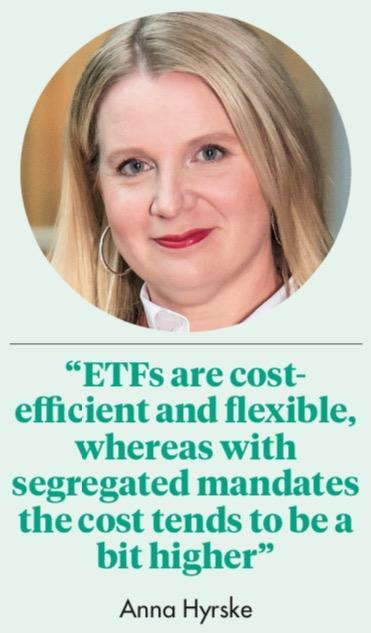 Anna Hyrske, head of responsible investment at Ilmarinen, explains the moves were based not on a preference for passive strategies, but on a desire for an approach more in tune with responsible investment.
"We have had responsible investment principles in place for a long time, but we had an issue with how to align our ESG views with our passive products," she says. "ETFs are cost-efficient and flexible, whereas with segregated mandates the cost tends to be a bit higher."
Partnering with asset managers was more straightforward than Ilmarinen expected, Hyrske says, with providers happy to explore new areas through a fund structure that is easily accessible to investors.
She adds: "There have been ESG ETFs before but not following the index we wanted, and the pricing wasn't right. If we had taken a product tracking another index, we would have been paying index fees for something we didn't want."
Regarding MSCI's ESG scoring system, Hyrske accepts that it will not be perfect. For example, larger companies will have greater resources to help them report data in accordance with MSCI's methodology, creating a size bias in the index.
"Just because you use a certain service provider, it doesn't mean you always agree," she says. "I'm yet to see an investor that 100% agrees with every piece of broker research, for example. This analysis is always through a set of lenses, it's always taking a view on a company."
A dynamic index approach
Varma and Legal & General Investment Management (LGIM) launched a dynamic index fund in September. While structured as an ETF tracking broad index overseen by benchmark provider Foxberry, the two companies also created a governance committee to allow the product to respond to investor demands.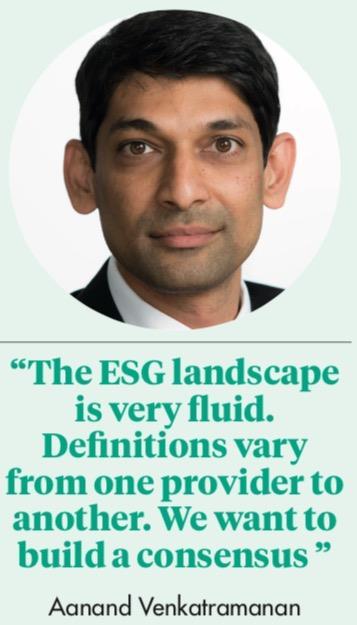 Aanand Venkatramanan, head of ETF investment strategies at LGIM, says: "The primary objective of the fund is core exposure. Within vanilla core benchmarks there are areas investors are becoming uncomfortable with, for example coal or controversial weapons. We have [previously] launched a product excluding these.
"We've now gone a step further with this product to create a committee that has the ability to sit down and discuss specific companies."
Representatives of Varma and LGIM sit on the oversight committee alongside independent members including Tomas Franzen, former chief investment strategist at Sweden's AP2, and Gustaf Hagerud, a former deputy chief executive of AP3. The aim, Venkatramanan says, is for new committee members to join as the investor base grows to ensure the fund can continue to meet their needs.
"The ESG landscape is very fluid," he says. "Definitions vary from one provider to another. We want to build a consensus approach, and we have some room to exclude companies based on a consensus view as the definitions of ESG evolve."
Given that governance stewardship is central to ESG investing, stock lending policies are important. However, as Ilmarinen's Hyrske explains, it is not always necessary to have an explicit restriction on this practice. Instead, the pension provider monitors its asset managers' voting practices to ascertain the effect of stock lending.
"The industry is moving in a certain direction – there is more appetite for ETFs," says Venkatramanan. "Investors will continue to do segregated mandates, and there will be preferential pricing there. ETFs in my view will be the preferred vehicle in the future."
The work of Varma, Ilmarinen and their asset managers was not purely focused on creating a product for the pension funds – after all, neither fund is a stranger to allocating through segregated mandates and other investment structures. Instead, in all four cases, the ETF structure allowed for an easily scalable product to be opened up to a broad range of clients.
Michael Mohr, head of ETF product development at DWS, explains that, while his firm has launched several ETFs for large asset owners based on their requirements, it is conscious of meeting demands of a broad client range.
"The demand is there and can be justified," he says, "but it always depends on what clients want to achieve. We will always ensure what we launch in an ETF is scalable for a wider client population, even though we may have launched it at the request of a single investor at first."
LGIM's Venkatramanan adds that the partnership with Varma was designed to "appeal to a broad base and bring more people in to sustainable investing".
Appealing to a broader investor base not only brings benefits of scale in pooled products, but it also helps spread the message beyond large institutional investors. Ilmarinen's Hyrske says that from a portfolio management perspective it makes little difference whether others buy into their new ETFs. However, broader take-up of the products is a "positive externality", she says, and a greater weight of assets supporting MSCI's indices and ESG scores will have a knock-on effect on the companies in the indices.
"We would like to see a whole infrastructure of well-priced ESG products," says Hyrske. "Success is that we have an ESG ETF following the index we want and the pricing is good. It's also great to have a product that other investors can use, including retail investors. Others can take into account ESG in a way that's not restrictive, and that is not just Ilmarinen's definition, it's MSCI's definition."
Denmark: Fresh blood replaces the obsolete
1

2

3

4

5

Currently reading

Innovating in ESG through ETFs

6