7 - 8 October 2019: etc.venues, 155 Bishopsgate, London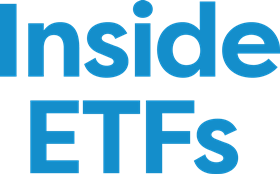 Think different. Invest different
Head to Inside ETFs Europe 2019 and get the latest market intelligence from Europe's leading ETF conference.
Here are five reasons why this year's event is not to be missed!
The essential learning experience
Learn how key investors are deploying ETFs in their portfolios to deliver extra value for clients.
The entire European ETF ecosystem under one roof. Meet with key clients and peers to debate the future for ETFs in Europe. Build relationships and create new ones.
Hear CIOs from Barclays, Brooks Macdonald, Nutmeg, Edmond de Rothschild, National Employment Savings Trust, and many more.
Join fund buyer only workshop to learn how to integrate AI as an investment tool.
The future of wealth management
FinTech influencers join leading investors and issuers to uncover how tech is changing the wealth management landscape. Come away with the tools and strategies geared for success in 2019 and beyond.
For more information and to register online, please visit https://bit.ly/2GAFx0Q
Remember to quote VIP code: FKF2254IPE for a 10% discount!


Venue
etc.venues, 155 Bishopsgate, London