Institutional investors plan to step up the pace of their retreat from public equities this year, seeking instead higher allocations to real estate and private equity, according to a new wide-scale survey.
BlackRock's annual survey of global institutions – including responses from 230 of its clients representing more than $7trn (€6.1trn) of assets – revealed that more than half intended to slash their allocations to public equities in 2019.
This shift is accelerating compared to previous surveys, with 35% of respondents having planned such cuts in 2018, and 29% in 2017.
"This trend is most pronounced in the US and Canada, where over two thirds (68%) plan to reduce equity allocations, compared to just 27% in continental Europe," BlackRock said.
Just over half of respondents – 63% of which were pension funds – said one of the most important macro risks influencing their asset allocation plans was the possibility of the economic cycle changing.
"In a continuation of a multi-year structural trend of reallocating risk in search of uncorrelated returns, illiquid alternatives are set to see further inflows, with 54% intending to increase exposure to real assets, 47% to private equity, and 40% to real estate," BlackRock said.
Intended increases to fixed income allocations rose to 38% this year from 29% in the 2018 survey, and within fixed income, the poll showed that 56% planned to expand the proportion of private credit they held.
Edwin Conway, global head of institutional client business at BlackRock, said: "The move into fixed income is especially pronounced for corporate pensions, as many defined benefit plans are focused on de-risking, locking in improvements to funded status, and preparing for an end-game."
Apart from the prominent shift away from public market risk illustrated by the survey, many institutional investors were also shown to be moving towards alpha-seeking strategies and focusing more on environmental, social and corporate governance-related (ESG) strategies.
A third (32%) said they planned to increase allocations to alpha-seeking strategies, while 28% said ESG was a focus.
Further reading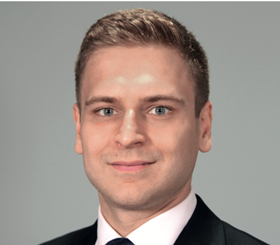 Guest Viewpoint: Sviatoslav Rosov, CFA Institute
For several years, researchers, regulators, and market participants have been concerned that firms are increasingly avoiding the public markets, writes the CFA Institute's director of capital markets policy (pictured).
DC savers missing out as companies seek private capital
A report by the CFA Institute in December found companies were delaying IPOs to instead take advantage of a stockpile of investor cash waiting to be deployed privately.