Market professionals are divided on the likely impact of rate rises on the equity markets
Key points
• US stock markets have fallen on signs of inflationary pressure, which suggests higher interest rates
• Many long-term stock investors say interest rate rises will not hurt the market
• Others say rate rises will damage US stocks, partly because valuations are high
• Interest rates are expected to rise slowly
Many US equity investors have become distinctly nervous about the prospect of further rate hikes by the Federal Reserve, judging by the stock market's recent reaction to news of inflationary pressure. On 6 February the S&P 500 dropped by 4.1%, the steepest one-day plunge in six years, following data showing a higher-than-expected rise in US wages.
However, many long-term investors remain sanguine.
"I'm not worried about the Fed raising rates too fast," says David Kelly, chief global strategist at JP Morgan Asset Management in New York. "Even if they raised them four times this year, 1% a year is less than the 2.5% a year or so the last time there was a tightening cycle."
His sentiment is echoed by Andrew Acheson, director of the US growth team at Amundi Pioneer, Amundi's US arm, in Boston. "The risk is clearly that the Fed will move up towards four rate rises this year," says Acheson. However, "if the rate hikes are slow and steady and supported by an increase in economic growth, the market could weather those hikes".
Acheson's comment testifies to an important reason why some investors are relatively relaxed about Fed tightening – although clearly not all, given the recent market volatility. Acheson agrees with the consensus that US economic growth will accelerate this year – crediting this largely to the corporate and personal tax cuts and deregulation pushed through by President Trump. The Fed forecasts GDP growth of 2.7% in 2018, up from 2.3% in 2017.
Analysts also expect this growth to be relatively non-inflationary.
"I just don't think inflation is going to come back in a big way," says Kelly, who attributes this in part to information technology. He contends that by increasing price transparency, it is making a progressively greater number of markets, ranging from travel to car-buying to mortgages, "hypercompetitive".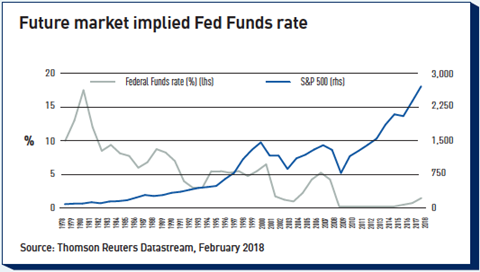 A fall in the US unemployment rate to 4.1%, its lowest level since 2000, has also been remarkably slow to push up inflation, even though markets' recent jumpiness about US wage figures suggests more nervousness than before. Core personal consumption expenditure inflation, the Fed's preferred gauge, rose only 1.5% in the year to January, below the Fed's medium-term target of 2%.
This backdrop explains why rate rises look set to progress at such a stately pace in historical terms. The Fed's 'dot plot', a chart showing the individual rate expectations of senior members of the bank, showed a median projected federal funds rate of 3.4% for 2020.
The combination of economic growth and corporate tax cuts is also expected to be good for corporate earnings in particular. Wouter Sturkenboom, senior investment strategist at Russell Investments in New York, expects 2018 profits to be up 20% on the year. In other words, rate rises will not slow the economy or hit corporate earnings badly this year by raising companies' funding costs.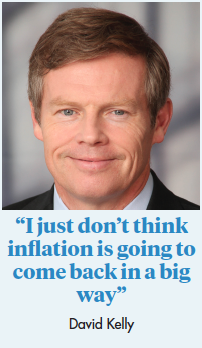 And yet even the optimists harbour fears. On the one hand, when asked for reasons to be cheerful about US stocks, Acheson points to not only tax cuts but also the prospect of a rise in the country's low rate of productivity growth, as capital-intensive businesses earmark some of their increased profit for reinvestment. The US economy has eked out productivity increases of only about 1% a year since the credit crunch, but new projections by the Conference Board, a business membership and research group, suggest a pickup to 1.3% for 2018.
Economic growth based on productivity increases could dampen inflationary pressures and reduce the need for aggressive monetary tightening at this stage of the cycle, by assuaging the demand for labour.
On the other hand, although he plays down the inflationary effect of the new steel and aluminium tariffs, Acheson remarks that "the more frightening issue is the Nafta negotiations. Were they to break down, it would be problematic for the economy and very inflationary."
Acheson says that if protectionism increased inflation, "this would make the Fed get aggressive more rapidly"; moreover, the stock market would react badly to rate increases prompted by a type of inflation that was not generating economic growth. Investors would find an unhappy precedent from the 1970s, when massive rises in oil prices following Opec production cuts triggered a sharp rise in rates that pushed down stock markets severely. Even so, at this stage, analysts still regard a full-fledged tariff war as unlikely.
There are also analysts who are less relaxed about rate rises, even in the base-case scenario of relatively slow monetary tightening.
The Fed's target range for the federal funds rate is, at 1.5% to 1.75%, not far off the 2% figure that Sturkenboom regards as the "neutral" rate – the number that marks the borderline between spurring the economy on and reining it in.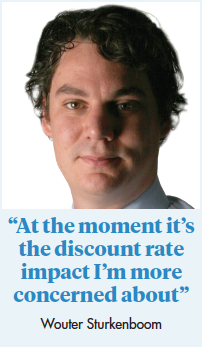 The degree to which higher rates do rein in the economy depends on the amount of private-sector debt, since debt becomes more burdensome, reducing household spending and business investment, as rates climb. Sturkenboom notes that household debt is "fairly high" relative to the historical average, at 77%, but way down from a 2008 peak of 98% of GDP, and "not a level we would be concerned about". The corporate debt figure of 72% of GDP, on the other hand, is close to the record high of 2009.
However, Sturkenboom says his greatest concern about the effect of higher rates does not emanate from the real economy but from financial markets. He explains that higher interest rates raise the discount rate used to determine the net present value of future corporate earnings.
Rather than being worried about the effect of rate rises on corporate revenue and margins, "at the moment it's the discount rate impact I'm more concerned about, because at times of high valuation those discount rates tend to have an outsized impact", says Sturkenboom. "High valuations mean future profits are expected to be very strong" – or, at least, that "we put a very high value on them".
Many analysts accept that US stock valuations do look high in historical terms, based on measures such as price-earnings ratios. Although Sturkenboom predicts a sharp rise in corporate earnings this year, he says these are unlikely to be sustained, given the Fed's monetary tightening.
In addition to this, Sturkenboom says investors will demand a higher premium for holding equities, relative to holding bonds, because when bond yields rise they become less volatile, and therefore more attractive relative to equities.
However, other observers argue that bonds will look less rather than more attractive relative to equities at this point in the monetary cycle. "In a rising-rate environment that is generally benign, bonds are not attractive", says Kelly of JP Morgan AM. "I think this is going to squeeze money towards equities."
As to which equities might benefit from this squeeze, Steven Andrew, multi-asset fund manager at M&G Investments in London, suggests US bank stocks. "When short-term expert rate expectations get surprised to the upside, bank share prices outperform," he says, noting that federal fund futures prices point to a rate of only 2.7% in 2020, compared with the more hawkish Fed projection of 3.4% unveiled after its March meeting. "That has been a pretty robust relationship."
US Equities: A time to focus on value
1

2

3

Currently reading

Interest Rates: Opinion divided on rate impact

4