Karl Timmel, CEO of Austria's largest Pensionskasse, VBV, helped to set up the second pillar in the country more than two decades ago. He intends to retire in July but Barbara Ottawa suspects he might not leave the industry
It remains to be seen whether Karl Timmel will have more time to go sailing from July. By then he will have stepped down as CEO of the Austrian Pensionskasse VBV and the holding of the group also comprising the country's largest provident fund (Vorsorgekasse).
Speaking to IPE about his time in the industry, he still seems eager to boost pension funds, ironing out a number of issues he has been fighting for years. And he will probably also get to do all that as he is staying on as an in-house consultant to the group.
At the end of last year, an overhaul to the board structure at the VBV group was announced: Gernot Heschl joined, taking on risk management responsibilities from January. He will also be the one to follow Timmel as CEO of the Pensionskasse from July. The position of CEO in the holding will be filled by Andreas Zakostelsky, chairman of the pension fund association FVPK and member of parliament for the conservative party (ÖVP). Prior to that he was CEO at Austria's second largest pension fund Valida.
Timmel would really have liked to celebrate reaching €10bn in assets under management and he almost made it as the VBV group currently stands at just over €9bn. But the goal is "within reach" and it is "a good time for change", he says. "I can still remember celebrating the first billion in Austrian schillings. That must have been in 1994." (When Austria joined the euro-zone in 2002 the local currency was converted roughly 13 to 1.)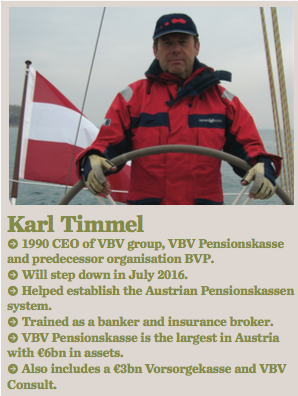 At that time, the domestic Pensionskassen system was just four years old but Timmel, a trained banker, had been working on its introduction already prior to the law being passed. "I was working in the insurance sector and was selected to be part of a working group on funding pension promises together with representatives of banks, unions and large international corporations."
The working group had been set up because the Austrian state-owned steel industry had previously decided to severely cut its supplementary pension promises as they were burning a hole in its books. Other companies then wanted to start funding their pension liabilities and unions agreed book reserves were not the solution.
Timmel confirms the basis for the Austrian negotiations was Switzerland where occupational pensions have a long tradition and in 1985 the neighbouring country had introduced a mandatory system. "We also looked at Germany and international companies like IBM and Unilever brought ideas from their home countries, the US and the Netherlands." These two multi-national companies were also among the first to set up a company pension fund under the new Austrian system. Unilever has since outsourced its plan to a multi-employer provider but the IBM Pensionskasse is still up and running. "Eventually all corporate pension plans in Austria will use the services of a multi-employer provider because the regulations, the administration and the asset allocation have become too complex," Timmel says.
Some say a plane crash gave birth to the Austrian pension system: in late February 1989, Alfred Dallinger, then minister for social affairs, died in a plane that crashed into Lake Constance. His successor Walter Geppert was less opposed to the idea of introducing a funded pension system and the negotiations moved forward.
Luckily, Timmel had used his head start as part of the working group to set up an advisory company. He was working in the banking group Erste at that time and got approval from the supervisory board to try his luck in the possible new business of funded pensions. "But they told me not to generate too much cost because the law might not get through," Timmel recalls. So he gathered a few students to help him set up new IT systems – "still running on old 486 [Intel computer processor] with floppy discs" – and come up with creative ideas.
And his plan worked. The new law on Pensionskassen, the PKG, was passed and took effect in summer 1990, and he became CEO of the BVP Pensionskasse. "The first three years were a disappointment," Timmel recalls. Bit by bit small companies joined, "sometimes it was just the doctor and his wife, who worked as his secretary", but slowly the larger ones followed. Some Pensionskassen gave up during those years but those who made it through were rewarded in the late 1990s: "Once the companies realised how well the markets were performing, they wanted to fund their pension liabilities." And it was then that a lot of banks, including Erste bank, joined a pension fund.
But in a way the Pensionskassen became a victim of their own success because companies eventually did not want to accept the 3.5% discount rate applied to transfers of liabilities. "We had two-digit returns back then and they wanted rates of 5-6%." Timmel's Pensionskasse only agreed to that under the condition of charging an extra buffer – "and that was gone after the 2000–01 bubble burst".
The CEO says those were tough times but nothing compared with the 2008 crash which he could never have imagined: "The worst thing was that you could not trade at all at first and you did not know how long this situation would last."
In contrast to the current frustration of companies with politics, economic developments and a general uncertainty about the future, interest in setting up Pensionskassen returned quickly after the market crash at the turn of the millennium. "I think it was because the effects of the pension reform cutting benefits from the first pillar became visible and companies wanted to use pension promises to reward employees," says Timmel.
When the system of provident funds was introduced in 2002, the BVP decided to cooperate with another large player in the market, the VPK. Both had a similar shareholder structure, mostly different subsidiaries of the same holding. The so-called Vorsorgekassen were created as a mandatory system to ensure each employee receives severance pay when leaving a company – and not only those made redundant.
"We sat together with the VPK and thought about a name," Timmel remembers. In the end, they just picked a few letters of each abbreviation and came up with 'VBV'. "That's the story of how we got our name." Both entities decided to merge the Pensionskassen in 2004.
Timmel would like to see the Austrian pension fund system grow. And his proposals for this to happen mostly involve political decisions: further tax incentives, or allowing mandatory severance pay to be paid into a Pensionskasse directly. "But what I would really like to see is for us to be allowed to put all the information on retirement assets from the first pillar, the Pensionskasse and the Vorsorgekasse on one piece of paper for each member," says Timmel. But since many Austrian politicians are still not convinced that a supplementary pension is needed, this proposal is facing stiff resistance.
Pensions in Austria: Broadening the horizons
1

2

Currently reading

Interview: Karl Timmel CEO, VBV