Nigel Stapleton tells Liam Kennedy about the decision this year to dispose of National Grid UK Pension Scheme's in-house manager Aerion and how the scheme will be managed in future
LK: What strikes me with the sale of Aerion is the parallel with at least one transaction in the Netherlands. Perhaps it is no coincidence that you hired Rob Schreur, who previously managed Philips Pension Fund's relationship with BlackRock.
NS: I don't think you should create any parallel there. The board initiated a comprehensive review of its business and governance model early this year. One of its outcomes was the decision to outsource the scheme's proprietary investment management capability and set up an in-house investment office. I was aware that Rob had this relationship with BlackRock and had gone through a similar process 15 years ago. We certainly didn't hire Rob for that specific experience only; we hired him because he is the right person to lead the scheme's new investment office. I would also add that if Rob had been chosen because of his BlackRock experience we might not have gone to Legal & General Investment Management. From my perspective it was certainly a merit that we were able to attract a CIO with continental European experience, and we ensured that our search was not limited to the UK because I think the pension funds in Scandinavia and the Netherlands are ones that a UK fund can learn a lot from.
LK: What in particular made it an inevitability that you needed to outsource?
NS: The investment strategy had not really been looked at for 4-5 years and the scheme's environment had changed considerably over that timespan. The first was the scheme's profile: it had matured quite considerably and, as a scheme matures, the way its assets and liabilities are managed should evolve accordingly. Secondly, we did not think our insourced asset management capability model allowed for an optimal allocation of the scheme's capital and the trustees' risk budget to asset classes, investment products, financial tools and talent.
LK: Is this a glidepath towards a buyout?
NS: To be perfectly frank, we are only looking, at this point in time, towards a glidepath towards self-sufficiency and that glidepath is some years ahead. It is certainly in low double digits or high single digits.
LK: Can you tell me about the pension executive function?
NS: It is not an analogy you should stretch too far but you should look at a pension fund as a business. When we first discussed this with the Board, I presented a very simple slide showing National Grid PLC's balance sheet against the scheme's. That slide showed how significant our assets are in the context of the capitalisation of National Grid. A second slide showed how those balance sheets changed over a four-year period: National Grid's evolution was a nice, gentle upward slope, whereas the scheme's was rather like the face of a chainsaw. I challenged the trustees with the following question: is it right and are we meeting our trustee duties by accepting that National Grid's balance sheet is managed by a heavily resourced treasury and finance team when the scheme, as significant as National Grid's, has no team, let alone individual, managing it. First and foremost, the pension executive must ensure that we are managing that balance sheet much more closely and to the benefit of our members. Additionally, a more stringent focus and oversight over the external managers should also improve the scheme's probability of achieving its goals.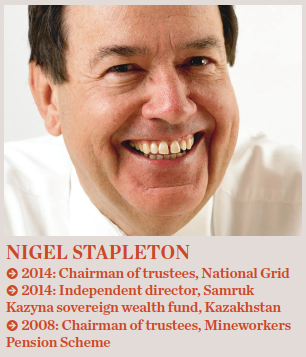 LK: Will there be governance board as with other UK funds, like Railpen?
NS: At the moment we have a funding and investment committee that is comprised of six of the 12 trustees. In May we appointed Gavin Hill, the full-time CIO of the Telent scheme, as an independent trustee. This is a change as specialist investment skills were previously not represented around the table. It is also a first, well-considered cut of a major change in investment governance; I would not exclude the possibility of something more akin to the Railpen model but what we are clear about now is that getting this major transaction into effect is our key first priority.
LK: With your external hat on, how do you assess Aerion's 15 years of existence?
NS: It has served the scheme very well. My first involvement with pensions was when I was appointed finance director of Reed International in 1986 and at that stage it was one of the few FTSE 100 companies that was still running its pension portfolio in-house, and it still is. So I have as much commitment to, and knowledge of, an in-house model as I have, through the Mineworkers Scheme, of an external model. So I have never approached this investment governance change from a feeling that in-house management is never the right thing. I approached it, as you would expect any chair of trustees to approach it, with a totally open mind. In no way was this decision based on a feeling that Aerion had not been doing an effective job.
LK: How easy was it to get this through the trustee body?
NS: It was not an easy task, partly because when I took the role of chair of the trustee board on 1 November 2014 and we sat down as a board the following month, six of the 12 trustees were at the table for the first time. So a new trustee board had to come up to speed very quickly with our status quo. We focused first and foremost on the right investment strategy. We did not discuss the most appropriate governance model until we had firmly bedded down the investment strategy issue. The decision to sell Aerion was an extremely difficult decision but one we felt we could not avoid.
LK: Is there an easy way to improve the governance of UK pension schemes?
NS: If you go back to 2008 when I took the Mineworkers Scheme board chair, there were some eyebrows raised at the time because I was not an actuary, and second, perhaps more justifiably, because I had never sat on a trustee board before. The reason was because, as a finance director, and later as a company chairman, I felt that it was absolutely wrong for someone of that background to be a company trustee. But I had the pension experience from my Reed International role and I think the reason they appointed me to the Mineworkers role is because they wanted someone with broader business experience than board governance. I think the major problem with UK pension schemes is as much a governance problem as it is anything else.
This interview took place in September, before National Grid PLC's 2015 half-year results, when the proposed majority sale of its UK gas distribution business was announced
Aerion's sale to LGIM
In September it was announced that Legal & General Investment Management would acquire Aerion, the in-house manager of National Grid UK Pension Scheme, in return for a long-term mandate from the National Grid scheme for a core portfolio of fixed income, liability-driven investment and equities.
The National Grid scheme is a corporate defined benefit scheme, closed to new members, with some 107,000 beneficiaries and assets of around £17bn. A pension executive office has been set up to oversee the scheme, and will be led by Rob Schreur, previously head of investment for the Philips Pension Fund in the Netherlands.