Implementing long-term policy in a political world dominated by the short-term news cycle seems horrifyingly difficult. Unlike the primarily consensus-driven policy making of our European neighbours, UK public policy is frequently devised with more than half an eye to news headlines.
Yet occupational pensions is one area that has seen a rare outbreak of consensus in the last decade – at least in the way that the 2010-15 coalition and the current Conservative government have executed the policy of auto-enrolment first proposed by the Pensions Commission in 2005 and initiated by the last Labour government.
The junior position of pensions minister in the Department of Work and Pensions was a career staging-post throughout the Labour administrations of 1997 to 2010. So the occupational pensions sector has welcomed the five-year tenure of Steve Webb, pensions minister from 2010-15, and now Ros (Baroness) Altmann, who is likely to stay in office until 2020.
For many career politicians, a junior ministerial position is the highest office they are likely to attain. For a career campaigner and non-politician like Altmann, a junior ministerial position represents a rare chance to influence policy from the inside while injecting a dose of technocratic know-how into a department.
For Altmann, a key goal is to successfully implement the auto-enrolment programme. Operationally it has worked out smoothly so far and opt-out rates are lower than expected. Nevertheless, Altmann stresses that the programme is now entering its most critical phase as it rolls out to the UK's smallest employers. So far, the minister says, the prognosis is good. The process has been simplified for small firms and a pilot roll-out has registered compliance levels comparable with those of larger employers.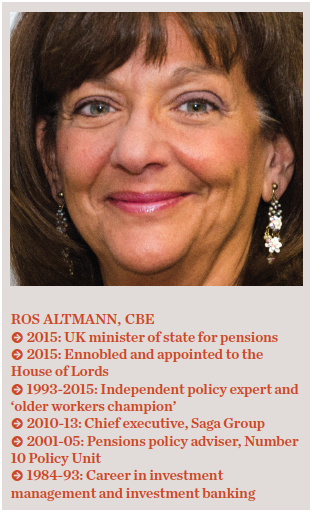 But will auto-enrolment succeed in its wider objective of increasing the UK's inadequate private retirement saving rates? Ostensibly not without a staged increase in contribution levels over the longer term, as was seen in the Australian superannuation programme. Contribution rates are currently just 2%, although they are set to increase to 5% in 2018 and 8% in 2019.
Altmann says: "I completely agree that the current levels of contribution are woefully inadequate and even when we reach the full rate of minimum contributions, most people will want more than that. But we are not there yet and we won't be there until 2019. Yes, it is right to start planning for what we might want to do thereafter but I don't think we should start to frighten the horses talking about doubling contribution rates."
Another objective for Altmann is to rebuild faith in pension savings – battered over several decades due to poor policy, mis-selling, high fees, low annuity rates and low returns.
Like asset managers, large commercial pension companies have historically relied on intermediaries to deliver clients and are unused to engaging directly with scheme members. This is something the minister believes they should work on doing better.
One gap in the UK is for mass-market drawdown products and innovations such as deferred annuities. In a submission to a government consultation on the post-retirement market made before she became a minister, Altmann called for NEST to play a greater role in this area.
"NEST has the opportunity to set a benchmark for the rest of the market," Altmann says. "Its recent report on different approaches to decumulation was very good and offered some interesting perspectives on how you might better manage decumulation."
The UK market has been peculiar, the minister adds, in that it has relied on a one-size-fits-all policy for the most part. If people were not a member of a defined benefit (DB) fund they were in a defined contribution (DC) scheme, from which they took a quarter of the assets as a tax-free lump sum and bought an annuity with the rest.
As more people start to rely on DC pensions there is a need to communicate clearly about better ways to structure retirement income, Altmann believes. The UK's 2014 budget ended the requirement for DC pension members to buy an annuity, something the minister had been campaigning for over many years.
Her current concern is that advising DC scheme members on their withdrawal options shortly before retirement only encourages them to focus on taking money out of the scheme.
"We are living in a very unusual environment where there are a lot of people who have been saving in a pension and get to age 55 or 60 and are suddenly given this behavioural push to take their money, or at least a quarter of it, as tax-free cash, even though they are working and they don't need to."
Sending members their so-called 'wake-up pack' five years before they are currently eligible to withdraw money would encourage them to plan their income requirements more effectively, Altmann believes.
The UK's DB pension landscape is highly fragmented, with thousands of mostly small trust-based schemes. The same goes for the DC master-trust segment. The revenue service (HMRC) currently approves master trusts, and not The Pensions Regulator (TPR), which says it has been raising concerns about the lack of entry thresholds since 2007.
A current concern is that members and employers are liable for wind-up costs if a master trust fails. Altmann is not in favour of restricting the number of master trusts, although she supports giving the regulator new powers and wants to ensure new master trusts are fit for purpose for consumers: "That requires more checks than we have currently got in my view, and giving the Pensions Regulator more powers than it currently has. That for me is absolutely essential."
She continues: "I was not aware of this lack of protection until about I was two or three months in and since then I have been working hard to highlight it and get a vehicle in place that will mean we can actually address it."
The ailing remnants of the UK's steel industry and the insolvency of the retailer BHS in early 2016, leaving a pension deficit of £571m (€734m) on buyout basis, have highlighted the persistent problem of pension underfunding. At the end of April 2016, the UK's DB pension sector was just a little over 80% funded with a combined deficit of £270bn for the 5,900 or so schemes assessed on a regular basis by the Pension Protection Fund. The regulator could never possibly hope to scrutinise all these schemes as diligently as its Dutch counterpart does, for instance, with its current resources.
Speaking just after the BHS insolvency and without commenting directly on the case, she backed greater powers for TPR. "The regulator needs more powers than it currently has in this particular area but I am mindful that we currently have a trustee model that relies on not having professionals in all trustee roles," Altmann says.
"I think there is a role for the lay, common-sense person and member representatives on the trustee body. They will change, but increasing professionalisation is likely to spread. The challenges of investment for DB schemes are becoming so much greater in a post-QE world."
Dutch-style consolidation would also be beneficial, Altmann continues: "I would like to see more mergers of schemes to get economies of scale. We've started on that in local authorities and there is room to go in small DB schemes in the private sector. I would expect to see more of that."
For the moment, defined ambition pensions, a policy of her ministerial predecessor Steve Webb, are off the agenda.
"Given the massive shake-up that we are in the middle of in all aspects of pensions it's actually good not to do too much."