International providers have long seen Germany as an attractive market. State Street opened an office in 1970, while State Street Global Advisors has had a presence since 1998. Their two country heads now say investor demand has changed, according to Barbara Ottawa
State Street Global Advisors (SSGA), in business in Germany since 1998, is confident that its institutional asset management business in the country will grow. Wolfgang Hötzendorfer, senior managing director of SSGA in Germany and State Street managing director Jörg Ambrosius, say they expect pensions to be the source for this expansion.
"From a demographic perspective Germany has to grow pillars two and three [occupational and voluntary pension funds] and we are confident this already pretty large market will continue to grow significantly," says Hötzendorfer who joined SSGA from Bayerische Vereinsbank in 1998. Therefore, he argues, it is important for asset managers wanting to do business in Germany to "be prepared not only to grow the institutional client base but also to offer private saving products".
Ambrosius, who worked for Deutsche Bank before joining State Street's German operation in 2001, adds: "The strong push from DB [defined benefit] to DC [defined contribution] is going to significantly increase the assets as pension providers have to find new sources of yield to replace some of their still very large fixed-income portfolios."
Of course, another factor the managing directors mention is Germany's role both as the "outlier" and the "rock" in a difficult European market environment, which attracts not only investors but also asset managers. Competition is increasing: "The good news is it is doing so in a growing market," as Ambrosius puts it.
Research by SSGA on the state of European asset management indicates an increase in M&A and a continuation of the scale trend that favours large players and alpha-focused boutiques.
"The middle segment might face challenges because on the one hand, alpha-wise, they compete with small racing boats and on the tail side they compete with aircraft carriers," Ambrosius adds.
So, for any asset manager it is becoming more and more important to deliver the agreed results, notes Hötzendorfer. And it still remains important that offerings are made according to domestic rules and regulations: "Many German investors like to have their contracts and contacts in German," as Hötzendorfer says.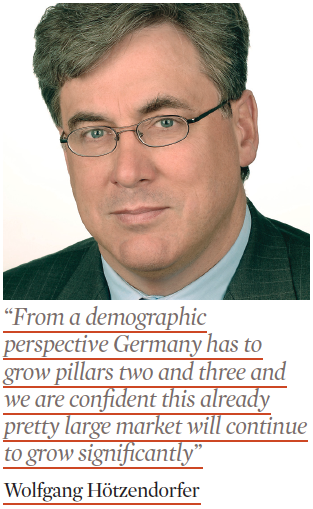 In common with other investors, German institutions are continuing to search for new sources of yield, which may involve unfamiliar managers. "Obviously, investment consultants are another catalyst which helps to broaden the manager base," Ambrosius says.
The appointment of asset managers has become easier under the new law regarding alternative investment fund managers, the Kapitalanlagegesetzbuch with the establishment of the master-KVG. "This is a trend that has really taken off," he adds.
For SSGA, the shift to the new legal framework has had little impact as the firm only manages accounts for KVGs as part of outsourced mandates. "We have had to amend our reporting database and amend the contracts but none of our investment approaches has been impacted by the amendment," says Hötzendorfer.
Changes in portfolio construction not only relate to asset classes but also to management style, says Hötzendorfer. Investors tend to select a mix of active management and complete passive mandates. While the German market is still fixed-income driven, the idea recently has been to diversify internationally, for instance in US high yield or even emerging market debt.
There are also new demands on active managers. "There is a clear trend towards outcome-oriented asset management with the provider presenting solutions suiting the client's liability profile," says Ambrosius. "If this solution is delivered, a customised benchmark can be generated based on risk appetite, portfolio construction, cash flow profile and so on, which the manager will have to beat."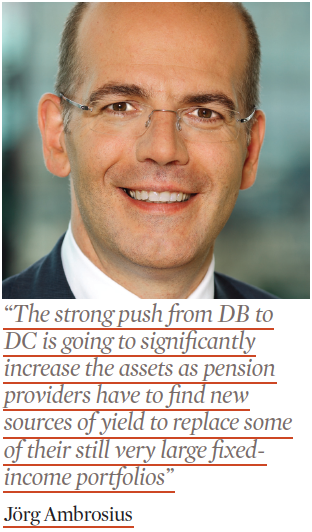 He adds: "The hunger for real alpha is enormous but you only get compensated if you deliver on your promises."
Performance fees may be gaining ground, but the real price fight is happening on the beta side, according to Ambrosius. "It is all about who can deliver this at the best price following clear parameters." And then there is increased demand for smart beta approaches; according to an SSGA survey, many institutional investors see this as an alternative to an active mandate.
Overall, both managing directors see a much stronger focus on the total expense ratio, with investors adopting the US-approach where institutions have long calculated net performance against fees. "In Germany, institutional investors are now also realising that you have to pay a certain price in order to create net positive performance," says Ambrosius.
"Pressure on the total expense ratio and on transparency is increasing both because of regulation but also because investors are asking more questions concerning what the performance an asset manager is delivering actually consists of," concludes Ambrosius. This, he says, is a positive development.
German Asset Management: In search of opportunities
1

2

3

Currently reading

Interview: State Street & SSGA - A bet on pensions growth

4

5