Ingrid Albinsson (pictured), CIO of Sweden's AP7, talks to Rachel Fixsen about the fund's mission to provide a default option for Swedish premium pension savers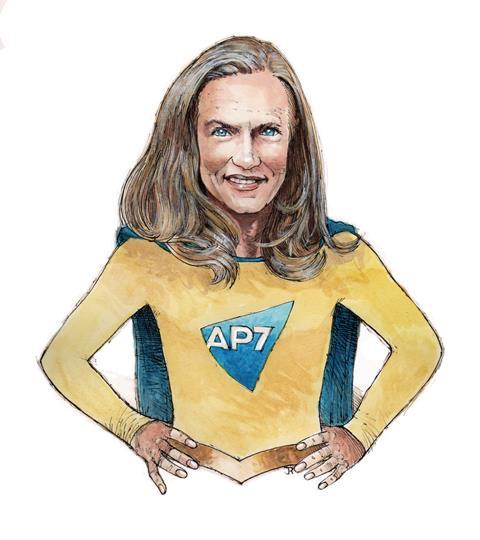 To the casual observer, Sweden's system of national pension funds, known as the AP funds, is at once simple and confusing. Simple, as they are all state-owned and invest first-pillar pension assets, but confusing because all but one act as buffers to the pay-as-you-go income pension, the main component of the state pension.
AP7, also known as Sjunde AP-fonden (the Seventh AP Fund) is the odd one out, being not only by far the largest but also the only one to operate in the premium pension system, the smaller part of the state pension – a funded system of individual investment accounts.
The fund provides the default option for premium pension savers, who can otherwise pick one of the private pension providers to invest their money.
This unique role has determined the Stockholm-based institution's product design and approach to investment, explains Ingrid Albinsson, AP7's CIO.
"We have a product called Såfa which is a diversified saving product with a life-cycle profile and a sustainability profile," she says.
"The management of the assets and the design of the product are based on the state pension perspective. We tend to say, when we talk about composition of the state pension, that the income part is like a fixed-income component, while the premium pension, and the Såfa solution that we have created, is a complement to that.
"It's diversified, and part of it is high-risk. The reason for that is to get as high a pension as possible when you are at the age when you start to take out your pension.
"Members of the state pension scheme work in Sweden and they get the income part of their pension in Swedish kroner – so diversifying out of Swedish currency is a good thing, for example," Albinsson says.
"Also, these savers will keep these savings for a long time. And over such a long period of up to 40 years, we are aiming to get the equity premium from the market for young people, but when people get older we have a life-cycle aspect to Såfa, gradually phasing in more stability with fixed-income assets in Swedish kroner to get a more balanced product at that point. That's the concept we have for Såfa," she says of the strategy that was developed back in 2010.
One of AP7's most basic investment beliefs in its management of the premium pension default option, is that it is critical to take risk to get returns for the pension. "There is no risk-free lunch or anything like that," the CIO says.
"If we were only to invest in very safe fixed-income assets, then the pension would simply reflect the low return one could get from that, but in order to maintain purchasing power for people over time, you need the ability to take on risk, and also diversification," Albinsson says.
AP7 believes in an active approach and dynamic allocation of the capital over time. The fund also believes that, in the medium term, asset owners can take advantage of mean reversion in asset prices.
Cost efficiency and transparency of costs constitutes another investment belief for the institution. Albinsson emphasises the importance of keeping costs very low in order to provide retirees with good pensions in the payment phase.
"We think about the financial interest both in terms of the current saver and the future saver, so we have a long-term way of thinking and we express that through our active stewardship in the portfolio – an approach which goes for us as an asset owner," she says.
A top priority for AP7 is to have investments in climate solutions, which Albinsson says can contribute to both financial returns but also sustainable goals for society in general.
AP7 runs two funds – an equity fund with global exposure, into which the bulk of its assets are invested, and a bond fund containing Swedish fixed-income short-duration assets.
Under its individually based life-cycle approach, the Såfa product uses these two building-block funds in different combinations at different ages. While the equity fund forms the whole plan for younger savers, from the age of 56, fixed-income savings start to be introduced to an individual's account.
"We think about the financial interest both in terms of the current saver and the future saver, so we have a long-term way of thinking and we express that through our active stewardship in the portfolio"
As a pension-saving product, Såfa is partly regulated by the UCITS framework. This means AP7 must comply with the UCITS requirement for daily liquidity, as well as strict demands regarding standardisation, transparency and reporting in both the equity and the fixed-income funds.
"We are limited, for instance, when it comes to keeping alternative assets in the portfolio," Albinsson says. "So the equity fund for us is really the growth engine where we have diversified equities, whereas the fixed-income fund is the safe part of the portfolio."
In implementing its investment strategy, AP7 uses a mix of external managers with segregated accounts combined with internal capabilities.
"We have the fixed-income fund managed internally; we have our derivates book managed internally; we have some currency management carried out internally – and Swedish long-short alpha and risk management portfolio are also managed internally," Albinsson says.
The derivatives management team handles the leverage that AP7 uses in its equities portfolio, says the CIO. Including this leverage, which was just under 15% at the end of 2020, AP7 has a rough split between 75% external management and 25% internal management, according to Albinsson.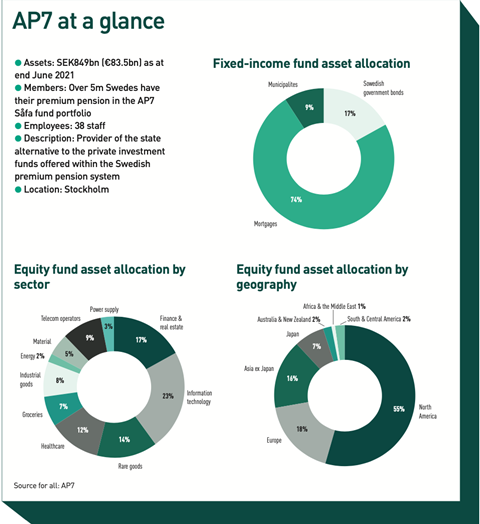 This ratio has changed somewhat since AP7 brought more diversification into the portfolio in 2016. At the time, the fund added risk premium and small-cap exposure, as well as more exposure to private equity. "That was certainly a change and it also had the effect of moving us a bit more towards internal management but, overall, I would class it as a pretty small shift," she says.
Even though internal management forms less than a third of AP7's overall asset management, given the size of the fund, internal investment teams were nevertheless running SEK200bn (€19.5bn) of money at the end of 2020.
Albinsson explains that how those teams are structured reflects the different investment horizons in the portfolio.
"We are divided into three small groups – one working with our alternative investments which is today very much the private equity portfolio and a second team working with risk management and allocation of the portfolio. They are working with our listed-equity strategies, the global equities, the risk-premium strategy, the small-cap exposure and also the risk framework to manage the fund's risk level.
"And then we have a third segment managing fixed income, currency and alpha strategies, which have up to a three-year horizon. The alternatives team is working 10 years out, which is a longer investment horizon than for the other ones," Albinsson says.
AP7's current roster of external managers includes State Street Global Advisors, Northern Trust Global Advisors and BlackRock for passive global equities. For pure alpha management, the Swedish fund uses Nomura and Sumitomo Mitsui Trust. For externally-managed private-equity funds, AP7 invests through Adam Street, HarbourVest Partners, Hamilton Lane Advisors and LGT Capital Partners.
Between the beginning of 2018 and the middle of 2021, AP7's equity fund which, at SEK784.3bn, forms the bulk of the pension fund's total assets, almost doubled in value.
As a pension fund that is not only so huge but also growing rapidly, asset managers are keen to compete for the mandates AP7 puts out to tender.
"It would be very good to be able to diversify the portfolio into more asset classes, and also from more of a sustainability perspective, we know that there is a huge financing demand for many projects, and we could be part of that"
Albinsson outlines what AP7 is looking for in potential external managers:
"First of all, as a government institution we follow the rules on public procurements. Of course, we look at the experience the firms have, the knowledge they have, we look very much at the philosophy and alignment to what we are seeking and what fits our needs.
"One area that has been with us for quite some time and is still important is sustainability, and the values that go with that. When it comes to external managers, of course we are seeking cost efficiency combined with quality in the mandates that we have," she says.
The long-term nature of AP7's objective makes it particularly important that the fund works with managers that have a compatible philosophy.
"The strategy sometimes decides the investment horizon for the mandate but, as always, since we are a long-term pension-savings asset owner, that is reflected in the way we want to have conversations with our counterparties out there – a long-term commitment to what AP7 is doing," the CIO says.
Sustainability has been a key priority for AP7 since the institution was formed in 2000, according to Albinsson.
"We have worked with this for a number of years, creating a base from a normative framework. We use different tools in our work, tools that we were early to develop. Today, these are common standards in the market, such as using blacklists as a way to engage and have a way of interacting with companies. We use voting, and we do thematic work over periods of three years at a time – one example is negative climate lobbying by companies," she says.
AP7 has also focused, Albinsson says, on increasing the transparency of climate achievements in the portfolio. It is backing and using the new Investor Climate Action Plans (ICAPs) Expectations Ladder, a framework launched by the Investor Agenda, an alliance of investor groups, to support the goal of net-zero emissions in the economy by 2050. "Other investors are also using this framework, which is quite concrete in actions to take," the CIO says.
Looking ahead, Albinsson sees three different types of challenge facing AP7 regarding investment.
"One of them is the challenge to meet the pension promise in this low-return environment – how to meet the expectations of our savers. We do try to diversify to a broader universe, but this also goes back to our regulation. For us to get full diversification, it would be good to have a broader investment universe," she says.
Changes to AP7's investment mandate are currently subject to a legislative process in Sweden. The proposal would bring the pension fund's investment choices more into line with those now open to the large four buffer funds, AP1 to AP4. The draft also includes new stipulations about how the fund works with risk, along with a removal of the requirement for daily liquidity.
Albinsson says the new rules would allow AP7 to move more into alternative investments, asset types which, she says, could have good characteristics for the fund's overall asset allocation.
"It suits the long-term saving plan that we have at AP7 to be able to get out of the listed market, which we can't really do today – just the small part we have in private equity," says the CIO.
"It would be very good to be able to diversify the portfolio into more asset classes, and also from more of a sustainability perspective, we know that there is a huge financing demand for many projects, and we could be part of that.
"We are talking here about real estate, infrastructure, of course, as a lot of new infrastructure is needed to modernise the world," she says.
The proposed changes would be good for Såfa's savers, she says. "One could argue, when you keep your savings for 40 years, is it really necessary to have daily liquidity for everyone? Every day, being able to go out into the market – this has a price, and it would be good for people not to have to pay that price," Albinsson says.