Danilo Pone (pictured), CIO of ENPAB, the first-pillar scheme for Italian biologists speaks to  Carlo Svaluto Moreolo about the fund's new proprietary asset allocation model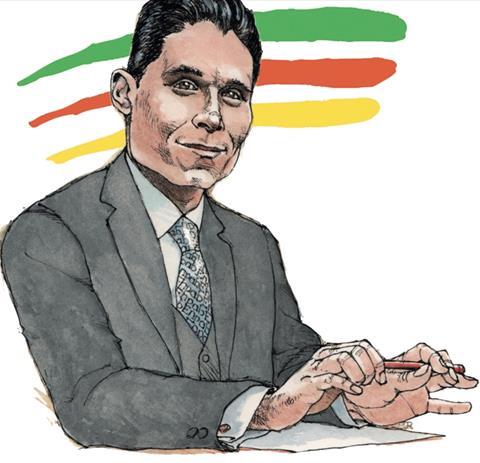 Ente Nazionale di Previdenza e Assistenza a Favore dei Biologi, better known as ENPAB, is the first-pillar fund providing retirement benefits to Italian biologists. It is one of Italy's 20 casse di previdenza, which are privatised first-pillar funds for professionals. These institutions held €87bn of assets at the end of 2018, according to COVIP, the pension fund regulator.
Some of these institutions have been investing for decades and are seen as key actors within Italy's institutional investment arena. The many constraints faced by casse di previdenza, in terms of regulatory requirements and demographic trends, have moulded them into complex organisations. Their members rely on them not just for pensions but for different kinds of welfare benefits as well as advice and education.
These organisations enjoy strong collective representation through an association, Adepp (Associazione degli Enti Previdenziali Privati). Throughout the years, Adepp has faced frequent calls for greater participation of its members in the domestic economy. At the end of 2018, casse di previdenza had €10.89bn of investments in Italian businesses, corresponding to over 16% of their assets, according to Itinerari Previdenziali, a pension think tank. As Italy attempts to recover from the COVID-19 crisis, these institutions will undoubtedly be asked to increase their commitment.
ENPAB is part of a younger breed of casse di previdenza, having been founded in 1996, as part of the pension reform that overhauled Italy's pension system. With a balance sheet of €733m, it is among the smallest in terms of assets. But it has begun a process that could see it evolve quickly into a more influential and sophisticated investor.
The institution has already allocated about 14% to private markets, part of which is invested in Italy. The trend is for the overall share of ENPAB's Italian investments to grow as the market becomes more mature and the institution develops new relationships with key players.
ENPAB's young CIO, Danilo Pone, has been developing the organisation's proprietary asset allocation model. Aided by Ruggero Bertelli, a professor of economics and finance at the University of Siena, Pone has laid the foundations for a new phase in the organisation's growth.
"We have built a strategic asset allocation model that is tailor-made and can be implemented according to our evolving needs and taking into account our investment principles, as well as our risk/return objectives and the evolution of the regulatory framework.
"The model, which we called high frequency strategic allocation (HFAS), is built upon the main approaches that are found in academic literature. By integrating different approaches, we have come up with a fundamentally new approach to portfolio construction," Pone says.
"In my view, the most relevant aspect of our proprietary model is that it does not rely on the past performance of asset classes as an input. Since, as the old mantra goes, 'past performance is not an indicator of future performance', we can limit the influence of this input in the model"
Developing the model took two and a half years, according to Pone, and its launch coincided with the onset of the COVID-19 outbreak. That did not stop ENPAB's board of directors from approving the model earlier this year. The next step will be for the model to become fully operational and to produce the fund's new asset allocation strategy.
"Instead of using a standardised model, the board of directors saw fit to create a proprietary model that could serve our needs better," says Pone.
The model combines well-known approaches, including Harry Markowitz's modern portfolio theory (MPT), the Black-Litterman portfolio allocation model and Monte Carlo methods, with more modern ones.
"In my view, the most relevant aspect of our proprietary model is that it does not rely on the past performance of asset classes as an input. Since, as the old mantra goes, 'past performance is not an indicator of future performance', we can limit the influence of this input in the model. Instead, the model focuses more on risks, both in terms of volatility of returns and correlations between asset classes", he says.
In designing the new model, sustainability has been placed at the centre. "The objective was to make sustainability an integral part of strategic asset allocation, because as an institution we think that is an essential element.
"The model we have built enables the full integration of sustainability factors, because it has been thought as a flexible instrument, which allows us to follow the evolution of our investment policies and portfolio allocation. Sustainability criteria will increasingly be part of our decision-making process", he says.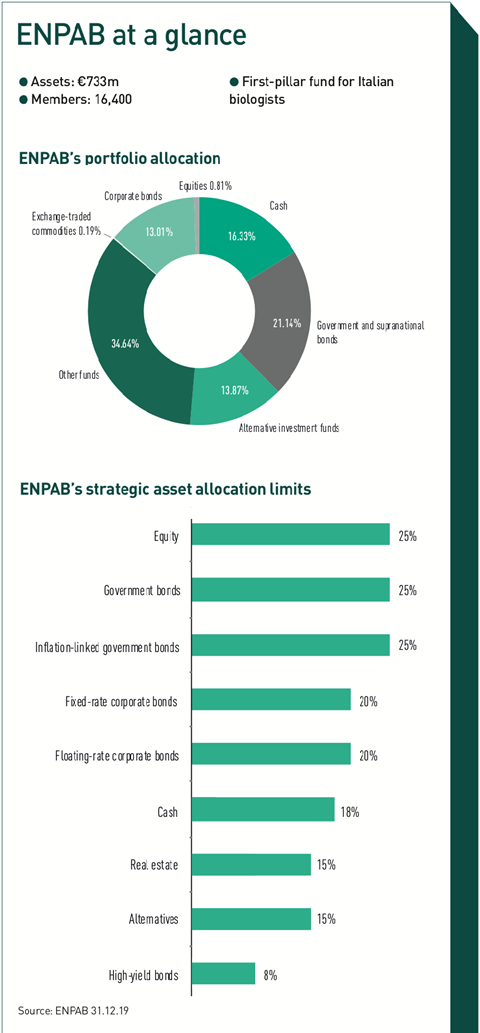 The COVID-19 crisis struck at a time of change at ENPAB but it did not catch the institution off guard. While few imagined COVID-19 factor could spread with such force and rapidity through the world despite the efforts of the international community, ENPAB already had high levels of liquidity.
Pone says: "During the last quarter of 2019, we felt that equity multiples were showing signs of tension. Having increased our cash exposure, we met the crisis with an underweight position in risky assets.
"This strategic move allowed us to build long-term positions in other asset classes. It also helped us work in support of our members, including contribution holidays, free consultations as well as allowances.
"COVID-19 was a catalyst event, but for some time we had been worried by the fragile balance represented by the market indices. We essentially feared that an obstacle could generate air pockets", says Pone.
The sudden collapse of asset prices has allowed investors to reassess economic fundamentals, and has generated selected opportunities, according to the CIO.
"We believe that a gradual rebalancing of our positions can represent an important occasion to improve the portfolio, as long as the signals provided by economic indicators are considered properly. It is important to identify the areas of the economy that will recover more quickly," he says.
In designing the strategic asset allocation, ENPAB needs to take into account several factors. As a first-pillar fund, the level of retirement benefits is set by law. At the same time, the institution has to satisfy strict solvency requirements. This means it has both short-term and long-term objectives.
In particular, the annual minimum rate of return is partly determined by the need to pursue balance-sheet equilibrium as well as the yearly pension indexation levels set by the Italian government. The long-term returns also depend on the evolution of the actuarial profile of ENPAB's member population.
"Based on these premises, our investment strategy follows an active multi-asset, risk-based approach. The style of management is dynamic and focuses on absolute returns," he says.
The added challenge of today is adding a COVID-19 'filter' to every decision. Pone explains: "We must assess if and how the economy will change globally and observe what the pandemic will leave behind in terms of de-globalisation and restructuring of supply chains. More generally, we want to watch where capital will flow in terms of industrial sectors.
"How the world changes post-COVID-19 can add or subtract from our investment strategy."
However, ENPAB's diversification drive continues. "We will push further with our scouting activity relating to a number of themes", says Pone.
"We favour asset managers that understand and are able to fulfil our needs, which consists of delivering the annual minimum target as well as a long-term target, within the boundaries of our risk requirements and investment universe.
"As a result, it is not part of our DNA to buy funds of funds or flexible balanced funds. We would rather not delegate too much to external managers, because we want to retain as much control as possible on the underlying securities that our managers buy.
"We are looking for instruments and strategies that can provide a risk hedge, in order to improve the efficiency of our portfolio and actually profit from adverse market events.
"We continue to look for non-correlated asset classes. For that reason, we are monitoring the world of private markets, including private equity, private debt, real estate and infrastructure."
The institution, Pone adds, is keen to learn about liability-hedging assets as well as derivatives-based hedging strategies.
In selecting managers, ENPAB does not follow a fixed process, according to Pone: "There is no set selection process that is valid for any asset class. We use different methods, depending on the asset class.
"The method, for instance, is radically different whether we are choosing UCITS or AIFM-regulated funds.
"Generally speaking, however, there is a quantitative and a qualitative phase. During the first phase, we analyse the asset class in question using mathematical methods. In the second phase, we look at everything, from the CV of the portfolio managers to the firm's organisational structure. We also look at how they build the strategy and select securities as well as their risk management process," says Pone.
At 36 years of age, Pone is among the youngest CIOs in Italy. He is part of a new generation of professionals that will shape the development of Italy's institutional investment sector.
Like his peers, Pone has a keen eye for the megatrends that are radically transforming the global economy. Sustainability and greater pension fund investment in the real economy are both relevant topics for him and his peers.
For Italian institutional investors such as ENPAB, the COVID-19 crisis is perhaps a short-term obstacle to the trend towards a more sustainable economy and ever greater involvement in the domestic economy. But Pone is lucky to have faced this crisis early in his career. His organisation should now be better prepared to face the challenges that lie ahead.