Michael Nellemann Pedersen (pictured), CIO at PKA, tells Carlo Svaluto Moreolo about the Danish pension provider's investment philosophy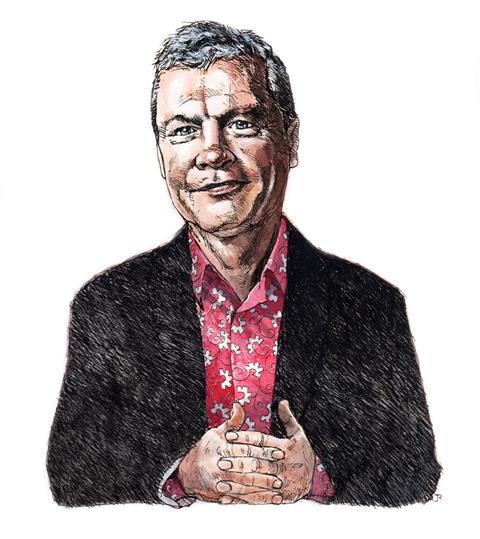 Denmark is credited with having one of the best welfare states in the world and is consistently ranked among the happiest countries. While both those claims can be debated, perhaps the quality of Denmark's pension system is a more straightforward fact.
The country currently ranks third in the influential Mercer/CFA latest Global Pension index. This is thanks, in no small part, to its innovative pension investors, who actively contribute to maximising security in retirement for Danish citizens.
PKA, one of the country's oldest and largest pension investors, has long been at the forefront of Denmark's pension industry. It was jointly established by a number of pension schemes in 1954 and today manages about DKK350bn (€47bn) of assets on behalf of 335,000 members across several schemes. The majority of PKA's members are women who work in the health and social care sector, representing "the backbone of the welfare society", as stated on the fund's website.
Perhaps PKA was able to keep abreast of the many disruptions in the domestic and global economies thanks to the loyalty of some of its key employees. CIO Michael Nellemann Pedersen joined in 2001, two months before 9/11, the first of several crises that have fundamentally changed the theory and practice of institutional portfolio management.
Two of the most important lessons that Pedersen has learned from two decades at PKA, he says, are the value of dialogue within the investment team and the importance of assessing investments from a risk perspective.
"We have been able to keep our defined-contribution pension based on a fixed rate"
PKA's investment strategy is firmly grounded in risk management. A key feature of its organisational model, according to Pedersen, is the separation between the investment and risk management functions, both independently reporting to the CEO.
Pedersen says: "There is a strong, collaborative relationship between the two teams, but it's important to be aware that the risk-management team has the final word on individual investments, in terms of risk charge, before the CEO."
This is not uncommon among Scandinavian pension funds, but Pedersen says it has allowed PKA to maintain its original offering for longer than its peers.
"Many of our peers have switched to market rates, due to the challenges of managing liabilities in a falling-interest-rate environment. Thanks to our risk-management approach, we have been able to keep our defined-contribution pension based on a fixed rate. This requires us to see our investments from a risk perspective," says the CIO.
"Our objective is to achieve the highest, most predictable and stable possible returns. This objective reflects the importance of the retirement benefits we provide to our members," adds Pedersen.
That commitment is summarised neatly by PKA's main slogan, 'Sammen giver vi mere tilbage', which translates as "together we give more".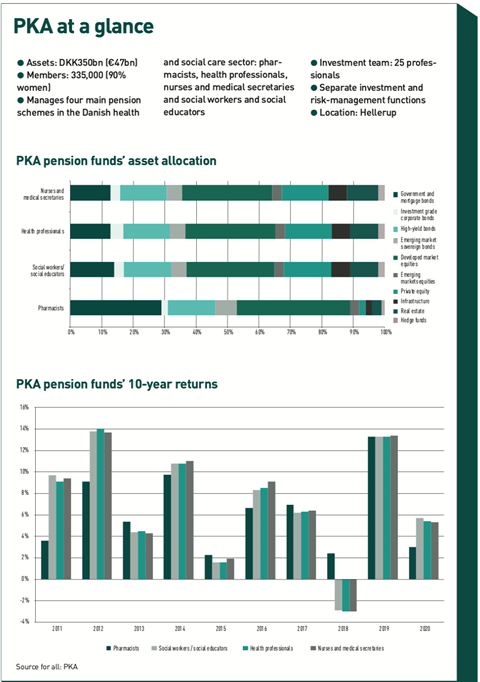 To maintain that commitment, PKA allocates to the assets carrying the highest risk-return ratio and combines them in a way that maintains the overall portfolio-risk level constant throughout the financial and economic cycle. The portfolio-risk level is calculated using a value-at-risk (VaR) methodology with a 99.5% confidence level.
Pedersen says that, except when it comes to the more efficient listed equity markets, the investment team follows a bottom-up approach to selecting investments, but has to strictly follow PKA's risk-management framework.
PKA's investment philosophy has been in place for some time, but only recently the organisation has begun to discuss it in more detail and openly, according to Pedersen.
Diversification and risk management are only the first two of the six items on which PKA's investment philosophy is based. The third item is a commitment to create partnerships with external entities.
Pedersen says: "PKA's investment department can count on 25 investment professionals, but we need to find external partners. In fact, a large share of our alternative-assets portfolio, which consists of nearly 45% of assets, was built with the collaboration of external partners. Establishing those partnerships and building that portfolio has been one of the most important tasks during my tenure."
The two main examples of this collaborative approach are Alternative Investment Partners (AIP) and Institutional Investment Partners Denmark (IIP). Both co-founded by PKA in 2012, they were originally a single entity known as PKA AIP.
AIP is an institutional investment platform dedicated to investing in infrastructure, managing over €4bn in AUM and with a current objective to invest up to €1bn per year. The other organisations involved in AIP are Danish pension funds PenSam and Akademiker Pension and asset manager Storebrand.
IIP, a regulated alternative investment manager, focuses on private funds and co-investments and is active both in private equity and infrastructure, currently managing $12bn (€10bn) of assets. It also provides third-party advice to institutional investors. The four main schemes administered by PKA are IIP's main clients at the moment.
The fourth principle of PKA's investment philosophy consists of a firm belief in passive investment in listed equities. The fund uses a combination of total-return swaps and long-only, factor-based exposure to equity indices, which allows PKA to run a low level of costs.
The fifth principle is to integrate responsible investment within all asset classes. The organisation has come a long way since its first green investments in 2011 and now tilts its portfolio of listed assets towards companies with an ESG score 15% higher than the benchmark. PKA is committed to achieving net-zero carbon emissions by 2050.
This is thanks to PKA's involvement in the Institutional Investors Group on Climate Change (IIGCC) and it is implementing the IIGCC's Net Zero Investment Framework to achieve its net-zero objective, having set several interim targets along the way.
PKA is also part of Climate Action 100+ and has made several calls over the past few years for greater focus and investment on climate change by peers and policymakers.
"Thanks to our network of partners, we saw the opportunity to build exposure to Northern European offshore wind power generation as far back as 10 years ago"
In recent years, the organisation has stepped up its engagement efforts and recently raised its allocation to green and sustainable investments to 10% of the portfolio. Pedersen says that the plan is to raise the allocation further to 17% by 2025.
The CIO adds that the efforts will be focused more on social and governance factors. So far, PKA invests €1.2bn in social investments and is well on its way to reach its target of €1.37bn by 2025. The social-investment portfolio consists of social bonds, emerging-market-focused social-impact funds, housing and microfinance.
The last of PKA's six-principle investment philosophy is to take advantage of market opportunities.
"For instance," says Pedersen, "thanks to our network of partners, we saw the opportunity to build exposure to Northern European offshore wind-power generation as far back as 10 years ago, and we were among the first to do that. We believe that thanks to our size and our experience we should be able to exploit similar opportunities in the future."
Guided by the same entrepreneurial spirit, PKA has engaged in what are known as regulatory capital trades. These consist of transactions between institutional investors and banks, where the latter offload risk to reduce risk and optimise balance sheets.
The CIO says: "We have structured transactions with several global banks, mainly consisting of first-loss tranches, which we believe can create advantages for both parties. It's a competitive market, but if you do your homework, you can benefit from a risk-return perspective." Other investors involved in this market are Dutch giant PGGM and Sweden's Alecta.
These transactions are structured and monitored in-house, as are several other asset classes, including listed equities, investment-grade bonds, real estate and cash. The in-house investment team also carries out hedging activities for interest rate and currency risk.
PKA withstood the market turmoil caused by the COVID-19 emergency, reporting a 5.3% return on investment for 2020. This was lower than the 7% average of the past 10 years, but it could have been even worse, had it not been for its portfolio of private equity and infrastructure.
In future years, however, Pederseen sees potentially lower returns and volatility in most asset classes.
"Every time the Fed tries to raise interest rates, there is higher volatility in markets, and after several years of positive returns for equities, we can expect lower returns going forward. The very close relationship between rates and equity markets is a concern, as is the huge level of global debt. All this means that equity returns could actually be well below their historical average for the next decades," says the CIO.
"Bonds no longer serve as a true diversifier and private markets are becoming increasingly competitive. In the green investment space, especially, we are looking at lower returns for the same level of risk. Therefore, securing the returns we need, which is our primary task, and the sustainability of our investments, will be a difficult balancing act."
"That is why we need to keep working on building the right partnerships," adds the CIO.