Jeffrey McMahon (pictured), head of pension investment and risk at Xerox UK, tells Carlo Svaluto Moreolo about the plan to make the company's legacy DB scheme self-sufficient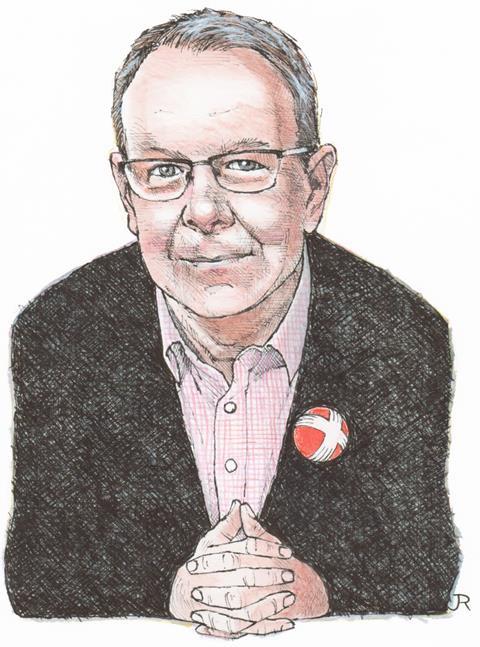 A growing number of UK defined benefit (DB) pension schemes are turning to the insurance sector to manage their liabilities and ensure benefits are paid. Aon's Global Pension Risk Survey noted that the share of schemes targeting an insurance buyout rose from 27% to 35% between 2017 and 2019. The UK market for bulk annuities, or buy-ins – that is, a partial off-loading of liabilities to an insurer – could reach £40bn (€47bn) this year, according to Aon.
On aggregate, the size of UK DB pension scheme liabilities is substantial, standing at £1.92trn at the end of September, according to the Pension Protection Fund (PPF), the UK's DB lifeboat fund. Pension promises weigh on corporate sponsors, which are constrained in terms of investment or dividend payouts. Similarly, pension fund trustees struggle to keep deficits in check while the yield on risk-free government debt is stuck at low levels.
However, according to Aon's survey some 43% of UK DB pension schemes still target self-sufficiency. This is the state where assets can be invested at low risk and benefits can be paid without any support from the employer.
Targeting self-sufficiency may be the lowest-cost option for employers and scheme trustees, but it is by no means straightforward. Liabilities can stretch out many decades and there is never any certainty that a scheme's long-term investment strategy to cover those liabilities will prove to be correct.
To make sure self-sufficiency is achievable the UK's Xerox Final Salary Pension Scheme has had to adopt a strong risk-management approach, according to Jeffrey McMahon, head of pension investment and risk at Xerox UK.
The scheme has existed since the 1970s, but it was closed to future accrual at the end of 2013. In the following year, members of the scheme and new employees of Xerox have been automatically enrolled into a defined contribution plan provided by the Dutch life insurer Aegon.
At the end of March the legacy scheme had nearly 13,000 members. Almost two-thirds of them are pensioners, with the rest being deferred members. "This makes it a very mature scheme, but the trustee board is responsible for the payment of benefits for over the next 60 years," McMahon says.
McMahon joined Xerox nearly 10 years ago after a career managing the assets of UK pension schemes. From 1996 to 2003 he was CIO of the pension fund of glass manufacturer Pilkington. He then became an investment consultant at Aon, followed by pension investment roles at Michelin and the gas specialist BOC.
In 2012, the pension scheme replaced Mercer with Redington as consultant, a move that McMahon actively pursued. "I wanted to employ a consultant that had more of a focus on risk management. Redington showed a refreshing approach to risk management and was able to establish a clear path towards full funding on a buyout-type measure," says McMahon.
"At the time, the scheme was underfunded on a both a buyout and a technical provisions basis. That meant we had to put in place a risk-based framework, defining a number of key measures."
The scheme set a risk budget based on a value-at-risk (VaR) measure, which is reviewed quarterly. Redington also analysed the profile of the scheme's liabilities and the schedule of the sponsor's contributions and calculated a required return over Gilts to help enable the scheme to target full funding by 2037.
"Every quarter, they identify a required return for us as well as the asset mix that should deliver an expected return that is higher than the required return. If the expected return dips below the required return, there is a call to action," says McMahon.
The consultancy advised the scheme to significantly raise the liability-driven investment (LDI) hedging ratio, which was about 30% in 2012. The hedging ratio stands at about 78% and, by design, it is kept in line with the scheme's funding ratio. The funding level is monitored weekly and the hedging ratio is increased whenever a significant improvement in the funding ratio occurs. In April last year, the scheme moved £67.7m from the equity portfolio into the LDI portfolio.
Insight Investments manages the scheme's LDI portfolio. In recent years, the scheme started to use leverage within the portfolio, mostly through repo. "That allows us to hold £1bn worth of LDI collateral assets while hedging £3bn worth of liabilities," says McMahon.
"What really changed since I joined and Redington took over is that we abandoned a fairly rigid asset allocation, which was broadly 45% fixed income, 45% equities and 10% property," says McMahon. "We ripped all that up, to provide a higher level of expected return, and we left behind any rigid guidelines on the mix of different asset classes in the asset allocation. That is why early on we went into alternative credit strategies, mostly at the expense of equities."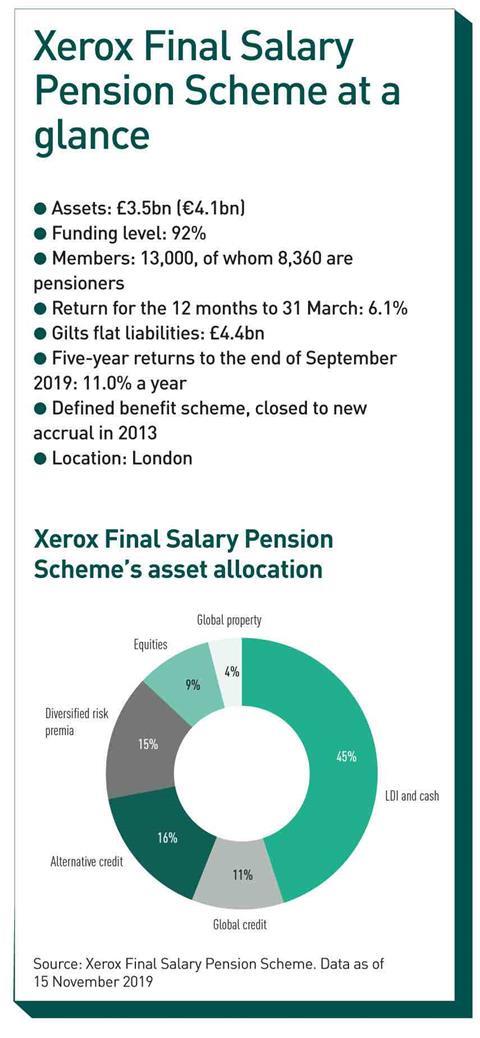 The scheme has invested in alternative credit strategies with managers such as Värde Partners, Magnetar Capital, HPS Investment Partners and CarVal Investors. The portfolio also includes commercial real estate debt investments managed by ICG-Longbow. These complement the existing global real estate portfolio.
To reduce risk further, the scheme also sold its passive equity holdings in 2018, replacing them with diversified risk premia strategies managed by AQR, Bridgewater and MAN Group.
"It is fair to say we invested some time and quite a bit of education and training from our consultants to get the investment committee comfortable with some of those alternative strategies. Most notably, the diversified risk premia approach favoured by Redington," says McMahon.
He points out that investing in such strategies also required a shift in mindset with regard to fees. He says: "It is quite a big undertaking, especially if you are taking money from passive equities. But if you achieve the expected returns, you are less likely to need those strategies long into the future, and you will be able to allocate capital to LDI or to lower-risk and lower-fee strategies."
Thanks to this strategic shift, the scheme improved its position significantly from a risk perspective. VaR fell from about 20% in 2012 to below 7% currently. The deficit was £581m at the last official actuarial valuation in 2016, corresponding to a funding ratio of 81%. It was reduced to £278m by March 2018, with funding rising to 92%. The upcoming actuarial valuation could show further improvement, according to McMahon.
"It is fair to say we invested some time and quite a bit of education and training from our consultants to get the investment committee comfortable with some of those alternative strategies"
"The results on the investment side have been very good and achieved what we wanted to achieve – that is, the asset base growing faster than the growth in liabilities," he says.
"The Holy Grail is to manage the risk down, as it is useful to all stakeholders – trustees, members and the company – and to maintain an expected return that is higher than the required return."
The scheme's sponsor also contributed significantly to reducing the deficit, by pouring £52m per year into the scheme. Contributions will run until 2023, at which time it is estimated that the scheme will be fully funded on a technical provisions basis. As well as regular contributions, there have also been one-off contributions.
Given the scheme's deficit levels until a few years ago, targeting self-sufficiency seems like a rational choice by the sponsor and the trustee board. Seeking a buyout or a buy-in by an insurer might have been unnecessarily costly for members.
However, McMahon argues that cost-consciousness is only part of the reason why an underfunded DB scheme could target self-sufficiency. He says: "It is an aspirational question more than anything else. When the deficit is relatively high, it might be too costly to do a buyout, but at the same time a trustee board needs to think about what you might be able to achieve in 10 or 15 years.
"During that time, the scheme may be running some investment risk. Therefore, it will need the appropriate structure to be run efficiently. It will need in-house expertise and external advice if it is to be run on a self-sufficiency basis."
That is why McMahon's proudest achievement has been establishing a robust risk framework. He says: "I would hope that if you'd ask any of our trustees, they would tell you that we have achieved a good level of expected returns with relatively low risk, and most importantly we have reduced the funding level volatility.
"Paradoxically, my job is to do myself out of a job. As we approach that self-sufficiency target, my job will change, since most of the assets will be managed in LDI or low-risk credit," he says.
Things might change by the time McMahon retires, and the trustees might agree on a different course with the sponsor. "But based on the conversations we have at the moment, I sense that the trustee board, whilst considering all options, may want to maintain that self-sufficiency target."
At industry level, the behaviour of schemes such as the one McMahon manages will depend not only on the future direction of government bond yields or expected returns on risk assets. McMahon says: "One question is, where will schemes get their trustees from? In 10 years' time, most members of final salary pension schemes may no longer be in work. Schemes will continue to pay benefits, but finding trustees who are willing to run self-sufficient pension schemes could be a real struggle."