Lars Dijkstra, Van Lanschot Kempen's new head of sustainability, explains his new role at the recently combined asset management franchise
Most asset management CEOs probably realise by now that it can take a substantial level of resources to be taken seriously in ESG. Telling analysts or clients that you are taking it seriously isn't enough.
Large players can hope that writing big cheques – investing in top people and teams, or boosting spend on data and analytics – will cement their credibility.
Europe's smaller regional asset managers, which do not compete on scale of AUM and resources, have a more limited set of tools at their disposal to attain and retain credibility in sustainability. But these tools can be no less effective than sheer heft and scale when devised and deployed well.
Kempen Capital Management is no newcomer to ESG, having signed the UN-backed Principles of Responsible Investment in 2008. But the wider asset management group is a small player in terms of assets at €99bn as of end-2020 (client assets, which include institutional fiduciary mandates were slightly higher at €115bn).
The group's recently combined asset management unit brings together the institutional business in Kempen Capital Management, including a UK fiduciary operation, with Van Lanschot's private banking activity. The wider group includes Kempen's merchant banking unit and Evi, an online savings platform. The bank is conservatively capitalised with a tier-1 capital ratio exceeding 25%.
Last year the combined Van Lanschot Kempen asset management unit identified sustainability as one of its strategic objectives – with Lars Dijkstra, Kempen's CIO since 2005, moving to the newly created role of head of sustainability – with a direct reporting line to the group's CEO.
Dijkstra is active on the institutional stage, playing a prominent role in the 300 Club, the international group of leading investment professionals, and as a supporter of FCLT Global, the Boston-based asset manager and asset owner-backed think tank for long-term investing.
Leading a modest combined sustainability team of nine people at Van Lanschot Kempen, Dijkstra cites two key reasons underlining the seriousness of his appointment. One is his direct reporting line to the CEO Karl Guha, who steps down this month to be replaced by Maarten Edixhoven.
"We think it's strategically so important for the whole business," Dijkstra says. "It's about value creation for all our stakeholders – employees, clients, shareholders and society at large. It's 'Chefsache' [the boss's business] as they call it in Germany, so a CEO needs to lead this himself."
The second point is the way good organisational governance around ESG is embedded in the firm – which Dijkstra says can demonstrate the validity of its ongoing commitment to sustainability.
Non investment teams – from sales and marketing to IT – are expected to embed ESG in their day-to-day work.
"The whole idea, really, is to execute this, to leverage this, through the whole organisation," Dijkstra explains. "So it's not that we, as a department, do all the sustainability work for the company. Every individual, every colleague, in future will need to execute this."
Dijkstra also chairs a sustainability board, whose members include the CEO and business line heads, including Erik van Houwelingen, who was appointed head of asset management last autumn from the quant house Dimensional Fund Advisors, and who has assumed Dijsktra's former duties.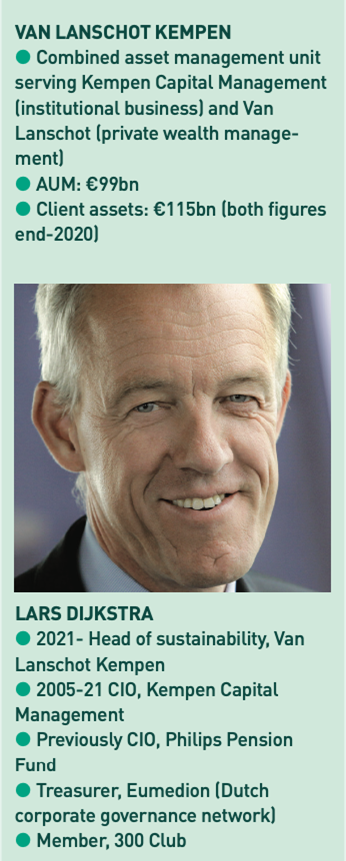 "It's quite a senior board to really make sure that everyone is responsible and accountable for their own business line and for executing [sustainability] in their business line," Dijkstra says.
In addition to the sustainability board, two 'traditional' committees covering investment and risk, are where more routine sustainability business like engagement goals or exclusion policies might be discussed.
"My team is really now driving the sustainability agenda, which we have been working on for the last two months," says Dijkstra. Aside from climate change, forthcoming key themes as determined by the group are biodiversity, circular economy, and health and wellbeing.
"Our clients, obviously the institutional clients and pension funds from the Netherlands, already have their own ESG sustainable policies – certainly the larger ones," says Dijkstra. "We advise them on those, and in the fiduciary business we help them formulate and execute their complete sustainability policies."
But the firm must devise its own policies as well, and while individual company engagements are the responsibility of portfolio managers with the support of the sustainability team, sector engagements will be a joint effort. Dijkstra takes a particular interest in shareholder matters, as treasurer of the Dutch institutional corporate governance network Eumedion.
For the Van Lanschot Kempen asset management group, individual company engagements follow a four-stage process, culminating in possible disinvestment, as was the case with pharmaceutical giant Bayer in 2019 when the company failed to mitigate Kempen's concerns about GMO crops and pesticide use.
"We think it's strategically so important for the whole business. "It's about value creation for all our stakeholders –employees, clients, shareholders and society at large. It's 'Chefsache', as they call it in Germany, so a CEO needs to lead this himself"
The firm's specialisms are small-caps, REITS and credit, the latter of which drove client outflows in 2020 – as did the high dividend strategies due to their value bias. The Sustainable Value Creation and Global Small Cap strategies saw inflows.
"If you ask all those questions –sustainability questions but also strategic financial questions – to a CFO, head of IR or CEO, very often they are interested because you are interested" Lars DijKstra
Kempen's roots are, indeed, in small caps and its oldest strategy was launched more than 30 years ago. Small-cap stocks are a field in which asset managers can have serious engagement clout, due to the position sizes they hold in individual smaller companies.
"We have quite concentrated funds in small-cap companies, so there, by definition, you may have a 5% stake or a long-term relationship and a long-term dialogue with company management."
Dijkstra is keen to challenge a common perception that smaller asset managers are automatically less effective at company-level engagement in large-caps due to the necessarily smaller position sizes.
"If you really are a shareholder, a prospective shareholder even, or an interested shareholder, who has done really deep homework on the company and you ask all those questions – sustainability questions but also strategic financial questions – to a CFO, head of IR or CEO, then very often they are very interested because you are interested. You're asking those questions with a five to 10-year horizon because you want to be a shareholder for that sort of horizon.
"Actually, our experience over the last few years is that it's not the size of our position which is really the most important, it's the quality of the dialogue."
Country Report: Pensions in the Netherlands 2021
1

2

3

4

5

Currently reading

Interview: Lars Dijkstra, Van Lanschot Kempen