Michelle Scrimgeour and her executive team set out their strategic growth priorities in November 2020, a little more than a year after she had taken over as CEO of Legal & General Investment Management (LGIM). They agreed to grow the business by focusing on existing strengths: to modernise, diversify and to internationalise.
Michelle Scrimgeour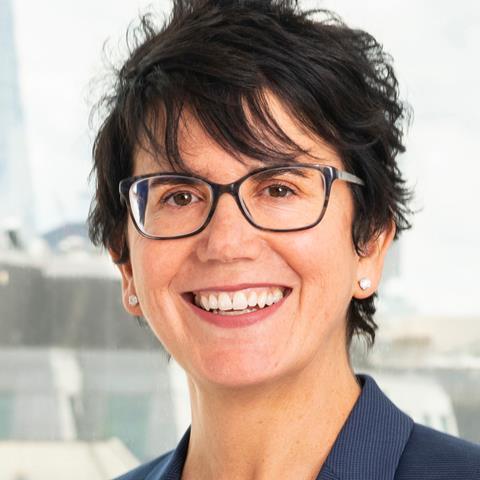 2019-: CEO, Legal & General Investment Management
2017-19: CEO, EMEA, Columbia Threadneedle Investments
2012-17: Chief risk officer, M&G Investments
2006-11: COO and co-head, fixed income, BlackRock
1997-2005: Merrill Lynch Investment Managers
1989-97: Mercury Asset Management
Legal & General Investment Management
AUM: £1.3trn (€1.46trn) (30 June 2022)
2021: 4% operating profit growth
H1 2022 £65bn net inflows
£290bn in ESG
Located: London
At a capital markets day that same month, LGIM's five-year targets were to grow cumulative profits in line with group dividend growth rate, absent market shocks, and to expand higher-margin products.
Two years on, and not long after the publication of parent company Legal & General's (L&G's) first-half 2022 results, Scrimgeour takes stock. In a difficult period for markets, LGIM saw a slight drop in operating profit to June this year compared with the first half of 2021.
But net flows were strong at £65.6bn (€75bn) – up 58% over the same period. Full-year 2021 net flows were £34.6bn.
In the first full year since the announcement of the growth strategy, LGIM posted operating profit growth of 4%; a full percentage point less than the benchmark of group dividend growth, which was 5% over the year.
In L&G's most recent earnings call, Scrimgeour resisted suggestions of cost cutting as costs inevitably increase to meet the growth targets.
She says: "We also said that we will deliver our results absent market shocks and we're clearly experiencing a market shock at the moment. I would expect our costs to continue to rise but that doesn't mean to say we're not thinking about how to responsibly grow the business."
Underpinning LGIM's growth is less glamorous investment in technology needed to support business growth and the firm has announced a programme to expand its middle-office infrastructure with the help of State Street Charles River, alongside a comprehensive data strategy.
LGIM is seeking to grow in the US retirement market, while targeting the European wholesale segment. In Asia it will be selective. Scrimgeour says 50% of first-half 2022 inflows have been from international clients. International assets under management have also tripled in the past five years to 36% of its £1.3trn in assets under management (AUM), with particular success in defined benefit (DB) pensions in the US. There are also plans to enter US defined contribution (DC) pensions.
Active and private credit are two obvious areas in which to diversify and expand revenues. Scrimgeour says: "We're absolutely known for our active fixed-income capability. We have been adding to our capabilities in real assets and we want to continue to add to that."
Cradle-to-grave service
LGIM has long enjoyed an enviable position as the UK's largest asset manager and a leading manager globally. Internal scale has allowed it to build out fixed income, real assets and alternatives capabilities. As a large index manager, it also has a suitable product for cost-conscious times.
The group has, so far, resisted the temptations of disruptive M&A, restructuring and trendy rebranding. Unlike others, it has retained its open annuity book and insurance business. It is the largest manager of DC pensions, with a leading master trust, a reliable source of asset and revenue.
Pooled funds cover smaller DB schemes and the firm can address large DB clients through consultants. It also operates in the growing fiduciary management space.
When DB schemes want cashflow-matching solutions, LGIM can offer real assets, credit and private markets solutions. When they want to derisk, L&G as a group is also there to write bulk annuities business. This makes it a kind of cradle-to-grave pensions shop along the pensions lifecycle.
LGIM is one of the four divisions of Legal & General alongside L&G Retirement Institutional (LGRI), which manages the pension risk transfer and bulk annuity business, and L&G Capital, which invests for the group's own (open) annuity fund and creates assets to back new annuity business. A new retail division combines insurance and retail retirement.
LGIM works closely with LGRI and L&G Capital in particular, channelling client capital to provide scale in real assets investments, for instance, although its own real assets division may structure deals or source assets independently of L&G Capital. Scrimgeour emphasises "strong interaction" between the two: "You can't see the joins" she claims.
"We have been adding to our capabilities in real assets and we want to continue to add to that"
"A lot of the expertise may actually sit inside LGIM in order to think about the asset or the asset creation, about how structuring might work."
Working with these divisions is a core part of LGIM's growth objective – building on what Scrimgeour calls adjacencies. "We need to bring all of our skills to the table," she says.
Fiduciary insourcing is also an attractive growth opportunity. The recent deal announced with the trustees of the £9.9bn British Steel Pension Scheme (BSPS) is a case in point. LGIM will insource some of the 60% of BSPS's assets that the group is not already responsible for as part of the deal. Legal & General already has a client relationship with BSPS in investment management and a transaction history in risk transfer.
"That's a very good indicator of what we can do and how we are positioned because of the investment skill and the client understanding that we have," Scrimgeour says.
ESG potential
ESG is an important part of LGIM's toolbox and a source of potential growth – whether in the Future World fund range that was launched in 2017 or a 21-strong stewardship team.
But how does the CEO reflect on the current debate about ESG? "I'm guessing we'll look back… and say it was an entirely normal period of change," Scrimgeour says. "What we're talking about here is an area where everybody has an opinion. It won't be consistent. The rules are not set and are changing and there is a need for education."
These are times of great turmoil in markets, the economy and world politics and it can take less than all that to throw the best formulated business expansion plans off course. In pensions, however, the secular forces of ageing demographics, ESG regulatory requirements and a greater need for bespoke advice, speak to a need for higher-margin offerings. Managers like LGIM are well placed to benefit.

Liam is IPE's editorial director and a board director of IPE International Publishers Ltd. He has over 20 years' experience as a financial journalist and editor, specialising in the field of institutional investment and pension funds. He is also a regular speaker/moderator at industry events around the world.