Simon Davy, head of private markets at the UK's Local Pensions Partnership, discusses the outlook for alternative credit
Our alternative credit portfolio is around £1.5bn in value. It is split into real estate debt (25%), liquid diversified credit (20%), asset-based lending (15%), corporate direct lending (15%), special situations (10%), with remainder in other assets, including real assets and cash.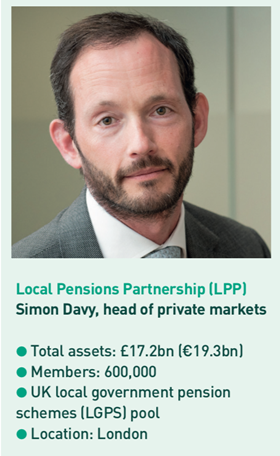 At the end of last year, we were anticipating potential difficulties in the credit markets, as the credit cycle was running its course. We reduced exposures to certain asset classes, particularly emerging market credits, and we tried to focus on performing, asset-backed credits. When the crisis hit, our portfolio was in a reasonably strong position and we had a liquidity buffer.
That is not to say that our portfolio did not suffer from the bouts of mark-to-market volatility, but we were more orientated towards asset-backed and performing-loan strategies, and not as exposed to some of the weaker credits and the distressed strategies. There are strategies and managers that are suffering out there, particularly those that had invested in energy companies. While our portfolio was not entirely insulated, it is performing well vis-à-vis the market indices.
During the crisis, we were in frequent contact with our alternative credit managers, to assess the borrowers' position, the potential waivers and to understand the impact on the underlying . We also discussed our managers' business continuity plans.
For the most part, we were quite happy with the interaction with our managers in terms of transparency and insights. There was a great level of interaction, particularly for the funds where we have limited partner advisory positions. For us, governance and insight are an important part of an investment strategy. It allows for greater connection with the underlying manager.
That has meant that despite the volatility, we have been able to invest. We have backed a number of managers that we had been following for a while, in order to take advantage of the dislocations in the market. The portfolio was well-positioned to do so.
We have invested around £500m over the past six months. The new investments have been primarily focused on credit opportunity funds. We wanted to avoid direct lending to SMEs, which we thought was quite a crowded space. Even before the crisis, we thought that there was too much capital chasing too few opportunities in that space and that pricing and covenant protections had declined as a result.
Instead, we have backed specialist strategies, offered by managers with a strong track record of fundamental credit analysis that are able to assess the underlying credit value. We have invested with one Europe-based and two North America-based managers. The latter invest in CLOs and ABS strategies, two areas where we saw significant pricing dislocations, on the back of liquidity pressure.
Again, the focus of these new strategies is to back performing loans, avoiding cyclical sectors such as energy. We are looking to get a large exposure to asset-backed securities. While we are confident in our managers' ability to deploy capital in a disciplined manner, we are choosing strategies that are biased towards solid industrial or asset-backed credits. Generally speaking, we have a relatively high weighting towards real estate debt.
We continue with our strategy of backing performing, mature and asset-backed credits, but we will be monitoring how the economy recovers from the pandemic. There are opportunities out there for experienced managers who can take advantage of this liquidity-related dislocation event.
However, we are particularly cautious with opportunities that are as yet unproven, particularly on the distressed side. Alternative credit offers downside protection and potentially double-digit returns, if the economy recovers robustly. But we have seen a lot of managers who have jumped on the bandwagon of offering distressed-debt fund strategies.
Actually, we may find that it takes 12 to 18 months for insolvencies and distress situations to emerge after a large credit repricing event such as the one we have witnessed. I think there we are seeing more money being raised than we are seeing opportunities on the distressed side, and probably money being raised by managers that are more accustomed to performing strategies rather than distressed strategies.
"We are choosing strategies that are biased towards solid industrial or asset-backed credits"
If you look back at the middle part of the last decade, when there was an energy crisis that caused a repricing of oil and gas credit, I think there were a lot of investors looking at distressed opportunities that did not really emerge. Our concern is that there is a lot of capital chasing a limited opportunity set, without people factoring in the risks embedded in them.
A similar situation is taking place in direct lending to SMEs. It is a very broad space, but in general terms, smaller businesses have fewer pools of capital that they can turn to in times of stress – therefore, they are probably going to suffer more than larger businesses.
After the 2008 financial crisis, we have witnessed increasing competition on the part of lenders and credit providers to deploy capital in the SME sector. Pricing and covenants have become very borrower-friendly as a result, and this may result in greater losses. In this sector, we will be monitoring whether private equity sponsors are deploying capital into businesses as well.
Interview by Carlo Svaluto Moreolo