IPE asked three pension funds about their outlook for inflation and how they would seek to adapt their fixed-income strategies to a new rates environment

On the right side of risk
Our view is that policymakers have, in theory, the ability to create inflation. But in practice, they have not been able to do so in all countries. Japan has tried to do it since 2012 with little success. Similarly, the ECB has had little success in recent years. China and the US have clearly been more successful.
The US, in particular, seems headed for a temporary inflation uptick. The government is stimulating the economy quite aggressively. The stimulus packages are supportive of inflation. However, higher inflation can only persist if there is pressure from wages and commodity prices.
There is little evidence so far that the recovery from last year's recession and the subsequent fall in unemployment in the US and Europe will lead to significant wage pressure. Similarly, Chinese demand for commodities seems to be falling or stabilising, rather than accelerating.
In short, we are likely to see stronger inflation in the short term but the long-term outlook is one of low inflation. That said, for a pension fund like ourselves, inflation risk remains a key one. Therefore, we need to be exposed to assets that will protect us from a sudden spike in inflation.
That is why we have been trying to focus on assets like equities and especially alternatives, which theoretically provide a high level of hedging against inflation as well as relatively stable cashflows. We have raised our risk exposure to those asset classes also because the medium-term outlook for fixed income is not as strong in terms of returns.
Another topical theme is global debt. Governments in developed economies are raising the level of debt to GDP to unprecedented levels. As long as everyone is doing it, there should not be a problem but it means that there is an implicit cap to how far interest rates can rise.
If interest rates were to rise above that level, perhaps because of a new super cycle in commodities, they would create significant liquidity stress for fixed income investors.
As investors, we should strive to be on the right side of that risk. At the same time, there are clear disadvantages in being over-hedged against inflation risk or liquidity risk.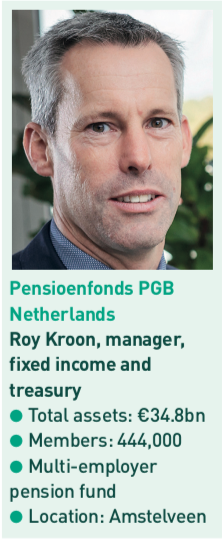 A different dynamic hedging strategy
We have a dynamic interest-rate-hedging policy, which essentially means that we raise our hedging level when rates are rising and lower the level when rates are falling. In that sense, we are not concerned with rises in inflation rates.
As part of our strategy, we do not tend to hedge inflation using inflation-linked instruments. We used to in the past but noticed that these instruments create some noise in the matching portfolio, because they do not react linearly to rate changes.
The Dutch government does not issue inflation-linked bonds, which means we had to use instruments such as French inflation-linked bonds. Furthermore, inflation-linked bonds have been shown to generate slightly lower returns in the long-term.
Ours is a common risk-neutral approach to managing balance sheet risk but we think our dynamic approach differs from others in a number of ways.
First, our hedging levels are set in a policy document, which means that we do not have to get approval by the board to change the hedging levels. Our approach is to change our hedging levels in small steps. We would rather take small profits in our hedging portfolio often, rather than large profits infrequently.
We have an integrated matching portfolio, which means managing the entire portfolio against a single liability benchmark.
We can be relatively nimble in our execution, by using different instruments including bonds, swaps and futures. We try to react quickly to changes in rates and can trade on a daily basis if necessary.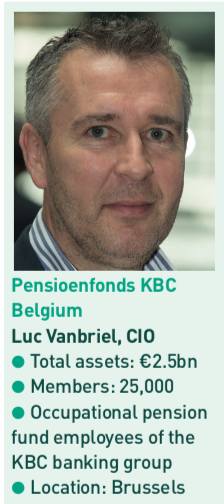 Using real assets as a hedge
We have been hedging our portfolio against inflation since 2007. More recently, in 2017, we slightly changed the LDI strategy, decreasing the hedging level, but keeping a relatively higher share of inflation-linked bonds.
Our hedging strategy is dynamic. The level of hedging is raised according to a series of predetermined triggers. As matching assets, we mainly use swaps but in recent years we have started to increase our exposure to real assets. This consists mainly of unlisted real estate and infrastructure.
We have a target of 15% for the exposure to real assets within the overall portfolio and we are gradually building towards it. That exposure is also meant to protect us against inflation. We foresee reaching the 15% target no later than in 2023.
In our real estate and infrastructure portfolios, we seek core or super-core assets, with limited development and currency risk. We also seek reliable counterparties that can offer long contracts with very stable inflation-linked cashflows. We try to diversify but also look for assets with high ESG ratings.
We look at inflation mostly from a risk perspective. In the last two decades, most asset managers have been wrong in their forecasts for yield curves and inflation. This is no surprise, as it is very difficult to predict the trajectory of economic growth and inflation. For that reason, our inflation hedge is essentially a protective measure. It does not necessarily reflect a view that inflation will rise significantly.
Interviews by Carlo Svaluto Moreolo