Richard Williams (pictured), CIO of Railpen, the manager of the UK's rail transport pension schemes, talks to Carlo Svaluto Moreolo about the institution's investment strategy, governance model and commitment to sustainability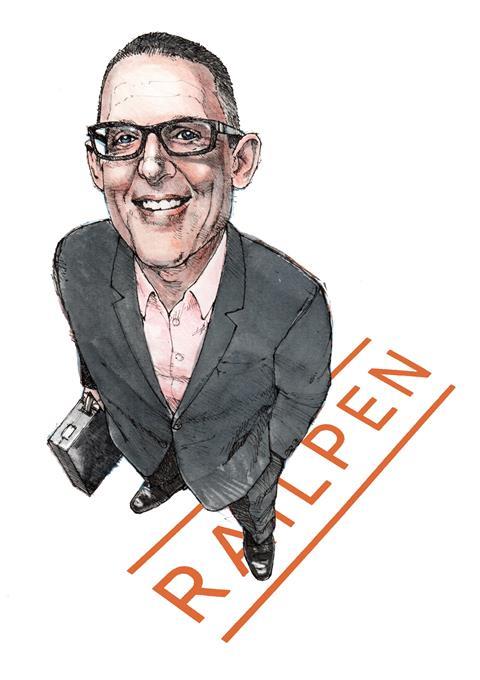 The United Kingdom's famed rail transport network was brought to a near standstill this summer as tens of thousands of workers went on strike, demanding that salaries kept up with the dramatic rise in the cost of living. UK inflation topped 10% in August.
For different reasons, inflation is also one of the main talking points at Railpen, the institution managing the pensions of many workers in and around the rail industry. Railpen manages one of the largest open defined-benefit (DB) schemes in the UK – the Railways Pension Scheme. This comprises over 120 sections linked to the railway industry, some of which are sponsored by quasi-public companies. Each section has its own arrangement with regard to contributions and funding.
"Our portfolio of schemes represents most of the pension arrangements one could have in the UK. Every section needs something slightly different. We assess their risk tolerance and what their long-term objectives are. We use asset liability modelling, scenario analysis and very in-depth covenant assessments as well. We try to harness the benefits of being a large-scale asset owner and, whenever we can, we look to manage sections in cohorts, rather than as so many separate entities," says Richard Williams, CIO of Railpen.
While it is possible to model the impact of inflation, even on a portfolio of schemes as large and complex as Railpen's, identifying the right combination of assets that will see one through these difficult times is extremely challenging. Rising interest rates may lower the burden of liabilities, but the highly uncertain environment makes the asset side of the equation particularly hard to solve.
That is why the CIO and his team are spending a lot of time studying previous periods of high inflation. "We're covering periods as far back as the early 19th century and are always looking for parallels to what has happened in the past. One of the fascinating things about today is that you can take nuggets from so many interesting past periods," says Williams.
He sees parallels with the tech-wreck of the early 2000s, which was ominously followed by a recession and a three-year bear market. He points out the features that the current situation has in common with the 1970s, when inflation became unhinged, central banks responded strongly but markets had a torrid time. There also are parallels with the period following the second world war, when inflation rose fast, but markets had a relatively good run.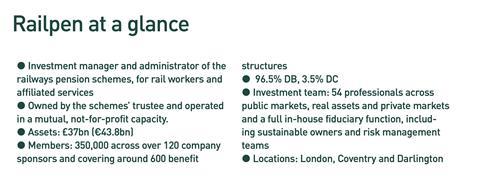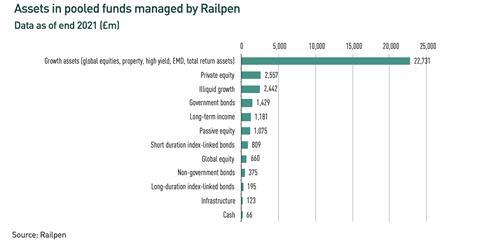 "We thought that post COVID-19 we'd be going into a period akin to the Roaring Twenties, but in fact we have probably just seen a peak of globalisation. One can draw on lots of historical periods to try and understand what is currently happening. I suspect that we are still at the early stages of a period that will go down as one of the most fascinating in economic and financial history. We need to be open-minded and keep reminding ourselves that our job is less about predicting the future than it is about adapting to events as they evolve," adds Williams.
Events are unfolding quickly but, thankfully, Railpen has the competitive advantage of being a truly long-term investor, according to Williams. Furthermore, the institution can fall back on a set of six well-crafted investment beliefs. These were reviewed and updated last year, in a collaborative effort between the investment management team, led by Williams, and the fiduciary team, which acts as an internal investment consultant to the board of trustees. The trustee board gave the final blessing.
Railpen's updated investment beliefs
Managing asset-liability risk is integral to a scheme's long-term success.
Long-term-focused investment decision-making has many advantages that should be carefully exploited.
Diversification of the overall investment portfolio, across different structural drivers of return, improves the resilience of a scheme's assets in an uncertain world.
Incorporating and acting on climate risk and other environmental, social and governance factors is a significant driver of investment outcome and part of our fiduciary duty.
Effective portfolio management requires flexibility around a thoughtfully considered investment strategy.
Investments should be selected, structured and sized in a manner aligned to a scheme's long-term objective.
Source: Railpen
"The last review of our investment beliefs was some years ago, when we were just beginning the process of internalising our asset management capability. We are a very different organisation today than we were then. The world has moved on, for example, in areas like climate risk. We have also realised the need to be explicit about our desire to integrate asset liability to techniques in a more sophisticated way than we perhaps did in the past," Williams says.
Along with the importance of asset-liability management and of having a long-term horizon, perhaps the most crucial of Railpen's investment beliefs is diversification. Williams says: "Our focus is on risk diversification primarily, rather than very high-conviction views on any one asset class. We're humble enough to recognise that our ability to pick the winners is probably fairly limited."
The internal-versus-external management split has reached an equilibrium point, with about two-thirds of the assets managed internally. Railpen approaches the question pragmatically, as do most of its peers. Long-term exposures tend to be managed internally while more temporary or tactical allocations are outsourced, as are particularly complex investments.
The net result of that system, says Williams, is that most of the fund's equities, government bonds, direct property and infrastructure assets are managed internally.
"We have estimated that thanks to our insourcing programme we have saved about £1bn (€1.2bn) in costs over the last seven to eight years. It's a very material impact on the cost side, and it's certainly given us much more control over our total portfolio. We will continue to apply this pragmatic approach. A reasonable estimate is that the two-thirds to one-third ratio will remain stable and there is no explicit target to make it either higher or lower. That will be determined by the assets in which we invest and whether they are better suited to internal or external management," says Williams.
However, the institution is careful to keep the level of complexity of its internally-managed portfolios in check. "We try to reduce complexity by grouping our sections into cohorts whenever we can. On the other hand, we are fairly averse to complexity when it comes to building investment portfolios. In general, we think that investors are not rewarded sufficiently for taking on board complexity risk," says Williams.
"We feel that approach helps us weather periods of stress. Usually, when markets are stressed, it's when complexity bites. The worst thing that can happen within a period of stress is to become a forced seller of distressed assets. We want to stand in the game for the long run and not find ourselves in that situation and, therefore, tend to be fairly averse to taking on a high level of complexity unless we feel we're handsomely rewarded to for it," adds the CIO.
The institution probably has quite a high bar for what it considers a complex investment, however. Railpen is a long-established investor in private markets, with a dedicated team that invests in both private equity and private debt, directly and through funds. Its most complex investments, such as bank capital transactions, are managed by a small number of external managers. "We try and build long-term partnerships with a relatively limited number of external managers for a scheme of our size," Williams says.
Overall, Railpen can boast a 54-member investment team split between public markets, real assets and private markets. "We have been very fortunate and attracted really talented people, and turnover has been low. We enjoy working with each other and share ideas. This is probably the most impressive group of investment professionals that I've worked with in my career", says Williams.
Towards 2050: Railpen's net-zero ambition
Railpen has committed to achieve net-zero portfolio carbon emissions by 2050, an ambition built on a long-standing commitment to sustainability, according to Richard Williams, Railpen's CIO.
"We have a fully integrated approach to achieve both financial and sustainability outcomes, which in our view are complementary to each other and integral to protecting long-term member interests. These considerations are deeply embedded into the psyche of the organisation and have been true for many years. I think we often lead the way in defining what best practices are," says Williams.
The institution has a dedicated ESG and sustainability team who sit within the wider fiduciary team. "But frankly, they could sit within the investment team because we're so well integrated with each other," adds Williams.
As the updated version of Railpen's investment beliefs suggest, the current focus is on climate. The institution's flagship 'net-zero' document sets out a plan to engage with companies, in ways that include voting and advocacy, to make sure that they align their business strategies with the goals of the Paris Agreement. "In certain cases, we will exclude companies whose climate risk proves unmanageable," says Williams.
The institution also seeks to invest in companies producing goods and services that either mitigate the harmful impact of climate change or represent a solution for climate resilience. Williams says: "We don't have top-down targets for exposure to climate solutions. It's the sum of what is happening at bottom-up level. But over the coming years, we will achieve an allocation of around 10% of the portfolio to what people would probably deem satisfies the definition of climate solution. That will be across a wide range of assets, from tangible ones such as infrastructure or green energy, to new technologies that are helping in some way the transition towards a decarbonised economy."
"I think our team members enjoy the sense of purpose and the longer time horizon working with Railpen. Many of us have come from the commercial asset management world and enjoy working towards a pupose that can make a meaningful difference in members' lives. At Railpen we're not beholden to how we have performed versus a benchmark over a very short period of time. We get access to a lot of really interesting investment ideas and we give our portfolio managers a lot of support and encouragement in finding good assets. That has attracted a very diverse and intellectually curious team," he adds.
"I suspect we are at the early stages of one of the most fascinating periods in economic and financial history. We need to keep reminding ourselves that our job is less about predicting the future than it is about adapting to events as they evolve"
Williams himself has a long-standing relationship with Railpen. The institution had been a client of his twice during his career before he was approached by Railpen's management to become investment director in 2014 – Williams was the CIO at Fischer Francis Trees & Watts and a Principal at BlueCrest Capital Management (LLP). He has also held various non-executive roles across the UK pension, charity and investment management sectors. These include chairing Nestle's UK DB scheme financing and investment committees.
Williams argues that Railpen's governance structure is also conducive to good investment decision-making, because the quality of the investment decision-making is assessed by the institution's internal fiduciary team, which is independent of the investment management operation.
He says: "We are not marking our own homework. The fiduciary team evaluates our decisions and reports to the trustees on a regular basis. They adopt a very pragmatic and customised set of performance indicators. This is less about how we did versus a benchmark and more about how we have invested versus our investment beliefs, how innovative we have been and what the returns have been versus long-run objectives and our peers. It is a sort of traffic-light approach to identify the strengths and weaknesses, rather than tying us to one particular set of measures, which may ultimately be a perverse incentive."

Carlo is deputy editor of IPE, having joined as a full-time writer in 2014 after several years spent focusing on Italian pensions in a freelance capacity. He has 15 years of experience as a financial journalist, having worked for publications such as Shares Magazine and Infrastructure Journal.