Allianz Global Investors (AGI) has long invested in green infrastructure. The market, and the perception of renewable energy for investors in particular, has changed during this time. Investors are ready to engage with renewable energy or cleantech if the underlying technology has a proven track record.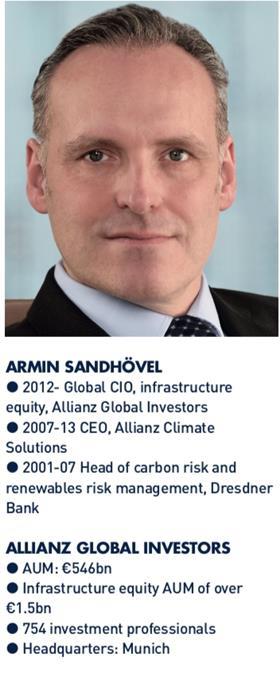 "We invest in these installations, but at the same time we have to convince the limited partners and define clearly what we want to do," says Armin Sandhövel, CIO for infrastructure equity at AGI.
Sandhövel and his team engage in discussions with clients on the right timing to selectively invest in particular technologies and renewable energy assets. Investors might initially hesitate to allocate resources to new green technologies, only to give a go-ahead a few years later.
"We propose the right moment to look at a specific technology – for example, storage technology," the CIO says. "We may not necessarily invest in green hydrogen, for example, but my client has to know that we track technological developments."
German institutional investors in particular initially hesitated on renewable energy as investment opportunities emerged, but now renewables are seen as mature and much safer.
Sandhövel describes renewables as a "very resilient" asset class. "Our investors find the market for wind and solar energy still worthwhile to invest in, with regard to the achievable returns. Renewable energy has lost the reputation of being a particularly risky investment."
Institutional investors today do not consider returns and sustainability to be in contradiction. Many pension funds have set their own sustainability goals, while regulatory authorities and legislators have imposed standards, including the EU taxonomy and other disclosure rules such as the Sustainable Finance Disclosure Regulation (SFDR).
"In my team there is a colleague who focuses only on the EU taxonomy to track the changes. We deal with the EU rules on sustainability almost every day in infrastructure equity, but also in fixed income or public markets," the CIO says.
In infrastructure equity, AGI offers closed funds structured for institutional clients. "We invest in green infrastructure in Europe and in the US. There is a huge competition for investments, but we are still able to find some which meet the expectations of our customers," Sandhövel explains.
Green infrastructure and technology will continue to be a focus now that feed-in tariffs have fallen away for established renewables.
"The bulk of investments in green infrastructure is still represented by renewable energy. The technologies that drive the sector are onshore and offshore wind energy which, meanwhile, is an investment that is popular and accepted by many, and photovoltaic," the CIO says.
Hydroelectric power, bioenergy, biomass and biogas, represent another established part of the universe.
"Interesting and increasingly popular" for investors, Sandhövel says, is also geothermal energy; the German Geothermal Association (BVG) estimates there are 38 deep geothermal projects operating in the country.
But a new horizon for investments is storage technology. This includes, for example, storage plants in the northern part of Germany, but also in Switzerland. It involves battery storage, from large standalone storage to integrated storage for renewable energy systems. "Here we could imagine investing, because storage is an essential prerequisite for the system as a whole," the CIO says.
Storage technology can be an important portfolio diversifier, as it complements wind and solar, which have volatile energy production. "For us as inventors, storage gives the possibility to diversify because you can integrate storage technology in an energy production system or as a standalone storage service for an energy system. This is another business model but is also very interesting," Sandhövel says.
Electro mobility is another segment to be under the radar for investments. The build-out of the charging network demands capital and could become investable soon, according to Sandhövel.
"Renewable energy has lost the reputation of being a particularly risky investment"
Energy efficiency, from buildings to applications in energy systems, is not yet part of AGI's portfolio but is under consideration.
The firm rarely looks at public private partnerships (PPP). In green investments, application of PPP is limited, except if the technology has not reached an advanced stage of scalability. In this case, public investment is required to take on some risks to bring the projects to life.
"I expect discussions for applications of PPP in the field of green hydrogen as it hasn't reached the scale yet to be investable. We are looking at it, and investors believe it is an interesting field, but it is not easily scalable," Sandhövel explains.
Investors operate in the framework of the energy transition, not only in Germany with the Energiewende, but all over Europe.
"This is linked to the topic of climate change, where we are also very involved. For example, for our investors we look at the question of CO2 emission reduction," Sandhövel says.
AGI invests in Germany and other European countries such as Sweden, the Netherlands, Italy and France. Each has specific requirements, regulations or local peculiarities.
The German parliament has passed the EEG Novelle, the reform of the renewable energy law, that entered into force in January 2021.
Overall, the idea behind the law change is to increase private investment and transparency, and to reduce prices in the market with bidding processes and auctions.
"Important aspects of the EEG Novelle are the obligatory minimum distance between a wind energy plant and the nearest housing area and the auction system. In these cases the government has reacted to change the rules," the CIO explains.
"This is a reaction to a market that had become very expensive in the past. Renewable energies are competitive; you don't need a feed-in-tariff system anymore."
Sandhövel says the new framework of the EEG Novelle can attract investors in renewables – the market remains appealing because it is predictable and reliable from a regulatory perspective.