In asset management, three years can be a short or a long time, depending on many factors, including market conditions. To some asset management executives, the second half of the 2010s perhaps felt like an endless slog, due to the intense competition for market share and outperformance within the seemingly never-ending bull market. The first two years of the new decade have certainly elapsed more quickly, thanks to the historical significance of the events that have occurred.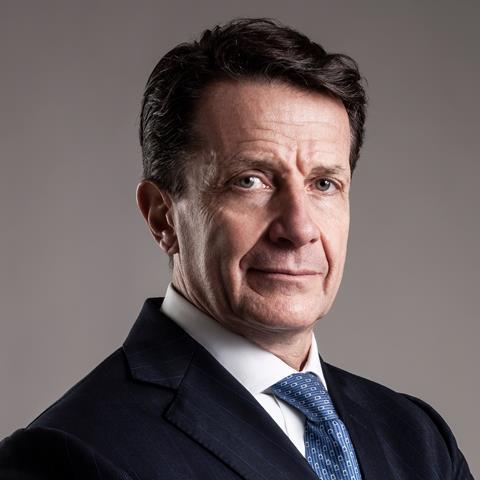 Carlo Trabattoni
2017-: CEO, Generali Investments
2016-17: Head of distribution and advisor to the CEO, Santander Asset Management
1996-2016: Various roles at Schroders, from country head for Italy to head of pan-European distribution and global financial institutions group
Generali Investments

AUM: €583.3bn (end 2021)
Third-party institutional AUM: €95.7bn
Capabilities: fixed income, equities, liquid alternatives, multi-asset, liability-driven investing real assets
€56bn deployed in real assets as of end-2021, including real estate equity and debt, infrastructure debt, private equity and private debt
Multi-boutique platform - Aperture Investors (performance-fee driven active manager), Lumyna (alternatives), Plenisfer (absolute return), Sycomore (sustainability)
Locations: Milan, Trieste, Paris, Cologne
At Generali Investments, things were already moving fast before COVID-19 and the end of the bull market. Over the past three years, the Milan-based manager has contributed to the achievement of the parent group's 'Generali 2021' strategic plan and embarked on the group's new strategic plan, which has set even more ambitious targets for 2024.
The new plan, branded 'Lifetime Partner 24: Driving Growth', aims to transform Generali into a 'lifetime partner' to its clients, by focusing on data-driven innovation and sustainability, among other things. Growing the share of assets managed by Generali Investments on behalf of external clients is one of the top priorities within the plan. Over the three-year period, Generali Investments has been tasked to grow third-party revenues by €100m.
At the end of last year, Generali Investments managed €96bn on behalf of external institutions, according to IPE's Top 500 Asset Managers study. That represented an increase of more than 11% from the previous year, but it was still well below the figures reported by the asset management operations run by the other two European insurance giants, Allianz and AXA.
To drive growth in third-party revenues, the company aims to expand its geographical footprint in Europe, UK and Asia to attract new clients and add more business from the existing ones. The core of the strategy consists of three main pillars: leveraging the expertise in liability-driven investing (LDI); developing the real assets platform and growing the multi-boutique platform. The latter includes Aperture Investors, an active manager offering performance-fee structures; alternative platform Lumyna; active manager Plenisfer and sustainability specialist Sycomore, as well as Generali Real Estate and Generali Global Infrastructure.
Carlo Trabattoni, CEO of the group's asset & wealth management business unit since March 2021, says the company is on track to deliver on its targets. "We are aware that we have a long road ahead of us. But we believe that existing and potential clients will recognise the value we can bring by offering a set of specialist skills, as well as the opportunity to co-invest with a leading insurance client," says the CEO.
"We are further strengthening our core LDI capabilities aimed at pension funds, insurance companies, endowments. Another pillar of growth for us is the real assets segment where we already have deployed more than €56bn as of the end of last year in real estate, debt infrastructure, private equity and private debt."
LDI is a core capability, but Trabattoni says the company has yet to make headway in key LDI markets, including the UK and the Netherlands, partly owing to the prominence of consultants in those markets.
Marketing strategy
He says: "It may seem odd, but we have very limited visibility with consultants. This is because we initially set out to serve our internal clients and then look at external clients opportunistically. Now that we have an explicit strategy to grow third-party assets, we need to boost our marketing activities, especially if we are to expand into markets where relationships with institutional clients are mediated by consultants, such as the UK, the Netherlands or the Nordic countries. In general, we want to start to be noticed by international consultants as a competitive manager for international searches."
In the private markets sector, this year the company has been busy launching sustainable products. Three diversified funds of funds, classified as article 8 funds under SFDR, were launched in the German market. In Italy, the company launched an article 8 private equity fund focused on healthcare. The Lumyna platform also launched an article 9 long-short equity fund. "By the end of the year we're going to launch other funds in the liquid debt and equity space, private assets and real estate," says Trabattoni.
The share of private market investments invested in private debt was €7bn at the end of last year, which gives room for growth in this asset class. Trabattoni says: "We want to grow our competencies in the private debt space because we think institutional investment into this asset class is a structural trend. Interest from investors may ebb and flow along with macro factors, such as inflation, but in the long term we believe investors will build structural allocations to private debt."
The multi-boutique platform is up and running and Trabattoni says now it is time to grow it organically, rather than following the "M&A frenzy". The CEO was hired in 2017 from Santander Asset Management to develop this key area of the business.
He says: "We made the decision to bring new businesses to life and to invest in existing ones that needed to expand, and have tried to launch products with an initial investment of a decent size between, say, €300m and €500m. We have worked to find active specialist strategies to increase our competitiveness. In each case, however, the selection of strategies was in line with the strategic asset allocation needs of the parent group."
The portfolio of specialist managers is complete with sustainability-focused outfits, which is a must in today's sustainability-driven market. Some of those businesses, Sycomore in particular, have set a high bar for sustainability and have a long track record in that area. They have freedom to set their own criteria, points out Trabattoni.
However, clients today are zooming in on all parts of an asset management business. Trabattoni says that the strength of the company in sustainability also lies in the relationship with the parent group and its insurance subsidiaries. This is a wide range of clients that set exclusion criteria and engagement agendas, which Generali Investments has to follow.
Even so, the best defence against accusations of greenwashing is to "conduct business with transparency, clear commitments and a pragmatic approach", says Trabattoni.
"ESG investing has been increasingly put under the spotlight by the recent news which, I would say, marks a watershed for our industry. For us, sustainability is an important factor in investment decisions and we strive to always find the right balance between the performance requested by our investors and a positive contribution to the society as a whole."

Carlo is deputy editor of IPE, having joined as a full-time writer in 2014 after several years spent focusing on Italian pensions in a freelance capacity. He has 15 years of experience as a financial journalist, having worked for publications such as Shares Magazine and Infrastructure Journal.