At first sight, the two sides of Federated Hermes seem culturally distinct. Federated is a staid, family-controlled, and Pittsburgh-based money manager with a history of providing services to bank trust departments. Hardly a hotbed of ESG or shareholder engagement, you might think.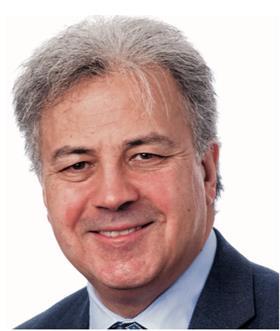 Saker Nusseibeh


● 2018- CEO, International, Federated Hermes
● 2011-18 – CEO, Hermes Investment Management
● 2009-11 – CIO, Hermes Investment Management
● 2005-09 – Fortis Investments, global head of equities
● Previously: SGAM UK, Trust Company of the West, Mercury Asset Management
● Founder, 300 Club
●Member of IIRC Council, FCA-PRA Climate Financial Risk Forum, UNEPFI Steering Committee, and others
● CFA Institute Future of Finance Advisory Council (2013-19)
Federated Hermes

● $628.8bn (ˇ533bn) AUM (30.6.20)
● 1,900 employees
● Based in Pittsburgh and London
London-based Hermes cut a dash as a long-standing Pioneer in institutional shareholder-driven corporate governance and ESG – first under Alastair Ross-Goobey, CEO from 1993-2001, and later under Saker Nusseibeh, CEO since 2011.
In October 2018, Nusseibeh invited staff to join him at the Extinction Rebellion protests; it is hard to picture Federated Hermes' CEO Christopher Donahue at a similar protest.
Federated's purchase of Hermes two years ago reflected not only a desire to internationalise the US firm's business, but also reflects an embrace of ESG integration. It affirms that ESG-focused intellectual property has a real market value in investment management.
Indeed, Donahue told analysts on a call in May this year: "We're excited about Hermes. We were so excited that we changed the name of Federated, Inc to Federated Hermes." That change took place early this year.
Federated's family ownership structure may seem old fashioned – Christopher Donahue joined in 1972 and has been president and CEO since 1998; his brother Thomas is CFO. Underlying their world view, according to Nusseibeh, is a desire to think for the long term and a fear of short-term-minded professional management. Executives are awarded shares with a 10-year vesting period.
Having bought into the Hermes philosophy, adoption was quick. Leon Kahmi, the London-based head of responsibility who reports directly to Nusseibeh, flew out to Pittsburgh immediately after the transaction closed in July 2018 to start ESG integration work and to create a US version of the responsibility office that Nusseibeh pioneered in London.
US headwinds impede ESG progress
Asset managers like Federated Hermes and its competitors may be taking a long-term view on ESG as a business model, and assuming clients will follow. Yet there are certainly political headwinds to militate against in ESG adoption in the US. The Department of Labor (DoL) this year issued guidance to state that ESG factors cannot be placed ahead of the financial interests of beneficiaries.
Nusseibeh was part of a recent meeting at the DoL to present academic evidence on the law and economics of ESG investing by trustees. Published in the Stanford Law Review in February 2020, the authors argue ESG investing is permissible under US law if trustees conclude it will improve risk-adjusted returns for beneficiaries and that this is the sole motive of the trustees.
Many hope a Biden win in November's US presidential election will push the tide, once more, in favour of ESG.
That integration work is ongoing, with almost all of the US-based Federated Hermes teams now integrating ESG. Nusseibeh takes a gradual view on integration, which he describes as akin to a "religious conversion".
He elaborates: "You have got to show the fund managers that you're not imposing something which radically changes their personality." Rather, ESG needs to be presented as something that "radically improves their fundamental ability" and can "never be something that you impose from the centre".
ESG has permeated Hermes over decades. Ross-Goobey started the Hermes Lens corporate governance funds in the 1990s; since 2005, the firm has offered engagement services to institutional clients when it created EOS (Equity Ownership Service).
Getting other investors on board not only defrays the costs of engagement as a cost centre – now EOS is a profitable business in its own right, Nusseibeh says – it also leverages the effectiveness of each engagement.
Federated Hermes is currently investing in EOS, adding 11 staff recently. Assets under stewardship now top £1trn (€1.1trn) with four new clients in the pipeline. Together the stewardship and responsibility teams have more than 60 staff.
Any value-add in engagement is going to be about directing resources. EOS therefore focuses on particular sectors and companies. Engagement specialists need to have direct experience within businesses in their sector, as well as the language and cultural understanding of the countries in which they operate.
Some still see ESG as being about ethics, screening, doing good, or even about justifying charging higher fees in a low-fee asset management world.
For Nusseibeh, ESG is simply about understanding the long-term sustainability of a business with a view to allocating and stewarding capital for the long term. This, of course, is a multi-faceted and tricky exercise with few right or wrong answers.
Many commentators try to isolate a performance component of ESG; recent good returns from ESG equity strategies can be attributed to underweights in energy and overweights in technology, for instance, they point out.
For a firm like Federated Hermes, aiming to integrate ESG across the company, this is missing the point. "It is just simply fundamentally a better way of investing," Nusseibeh says, although he does concede that sustainable wealth creation includes being "underweight in segments of the economy which, long-term, are going to suffer".
So, understanding the drivers of long-term sustainability would, of course, include taking a view on the long-term attractiveness of fossil fuel as a business; another example could be how firms might boost sustainability within their own workforce.
"In fact, any investor who has a long-term time horizon must, by definition, be looking at ESG," as Nusseibeh puts it. "Find the best fund manager who has a long-term time horizon and a fantastic return, and she will, whether she knows it or not, have taken into account ESG and sustainability factors in what she does."