In the quaint English game of cricket, there exists a concept that provides a good metaphor for the predicament facing the world in 2020.
If a batsman is 'bowled a googly' it means he must deal with an unexpected turn of the ball. More generally, the phrase can refer to an unanticipated event which has to be confronted.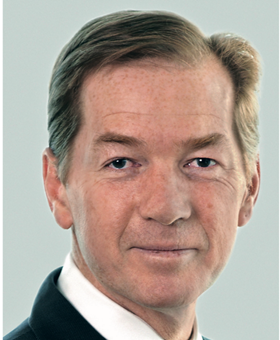 Rick Lacaille
● Global CIO of State Street Global Advisors (SSGA) since 2008 and member of the firm's executive management group. Prior to that, was head of global active equities and previously European CIO. Joined the firm in 2000.
● 1995-2000: Head of structured equities at Gartmore, then one of the UK's best known fund managers (taken over by Henderson in 2011)
● BSc in operational research from Lancaster University and MSc in econometrics from London Guildhall University
State Street Global Advisors (SSGA)
● Ranked as the world's fourth-largest asset managers with €2.7trn of assets at the end of 2019 in IPE's Top 500 survey for 2020
● Founded in 1978 with a focus on equity indexing
● Clients in 62 countries
● Subsidiary of the State Street Corporation, a Boston-based financial services company
In that sense, a comparison can be made with the COVID-19 pandemic. It is hard to think of anyone who predicted that such a development would be the defining feature of the year. At most, the more astute commentators identified the possibility of a pandemic as one of several theoretical tail risks.
Yet it is harder than it might first appear to untangle the impact of the pandemic from other developments in 2020. It could well have been an eventful year even without COVID-19.
It would certainly be trite to claim that the pandemic has changed everything. No doubt it has prompted some new developments, while other things have remained broadly similar and other trends have been modified. Identifying which is which presents a formidable analytical challenge.
Rick Lacaille, the global CIO of State Street Global Advisors (SSGA), is a prominent figure in the investment world attempting to grapple with such matters. In his view, many trends remain similar to the past. However, the biggest single change is an expansion of the role of the state broadly defined. Both central bank action and government spending have become significantly more activist than they would otherwise have been. This development has, in turn, important implications for investment strategy.
"Central bank policy would have been different," he says. "I'm not saying there would have been a tightening of policy but we would have got nearer to the end of the cycle of looser money." In the event, of course, the developed world's central banks, along with some in emerging economies, have injected huge amounts of liquidity into the financial markets.
Central banks have, at the same time, in his view, seen their autonomy diminished. "Central banks have not lost their independence but the degree of co-ordination between central banks and governments has been enhanced. And that may not be reversed.
"I don't think that was a trend before. That is in a sense a new type of response to a crisis."
In a parallel development, governments have increased their spending substantially in an attempt to cushion the blow of the COVID crisis.
"Now we are seeing a huge counter-cyclical force. And that is giving rise to investment opportunities that would not have existed otherwise," Lacaille says.
Although he acknowledges it is an oversimplification, he says that in broad terms the fixed-income universe has been split into two. One side is driven mainly by state intervention and the other is more propelled by market forces.
In relation to relatively safe assets, such as investment-grade credit, he notes that spreads have narrowed and the probability of adverse outcomes diminished. "In a way, it's quite a nice place to be," he says. "You've got the central bank at your back and a less risky left tail." However, it does, of course, have disadvantages. "On the other hand, you have got pretty diminished future returns.
"You have another world I would characterise as freely determined prices; risky assets typically in the fixed-income world. That is the universe where risks are being much determined by market forces than by central bank activity."
However, Lacaille acknowledges that the line between the two universes can become blurred. In particular, central bank activity can have a spillover effect on to riskier assets.
"The reason there are bargains is because sometimes prices are set as if such conditions are going to carry on forever. I mean literally forever"
Under such circumstances, he says that European pension funds have taken a particular interest in emerging market debt (both local and hard currency) and European high yield. Private lending is also of great interest to them.
Greater government intervention has also transformed the equity markets in important ways. "This is a really different landscape for equity investors than we have had for a while," Lacaille says. This applies, in his view, to both value and growth investments.
In relation to value investments, he says there are bargains to be had because investors often project today's difficult circumstances too far into the future. "The reason there are bargains is because sometimes prices are set as if such conditions are going to carry on forever. I mean literally forever." However, he is careful to caution that investors hoping to capitalise on such opportunities need to be patient.
In relation to growth, Lacaille points to healthcare as an area with great potential. Developments such as remote diagnostics and remote healthcare present opportunities for investors.
Another caveat is that there is an increased need for policy experts in these conditions. For example, in the airline sector some firms have benefited from substantial government support while others have had none. It is clearly vital to distinguish which is which. "At the margin we are listening to policy experts as much as to micro-level analysts who look at individual companies," Lacaille says.
Pension funds will probably be pleased to know that, in his view, they have done relatively well in the extraordinarily challenging circumstances of the pandemic. "Given the position they've been in, they've done the right thing. For example, they haven't taken excessive risk, either liquidity or other types of risk, but had the modest objective of progressively improving their solvency ratio."
Hopefully they will be able to handle whatever other googlies are bowled at them.