Joseph Mariathasan looks at why investing in the hedge fund market is still contentious for many pension funds, even in the current low-interest-rate environment. Is it the fee structures or the economic uncertainity that drives this caution?
At a glance
• Despite what should be an attractive environment there are reasons to question the value of hedge funds.
• Regulation, market conditions and lack of start-ups make it a more difficult environment than first appears.
• Hedge funds should highlight how they help investors achieve diversification.
"The environment should be very, very attractive for hedge funds," says Peter Astleford, co-head of global financial services practice at Dechert. Institutional investors need to invest in an ultra-low-rate world. Moreover, the need for pension funds to seek absolute return strategies is greater than ever. "There has never been a time when pension funds and insurance companies needed to have more certainty on their returns," he says.
This view is echoed by Damien Loveday, head of the diversified strategies team at Towers Watson. "We are proactively supporting the idea that clients embrace diversifying asset classes that might include hedge funds," he says.
Despite the decision by CalPERS, California's public-sector pension fund, to disinvest from hedge funds, many institutional investors, especially sovereign wealth funds are increasing their exposures, according to Bruce Keith, CEO of hedge fund managed account platform InfraHedge.
A criticism of long-only equity managers is that they have become so large they have ceased being stockpickers. Instead, they act as administration and marketing machines for index and index-plus strategies. But, if run properly they can provide an alternative source of alpha for investors. Consultants such as Towers Watson are willing to put them on a recommended list, with weightings that can range from 8-15% or higher, according to Loveday.
Perhaps the most potent objection to hedge funds are fees. The historical standard of a 2% management fee and a 20% performance fee seems excessive compared with long-only fees. Astleford finds managers are reducing fees either because they see it as right, given lower returns, or to build up business. However, he finds that the overall reduction has been less than expected. "I think that is because there is not much price elasticity – investors either want to be in hedge funds or they do not, and this is mostly not dependent on the price," he says.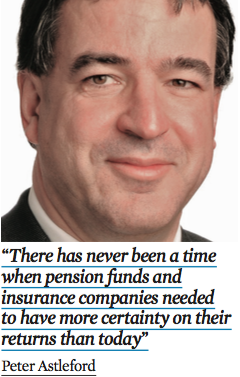 Loveday argues that headline fees can be misleading. "The way we assess fee structures is to look at what proportion of the gross alpha produced is paid out as fees," he says. "This requires us to break down the components of return in any strategy into what is just a beta return of any type, which should be able to be accessed very cheaply, and what is pure alpha. Paying out anywhere more than 50% of pure alpha [as fees]would be seen as excessive, but that is often the case for both fund of hedge funds and traditional managers."
Despite a benign environment for hedge funds, many managers see it as unfavourable, according to Astleford. There are several reasons for this. Perhaps, the most damning verdict comes from Loveday: "As an industry, we don't necessarily believe that hedge funds represent a compelling investment case on the whole," he says. "The hedge fund marketplace has been disappointing in terms of its diversification characteristics, its downside risk protection and its ability to generate uncorrelated returns."
This negative view begs the question why Towers Watson is researching and recommending such vehicles. The answer, Loveday explains, is that there are pockets of the hedge fund industry that are attractive. The problem is that they are few. "We have been looking at hedge funds for more than 15 years and met thousands of hedge funds. We have invested in no more than 50 in total. Qualitatively, what that tells you is that we don't think the majority of the hedge fund industry represent a compelling opportunity."
Clearly hedge funds face a struggle. They have to persuade consultants that they are exceptional and not just offering overpriced exposures to new diversifying sources of return, whether catastrophe reinsurance or volatility, some of which could be accessed through cheaper alternative beta passive products.
But irrespective of investment strategy, regulation has become overwhelming and creates uncertainty for both managers and investors. The traditional Cayman Islands jurisdiction for hedge funds, for example, has come under question, with some roadblocks in the way for European marketing. Managers' willingness to innovate has been put on hold, until the establishment of systems to deal with all of the new regulations. "The number of start-ups has been considerably reduced compared to a decade ago, mainly because of perceived difficulties," says Astleford.
When it comes to funds of hedge funds, they face existential challenges. "I don't think funds of hedge funds, on average, offer investors a way to access the best strategies in the market. A number of the very large funds are seeing massive over-diversification, with a lot of equity and credit market beta creeping in," says Loveday.
Moreover, adds Astleford, investors have lost faith that there is a value proposition in funds of hedge funds. "The [2008 Bernie] Madoff scandal was another nail in the coffin," he says. "I talked to a number of funds of funds and tried to persuade them to get together to establish a minimum set of common standards before they would invest. But they may have been too focused on short-term problems and individual solutions such as managed accounts." He finds that pension funds are turning to advisers to establish hedge fund programmes, which benefits consultants.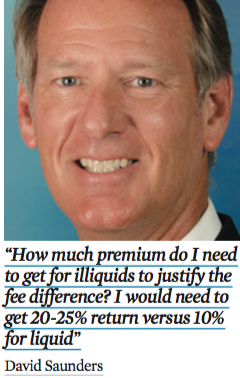 One solution – that hedge fund solutions provider K2 Advisors has adopted – is to tackle the retail investor market through its new parent, Franklin Templeton. As managing director David Saunders explains, 75% of the $3trn (€2.7trn) offshore hedge fund market is institutional. Some 80% of the market is liquid and hence accessible by risk premia strategies.
While several managers mix illiquid and liquid strategies, Saunders has doubts about this approach. "How much premium do I need to get for illiquids to justify the fee difference? I would need to get 20-25% return versus 10% for liquid," he says. Both he and Towers Watson doubt whether such a premium is attainable.
The K2 hedge fund selects managers with liquid strategies suitable for pan-European UCITs with flat fee rates of 1%. This is a long way from the supposed standard fees of 2% management and 20% performance.
"We are proactively supporting the idea that clients embrace diversifying asset classes that might include hedge funds"
Damien Loveday
For hedge funds struggling to grow institutionally, that can still be an attractive proposition. But, as Saunders points out, there are probably only 35-45 fund managers globally with retail distribution. "The distributor needs to be able to service clients, educate them, comply with local regulations and be sold on local platforms," he says. For InfraHedge, such moves could represent an opportunity for its platform. "You have fund of funds entities used to dealing with managers on a monthly basis now having to deal with them on a daily basis. We support UCITS products on our platform. As more and more fund of funds groups go down this road, active daily management of hedge fund managers becomes the norm and the best way to do that is through managed accounts. Hedge funds offered in this way would need to be on top of volatility, liquidity and risk management".
The hedge fund industry has faced justified criticism. Loveday argues that much has changed for the better. "Many of the new practices in areas such as compliance and risk management long-only managers should take note of," he says. Moreover, many of the criticisms relating to alignment of interests and fees are not just a hedge fund problem. "Alignment issues need to improve across the asset management industry. It is easy to scapegoat the hedge fund industry because the headline fees are higher, but it is not always the case that value for money is worse," says Loveday.
Astleford argues that pension funds should ask what it is they are seeking in hedge funds. He sees three obvious reasons for investing. First, the possibility of higher returns; second, less volatile returns and third, diversification. "The fact that diversification is now trumpeted as a key rationale tells you something about the other two reasons for investing; 20 years ago, a hedge fund manager would rarely have said you need to invest in my fund to diversify. He would have said 'I will get you higher returns' or else 'I have the potential to make money in all market conditions'," says Astleford. For potential institutional investors in hedge funds, finding true diversification may still be worth the price but Towers Watson's experience suggests it is not easy.
Liquid Hedge Funds: Fad or the future?
1

2

3

Currently reading

Investing In Hedge Funds: Investor Strategy - In or out