Headlines suggest institutional demand for hedge funds is waning. But the facts paint a different picture, finds Carlo Svaluto Moreolo
At a glance
• Contrary to anecdotal evidence, the hedge fund industry is growing.
• Average performance has been muted, but high dispersion means there are clear winners.
• Hedge funds are facing pressure from investors, much as the wider asset management industry.
• The boundaries between hedge funds and traditional asset management are fading.
The hedge fund industry is facing the prospect of extinction, according to a search of news headlines on hedge funds. No month goes by without a negative press report claiming investors are pulling money out due to poor performance and high fees. The narrative has been reinforced by high-profile pension funds that, in recent years, publicly declared they were divesting from hedge funds.
The factual evidence, however, is that institutional investors are still attracted and that performance is not as disappointing as widely believed.
Data from Hedge Fund Research (HFR), the industry data provider, shows that assets under management grew from about $1.6trn (€1.2trn) in 2010 to just shy of $2.9trn as of the second quarter of 2016. This year's first-half headline figure is just 2.4% down from the all-time record of $3.0trn recorded in Q2 2015. AUM growth has been volatile, but the industry has recorded net inflows every year from 2010 to 2015. Net outflows are a novelty of the past three quarters.
The total number of hedge funds, according to HFR, peaked in 2014 at 10,142 and is only down by 135, to 10,007, as of Q2 this year. During the first half of 2016, liquidations (530) exceeded launches (406). This has only been the case in 1996 and the crisis years of 2008 and 2009. It is true, however, that funds are being launched at a slower pace.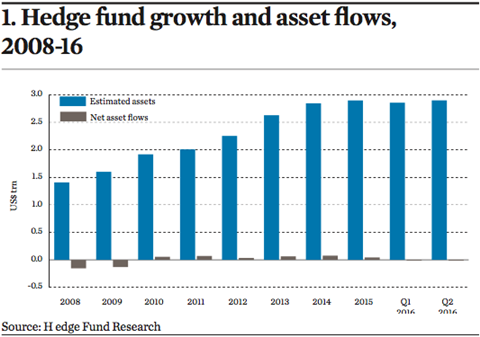 Performance-wise, the picture is more complicated. Average hedge fund returns are far from the double-digit levels seen before 2008. According to the institutional investment data provider eVestment, over the past five years average industry performance has been positive every year other than in 2011 (-5.0%) and 2015 (-0.7%). As of September this year, performance is up by 4.4%.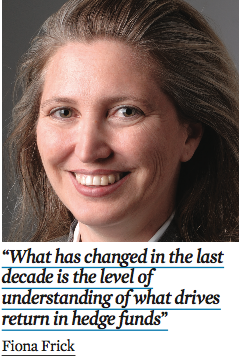 If lower average returns are a post-crisis phenomenon, the industry's high dispersion in performance persists. The performance dispersion of HFR's flagship index, HFRI, declined in the second quarter of 2016, but the top decile of HFRI performance gained an average of 13.7% in the quarter, compared to -7.6% for the bottom decile. The index's performance dispersion for 2015 was 45.5%.
Performance data should be analysed in the context of a multi-year bull run in both equities and fixed income. Higher returns from traditional asset classes clearly constitute a headwind for more expensive hedge funds. The direct consequence is pressure on fees, to which managers are responding to varying degrees.
But the figures do not suggest – at least for now – that institutional investors are taking hedge funds out of the picture when it comes to their strategic asset allocation choices. Matthew Towsey, responsible for research on liquid alternative strategies at Aon Hewitt, says manager search activity does not show particular signs of weakness. "It is business as usual," says Towsey. "The number of searches is stable, some clients are shifting hedge fund portfolios and many are starting new portfolios. We have seen quite a lot of interest from Europe this year, as clients consider implementing absolute-return portfolios, either in UCITS form or in less liquid structures. We definitely haven't seen a mass exodus from the sector."
Most investment consultants, on their part, will advise clients to allocate to alternative asset managers. Some take the view that hedge funds are not separate from the rest of the world. Pete Drewienkiewicz, head of manager research at Redington, says: "We do research on hedge funds, but we do not look at them through that lens. We do not see it as a separate asset class."
Drewienkiewicz explains that Redington sees three categories of funds in the alternative space. The first consists of "truly" alternative strategies that either invest in niche asset classes or with a particular approach, such as relative value. "Those are strategies that we use in the context of providing better diversification for our clients in a liquid space and to make our investment outcomes more robust," he says.
Then there are strategies that provide better forms of beta, which in the firm's vision, includes both smart beta and systematic approaches but also active management that provides asymmetric capture of the underlying market. Finally, there are the illiquid investments that aim to provide robust cash flows.
Drewienkiewicz says: "There are definitely areas where we are seeing hedge funds as being the strongest providers, and we are very happy to work with them." But there is a caveat: the firm does not seek to construct very diversified fund-of-funds portfolios.
"We are putting these investments in quite reasonable sizes into our core asset allocation, in order to provide diversification at the top level. We don't want to over-diversify all the funds and take away all the volatility. We want these to be relatively concentrated positions, so
that clients are actually benefiting from having them. That brings two big challenges. One is scalability, which is prevalent in certain strategies more than others. The other is, of course, fee levels."
Bruce Keith, CEO at InfraHedge, a managed accounts platform provider, says his firm has actually seen an increase in the number of large institutions making first-time allocations to the sector. "Those allocations start smaller, and tend to increase as investors become more comfortable with the managers." Keith argues that if, for any reason, investors decide to unwind, it will not go unnoticed, because ramp-down speed is faster than ramp-up speed, despite the illiquidity of some strategies. This might partly explain the bad coverage hedge funds receive from the press.
Structural imperatives
That is not to say that the hedge fund industry, as a whole, is not facing problems or is immune to change. In fact, there are important structural changes at play in the sector.
First of all, the hedge fund business faces strong competition from traditional long-only active managers as well as smart beta and passive strategies. "We see hedge funds as the purest form of active management," says Jarrod Quigley, portfolio manager within the Alternative Investment Partners hedge fund team of Morgan Stanley Investment Partners. "People are frustrated with active management in general. We see a lot more venting of frustrations with hedge funds, but we feel that investors are really cautious with throwing in the towel on the sector."
As already mentioned, bull markets in equities and bonds make traditional long-only active, passive or semi-passive more efficient than hedge funds for many investors, primarily through lower fees.
Separately, advances in the theory and practice of investment management have shed light on how certain hedge fund strategies generate outperformance. This has allowed long-only managers to recreate hedge fund-type strategies, particularly those based on alternative risk premia, at a lower cost for investors.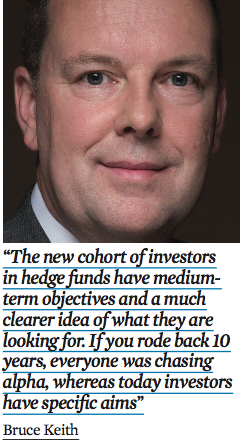 Fiona Frick, CEO of the Swiss asset manager Unigestion, says: "What has changed in the last decade is the level of understanding of what drives return in hedge funds. Thanks to the
progress that has been made in risk modelling and in defining the factors that drive asset prices, we can see that the style of management of hedge funds consists of taking some exposure to alternative risk factors, such as carry and momentum, and adding some value on top of that beta exposure."
Frick speaks of "polarisation", between those that allocate to risk factors statically and those that employ a dynamic approach. "The hedge fund industry is there to provide an allocation to alternative factors, but since this can be obtained today through more systematic, cost-efficient structures, successful hedge fund managers will be those that know how to allocate to these factors in a very active way and thus find value in parts of the market through exposure to idiosyncratic risk."
Blurred lines
The line between what is a hedge fund and what is not has become more blurred and it is not only traditional managers who try to replicate hedge fund-type strategies. It goes both ways, according to Scott Warner, managing director at PAAMCO, the California-based fund of hedge funds manager.
Warner explains: "We also see hedge funds blurring the line that divides them from traditional long-only management. Some are launching long-only versions of their strategies that are no longer hedge fund products in the strict sense, and charge lower fees." Furthermore, he notes, many hedge fund managers are focusing on less-liquid opportunities, thus competing with traditional private equity managers.
Among the long-term trends shaping the industry, regulation is key, particularly in Europe. Alastair Barrie, global head of hedge fund sales at Martin Currie, an active equity management house, believes that the introduction of European directives such as the Alternative Investment Fund Managers Directive has affected how institutional investors approach hedge funds and how managers approach the market.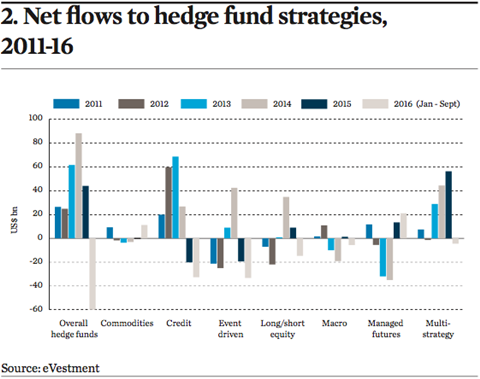 Barrie says: "Although the underlying hedge fund strategies are still in demand, investors want the comfort of regulated structures, as they ensure liquidity. Our company set up regulated funds six years, so we were early into that environment, while many firms in the hedge fund world were reluctant to offer liquid structures at first. The market has moved on quite quickly since then, and liquidity remains an issue for investors."
The aggregate allocation to different groups of strategies has also changed in recent years, but this has less long-term significance, according to Karim Leguel, head of hedge fund solutions for EMEA at JP Morgan Alternative Asset Management (JPMAAM). "The hedge fund opportunity set is very large, and the performance of sub-groups of strategies is partially cyclical," he argues.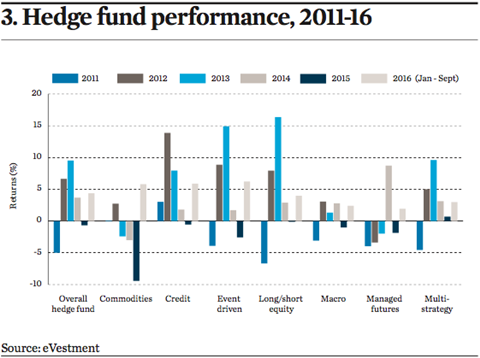 It is interesting that, according to estimates by HFR, four main groups of hedge fund strategies – relative value, equity hedge, macro and event-driven – take a quarter of the aggregate AUM each. In the first half of 2016, macro strategies took the smallest share of AUM at 19.2%, while the largest share was allocated to equity hedge strategies (28.1%).
According to eVestment, between 2011 and 2015, credit and multi-strategy funds were the winners in terms of net inflows. Credit funds recorded positive flows every year except 2015, when they lost $20bn. Multi-strategy funds had positive flows every year except 2012, when they shed $1.4bn. The two strategy groups are also unmatched in terms of net inflow volumes. Long/short equity strategies have had mixed luck. The other strategies in eVestment's database – commodities, event-driven, macro and managed futures – were losers over the period.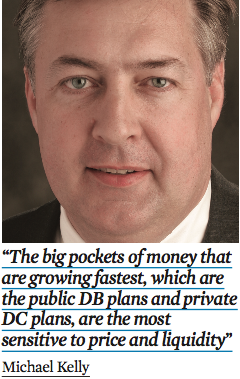 The picture, however, looks different for 2015. From January to September only commodity and managed futures strategies recorded positive net flows. Credit and event-driven strategies registered the largest outflows. Overall, the industry experienced negative net flows of $59.9bn, according to eVestment's database.
At present, the best opportunities are to be found in strategies such as statistical arbitrage, banking system dislocation and volatility arbitrage, as well as multi-strategy funds, according to JPMAAM. Leguel explains: "These strategies tend to have common features, particularly a low to medium net exposure to equity. Overall, we are trying to position the portfolio in anticipation of less directional markets, and also in a way that is better suited to a rising volatility environment. This fits well with our clients' needs, who want diversification from their overall book at the moment. The big message is less beta and more alpha. There will be times when the opportunities are in more directional strategies, typically after dislocations, but at the moment we feel it is time to take advantage of differentiation rather than direction."
PAAMCO's Warner says the firm is focusing on relative-value trades, specifically on distortions in sovereign fixed-income markets caused by low interest rates. "We find that distortions in sovereign fixed income present an opportunity. More importantly, we have been shifting the portfolio away from trades and strategies that have a lot of illiquidity, complexity and process risk as, right now, we feel that there are very crowded trades in that space. We have also reduced exposure our exposure to the distressed debt sector."
Aims and objectives
The key trend, which perhaps explains the slowdown in inflows, sees institutional clients approach the hedge fund world with a clearer set of objectives than previously. InfraHedge's Keith says: "The new cohort of investors in hedge funds have medium-term objectives and a much clearer idea of what they are looking for. If you rode back 10 years, everyone was chasing alpha, whereas today investors have specific aims, such as achieving absolute returns on a risk-adjusted basis or implementing a tail-risk hedge." Keith adds that protection from tail risk is currently among clients' priorities.
PAAMCO's Warner agrees: "Ten years ago, clients would approach us to build a hedge fund portfolio without an objective. Today, the majority of our clients want a customised mandate that is very specific and tailored to their needs."
"People are frustrated with active management in general. We see a lot more venting of frustrations with hedge funds, but we feel that investors are really cautious with throwing in the towel on the sector"
Jarrod Quigley
Looking ahead, hedge funds will continue to be subject to powerful, transformative forces. Keith believes that the most significant structural change would be large institutions running direct programmes, rather than fund-of-fund-driven programmes. This is particularly relevant to the Nordic countries. Together with other factors, this trend puts pressure on hedge fund managers to deliver. "These trends are shining a very clear light on managers and compelling them to demonstrate what they are capable of delivering," argues Keith.
Meanwhile, a brand of new absolute-return management styles born on the fringe of the industry is available to investors that cannot afford to run hedge fund strategies internally. These are set up to respond to the needs of clients concerning costs and liquidity. "The big pockets of money that are growing fastest, which are the public DB plans and private DC plans, are the most sensitive to price and liquidity," points out Michael Kelly, global head of multi-asset at PineBridge Investments.
In summary, the love affair between hedge funds and pension funds will continue, but the industry is changing and adapting to a low-fee, liquidity hungry, low-expectation environment. It could be argued that increasing volatility and low betas represent fertile ground for hedge funds. Questions, however, remain on how they will develop under pressure from a growing array of competitors that charge lower fees.
What investors should avoid doing is looking at hedge funds, or indeed the alternative investment world, as a homogenous bunch of managers. Martin Currie's Barrie says: "Funds are so heterogeneous that it is difficult to compare them directly. I fear investors look at statistics but less at what is behind those statistics, and may end up comparing apples and pears. This is another factor that conspires to make the backdrop for alternative managers tricky. Many investors, as a result, will feel more comfortable with allocating with benchmarks in mind." The other side of the coin, of course, is that investors want and need the decorrelated returns that only non-traditional strategies can provide.
Investing In Hedge Funds: The party continues
1

Currently reading

Investing In Hedge Funds: The party continues

2

3