Liquidity has plunged and performance has been poor with US metals and energy issuers suffering most greatly. Joseph Mariathasan asks whether now is the time to get back into high-yield
At a glance
• High-yield spreads look attractive but this is caused by lower liquidity, which does not look set to improve.
• Alpha investing, rather than beta investing, should be attractive.
• Fallen angels may present opportunities as issuers are downgraded from investment grade.
• The probability of recession determines the attractiveness (or otherwise) of global high-yield.
Last year proved to be a difficult one for all asset classes and the global high-yield bond markets were no exception. US high-yield in particular had a terrible year, driven by a collapse in metals and mining on top of the precipitous decline in oil prices. This year might prove to be difficult in many ways and the bearish market continued in January and February.
"What we are seeing is the reality of a global slow-growth economy finally sinking into the market," says Greg Hopper, head of global high yield at Aberdeen Asset Management. "It has been a slow, elongated, grinding recovery, and the ongoing theme has been, and will continue to be, lower and slower for longer." As Hopper argues, that, in general, favours high-yield over other assets as a stronger recovery tends to favour equities while a recession favours higher quality bonds. But as he adds: "A lot of new issues were priced as though there was going to be a strong recovery. There is not so much room for error if you are a leveraged company."
Despite widening spreads, the future might not be all gloomy: "Over the past 27 years, there has been no instance in the high-yield market where there have been two consecutive years of negative performance," says Fabrice Jaudi, fixed income CIO at S&P Investment Advisory Services. In fact, the US high-yield market was down 4.7% in 2015, as measured by the Merrill Lynch High Yield Master II index (see figure).
Jaudi continues: "Historically, a negative year has always been followed by a positive year. There is a simple explanation for this: when you have a negative return one year in high-yield, then the yield becomes very attractive and can offset any mark-to-market losses. Currently, the global high-yield market is showing an 8.5% yield, so, if nothing changes, investors will receive 8.5% return. At this level, even if you have bearish views and see spreads widening further, to offset 8.5% yields, spreads would have to widen significantly, so there is more chance of a positive performance than negative over the next 12-18 months." Nevertheless, investors would still have to stomach considerable volatility caused by exogenous factors.
The US high-yield sector is likely to enter a default cycle this year, according to Kevin Corrigan, head of fundamental fixed income at Lombard Odier Investment Managers. "You will see realised defaults in the US in 2016," Corrigan says. "Typically, credit markets do not rally until you have realised defaults. Credit markets can become cheap, and high-yield is cheap. It is back at the levels of 2011 when we had the first indications of a Greek crisis. But investors will not buy credit at these levels if they believe there is more risk of default to come."
The second aspect of the valuation story is the level of relative cheapness caused by fundamentals, as opposed to some other factor. High-yield is actually cheap because of the change in liquidity, according to Corrigan. US high-yield is around 9% and bond yields overall are at 1.5%, leaving a spread cushion of 8.5%. Default rates are expected to be 3%, so investors are getting paid quite a bit for the likelihood of default.
"But just as a lot of government debt is trading at negative yields because of central bank purchases, a lot of high-yield credit is trading at very distressed levels because of a lack of buying by asset managers," says Corrigan. "Because you can't trade this market, the yield level looks a lot higher than it should actually be." Illiquidity is becoming an increasingly critical issue for high-yield investors and this is unlikely to improve.
One way to circumvent the illiquidity of the secondary market is to use the primary market. In theory, says Hopper, the time of issuance is the one time the pricing should be efficient. But there are problems: "The liquidity of a new issue has a half-life of anywhere between six months and six days. If you pursued an exclusively new issue strategy, you would end up with a carbon copy of everything the sell side of the Street wants to foist upon the buy side."
As Simon Finch, CIO of CQS points out, the problem of illiquidity has been exacerbated by retail funds with a requirement for daily liquidity for their clients: "The proportion of high-yield funds that provide daily liquidity has increased materially. As a result, the market is increasingly whipsawed by fund flows. The amount of total turnover in the high-yield market is relatively constant but the size of market has grown significantly."
European regulators have focused on ensuring UCITS funds have daily liquidity but the underlying securities themselves may be very illiquid. "We have been discussing with institutional investors, including pension funds, the risks of aligning themselves with daily liquidity-driven funds," says Finch. "As long-term investors they should be able to take advantage of sudden sell-offs in the marketplace." Moreover, fund managers facing the possibility of large redemptions will be forced to adopt defensive positioning with liquid stock and high cash levels, which would not be in the interests of long-term investors.
Last year's volatility has also created opportunities. "The commodity collapse has created a lot of potential fallen angels in the high-yield market with companies such as Glencore and Anglo American," says Corrigan. "We always like fallen angels because they always provide an investment opportunity because of forced selling, giving us an opportunity to buy cheaply afterwards. We are looking to take advantage of the fact that Anglo American might be downgraded, which will give rise to forced selling by investment-grade funds. There is a structural impediment in the marketplace that gives unconstrained investors an opportunity".
However, managing high-yield portfolios in coming years may require greater resources on the part of managers. Zak Summerscale, CIO of European high yield at Babson Capital Management, argues that in the past couple of years the behaviour of the high-yield universe has changed structurally.
"The post Lehman years we would characterise as the years of beta investing. High-yield spreads were shifting downwards from their peaks and you had a 'rising tides lifts all boats' dynamic playing out," Summerscale says.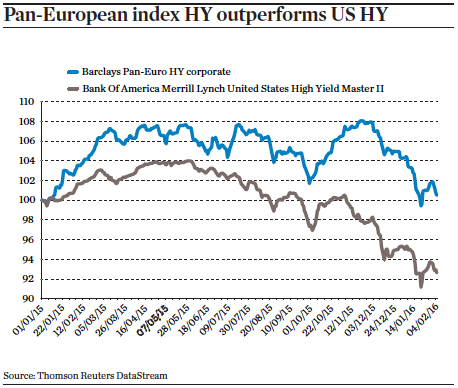 But now, he argues, the market is highly differentiated and bifurcated: "If companies meet their targets and keep delivering, they are seen as safe and their debt trades at spreads below 500bps. If companies underperform expectations they end up in the bottom half of spreads, irrespective of whether it is rational or not." As a result, now is the time to seek alpha rather than rely on beta, which means managers understanding the individual and highly idiosyncratic credit stories for each issuer.
Given that the European high-yield market has increased from €80bn in 2008 to over €400bn today, and the number of issues in the US has exploded as well, investment managers might face challenges in doing their homework.
Investors are still left facing the issue of whether the spread widening of 2015 and early 2016 is justified. Hopper argues that while there may have been some justification for high-yield spreads to widen as the bonds were priced for a stronger recovery than we are having, this has now become excessive. "At the end of December there were a lot of background concerns about liquidity. That impacted lower quality and smaller issues more but the contagion has spread to the rest of the market," Hopper says.
Others are concerned that there might be a more serious scenario to contend with. "The big call to make in 2016 is whether there will be a recession in 2017 such that investors will increasingly start to position their portfolios accordingly as the year progresses," says Alex Veroude, head of credit at Insight Investment.
"What we have seen, particularly in the spreads seen in the US high-yield market, is that investors are pricing in the probability of a recession at a third," says Hopper. If that scenario is borne out by economic figures, which is not currently the case, spreads could widen considerably: "High-yield bonds could move 10 or even 20 points lower".
For Hopper, the spectre of a recession also looms large: "Are we just seeing a repricing of something that started six months ago, giving us opportunities to buy? Or is what we are seeing like the famed canary in the coal mine – a signal that we are about to enter a recession?" For investors, answering those questions will provide the key to whether this is an asset class they should be getting into or one they should be getting out of.
Investing In High-Yield Bonds: Does fortune favour the brave?
1

Currently reading

Investing In High-Yield Bonds: Does fortune favour the brave?

2

3

4