Managing credit portfolios requires an understanding of fundamentals but these can often be overwhelmed by macro-economic factors. Moreover, the macro part can sometimes affect things in counter-intuitive ways.
The US economy is bouncing back while Europe is still in the doldrums. Yet, in the second half of 2014, investment-grade spreads in the US widened as a whole, while those in Europe tightened significantly. Should we be surprised? Gaurav Chatley, European credit manager at M&G Investments thinks not: "Valuations of any asset class during the past four or five years have been primarily driven by central bank policies."
But does this explain the spread divergence seen in just the second half of 2014?
Enhancement
One key difference between the US and Europe is a technical one – the sheer amount of new issuance seen in the US.
"There has been close to $1.2trn (€1trn) of investment-grade debt issued in the US, while Europe has seen a net reduction in outstanding debt during the same period," says David Torchia, portfolio manager at Stone Harbor Investment Partners.
But this does not appear to be a factor in the spread divergence. Torchia points out that the market happily absorbed this new issuance, and Chatley adds that the net reduction in Europe was primarily down to a dearth of bonds from the financial sector, which has been financing itself at the ECB, instead; non-financial issuance actually increased.
But if supply is not a key factor, M&A activity might be. The size and number of significant M&A transactions – as well as other types of shareholder-enhancement corporate activity – have been much greater in the US than in Europe.
At a glance
• USD corporate bond spreads widened significantly relative to EUR spreads in the second half of 2014.
• How do we account for this, given the much better performance of the US economy?
• M&A has been a bigger feature of the US market but has, so far, been unusually bond-friendly.
• Relative energy and financial sector exposure has made a difference.
• But the main story is one of central bank divergence – and what it tells
"Historically, these activities have been less friendly to bondholders in terms of the impact on spreads," says Torchia. "But we have had pretty epic movements in spreads in the past as a result of specific M&A activity, and that hasn't been the case this year. There hasn't been any one individual move in any specific corporate bond that has been significant as a result of M&A activity."
Indeed, some of the M&A activity in the first half of 2014 turned out to be more positive than negative for bondholders.
"Ordinarily the combination of two companies will result in a more levered organisation, but we saw some very high-quality buyers while the size of the acquisitions were not particularly burdensome," says Torchia. "The acquirers' bond spreads were flat or only slightly increased, while the target companies' spreads actually narrowed."
Further up the list of suspects comes the difference in sector composition between the two markets. In the US, around a third of the market is financials, as opposed to 45-50% in Europe – and whatever the region, financial bonds have outperformed non-financials during 2014. Compounding that, the precipitous fall in oil prices has had a big impact on the energy sector, the biggest sectoral underperformer, and that is a much more significant exposure for USD bond investors.
"Investment-grade spreads in the US energy sector have widened by 60 basis points in 2014," Torchia observes.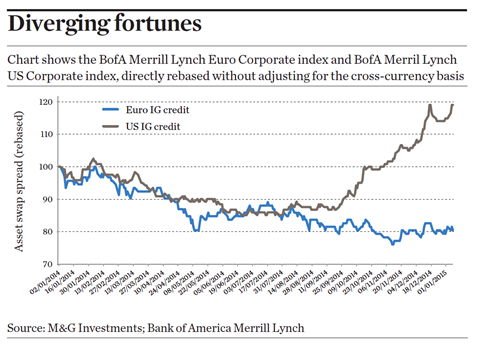 Even so, the prime reason for the divergence in credit spreads is generally seen as being the divergence in central banks' behaviour. The Federal Reserve is oriented towards slowing down and ultimately reversing the expansion of its balance sheet, whereas the ECB has a policy target of expanding its balance sheet by almost €1trn.
"The recent period of underperformance in the US coincides with the Fed concluding its QE programme," observes Torchia. "I would argue that the Fed's QE programme, although directed at sovereign bonds, crowded out the market, so investors were pushed more into high-grade corporate and that period has now ended."
This puts the two regions in two very different places, both in terms of monetary policy and economic growth prospects. And this begins to explain the outperformance of European bonds relative to the US.
Loosening
There has been recent speculation that the ECB might extend its purchase programme to include corporate bonds, which would clearly provide significant impetus towards tightening corporate bond spreads. Ironically, whereas the US Fed has been enthusiastically buying sovereign and agency debt but is not allowed to purchase credit, the opposite is true in Europe; the ECB is finding it difficult to persuade some stakeholders that sovereign-bond QE does not exceed its mandate, or constitute monetary financing of budgets, but extending the current purchases of covered bonds to corporate bonds would probably not be an issue.
"Credit spreads in Europe are being driven by what people think the ECB may be doing," says Simon Hawkins, senior portfolio manager at Conning.
But perhaps more important is what the ECB's steadily-loosening policy implies about Europe's underlying economic wellbeing.
"What is good for credit is not necessarily growth, but rather what in the Greenspan days they used to call the 'Goldilocks' scenario of low growth and abundant liquidity," says Chatley. "A low-growth environment is a muddle-through situation, which does not mean that the default rate will go up – especially when the ECB is trying really hard to encourage banks to lend more and more. Liquidity governs default rates more than low growth. Providing companies are keeping on generating cashflow to be able to service their debts, defaults don't rise significantly and, indeed, we have seen default rates coming down during the last four or five years."
In a low-growth environment, companies don't have a big incentive to increase leverage for investment because they are not going to get the returns they want. At the same time, they are able to generate cashflow to keep on servicing their debts. Europe may look better than the US from the perspective of a corporate bond investor, therefore – but, for these reasons, tight European bond spreads might not provide much comfort for those anxiously watching Europe's economy.
Investing In Investment Grade Credit: A widening spread
1

Currently reading

Investing In Investment Grade Credit: A widening spread

2

3

4

5

6

7

8