The prospects for US equity markets depend largely on the performance of the underlying economy, according to Joseph Mariathasan

The S&P 500 hit all-time highs in the first half of 2015 but opinion is divided on what the implications may be for investors.
"Valuations are stretched but they are not yet at the level consistent with the market peak seen in the last 25 years," says Russ Koesterich, chief investment strategist at BlackRock. "Stocks should be able to go higher and the bull market will not stop at the first Fed tightening"
Paul Quinsee, chief investment officer, US equities, at JP Morgan Asset Management is even more sanguine about high valuations: "Valuations are in fair territory – they are not cheap and they are not expensive. At 17 times price-to-earnings relative to a long-term average of about 16 times, we don't feel this is overly stretched, particularly relative to bonds, which continue to look extremely expensive".
But many would dispute the optimists' case. Andrew Smithers, an independent economist based in the UK, says the US market is overvalued by 80%. CT Fitzpatrick, chief investment officer of Vulcan Value Patners, an Alabama-based boutique with about $11.5bn (€10.3bn) in assets under management, has closed his US equity funds to new investment. Fitzpatrick comments: "Valuation levels are not as attractive as a few years ago and returns, looking forward, do not look as attractive as those we have seen over the past five years."
At a glance
• Market valuations are open to debate as they can be measured in several different ways.
• There is disagreement about the state of the US economy.
• Consumption is a key driver for GDP growth.
• Share buy-backs are distorting market valuations.
The reason for the wide variation in views on valuations of US equities is, of course, that there are many different ways of estimating fair value and they are giving different results. Satya Pradhuman, the chief executive of Cirrus Research, says valuations are reasonable if you take account of where bond markets are trading. "The environment will remain noisy for reasons such as the turbulence of non-US growth, coupled with the stronger dollar that is fed by a fairly resilient US economy."
Pradhuman agrees with Quinsee that US large-cap valuations, certainly relative to the US market as a whole, are close to long-term averages: "The reason some argue that the US is expensive is that they are using the absolute multiples, assuming that bond yields have been the same over the last 30 to 40 years. The reality is that multiples were lower when bond yields were in double digits. Today we can debate whether they are 2% or 3%. You can't ignore the bond market when looking at equity valuations." Valuing equities relative to bonds may seem reasonable to some but others would disagree.
Smithers argues that there are only two valid ways of valuing the US equity market. First, using the Q ratio – the total market capitalisation divided by the replacement cost of all its companies – devised by Noble laureate James Tobin. In other words, by treating equities as real assets and looking at the cost of replacing them. The second is by looking at the cyclically adjusted price-to-earnings ratio (CAPE), which averages price-to-earnings ratios over typically 10 years:
"Whether you use the Q ratio or CAPE, both point to the same thing – that the US equity market is 80% overvalued," says Smithers. Even Pradhuman concedes that on a comparison with equity markets across the globe, large company valuations in the US remain the highest across the regions they cover.
For investors confused by the arguments about valuations, Smithers offers some consolation: the uncertainty over the timing and the level of over-valuation makes valuations only a weak predictor of equity market moves: "The major driving force for markets currently is that there are more buyers than sellers" he says. But he points out that institutional investors also face problems of conflicts of interest with the fund managers who act as their agents.
"At the very peak in 1999, analysis of the Q ratio showed that the probability of the stock market falling was 70%. If you were a fund manager, you would probably respond to that by selling your own shares and keeping your equity fund fully invested for your clients as you would not want to face the 30% risk of losing your clients by underperforming the market."
It's the economy….
While opinions on valuations may be divided, the views on the prospects for the American economy are even more polarised.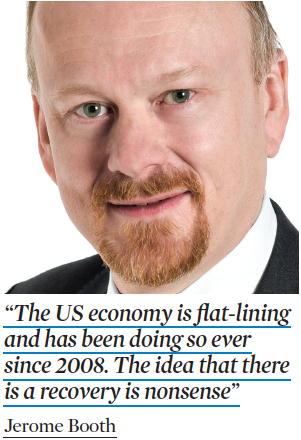 Vulcan Value Partners' CT Fitzpatrick says: "I am very bullish about the US economy long term. There is a lot of capital and a lot of pent-up demand on the side of corporations. Better leadership can, as [John Maynard] Keynes would say, release the animal spirits, and if that leadership presents itself, the US economy can grow much better than it has been – we can get back to the 1980s' growth rates. The country certainly has the potential to produce 3% GDP growth rates".
BlackRock's Koesterich argues that fracking is likely to limit oil prices in the long term, even if the US remains a net importer of oil. A structural shift to lower oil prices will be negative for the energy sector which, as Quinsee points out, makes up about 12% of overall S&P 500 2014 earnings. "Those earnings are expected to drop by approximately 50% in 2015, in reaction to the halving of the oil price since the middle of last year," he says. But lower energy prices should benefit the remainder of the US economy.
Even shorter term, there are many who see a very positive outlook: "We expect US growth to accelerate over the remainder of 2015," says John Bilton, JP Morgan Asset Management's global head of multi-asset strategy. "Initial jobless claims are at the lowest level since 2000, the robust payroll data and the better housing data are encouraging. So, too, is the generally sound state of consumer balance sheets. Moderation in dollar strength and the bounce in oil should also help corporate confidence and earnings expectations."
The arguments for a positive view of US economic prospects may seem strong but others, such as the independent UK-based economist Jerome Booth, are pessimistic: "The US economy is flat-lining and has been doing so ever since 2008. The idea that there is a recovery is nonsense. The number of people on food stamps peaked at 47m at the height of the crisis – yet it is currently still 46m," he says. His views chime with those who see the US as an economy that is becoming more unequal. "The middle class idea that you would be better off than your parents and your children would be better off than you is no longer true, leaving the American dream broken," he says.
Booth is also pessimistic on factors such as energy prices. "Global demand for oil has not substantially changed at all, short term, whilst 7% growth rates in emerging markets with enormous requirements for new infrastructure mean that demand will only increase longer term. Oil has been massively oversold but is seeing a comeback with prices rising 50% from their lows of $40 a barrel to $60," he says.
Booth also argues that the US is facing enormous challenges in its bond markets and the dollar as it is becoming clear that the Chinese, in particular, are selling US Treasury bonds on a massive scale. Should investors then focus on US companies with strong exports to high-growth emerging markets?
He sees four problems with this approach: the headwinds of a strong dollar (for now); the extraordinarily strong growth in 'south-south' trade; more focus on consumer-demand-led growth (and with it import substitution) in emerging markets; and the developed world's liabilities – and thus the risks that come with companies based in the developed world.
Long-term challenge
The trend growth rate of US GDP, which Smithers points out is only 0.8% a year, appears to be the problem for the long-term equity market bulls. Koesterich identifies several drags on economic growth, including demographics, slow productivity growth and the elevated debt levels. Raising trend growth appears to be the challenge.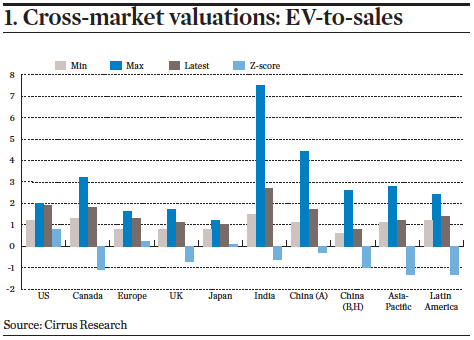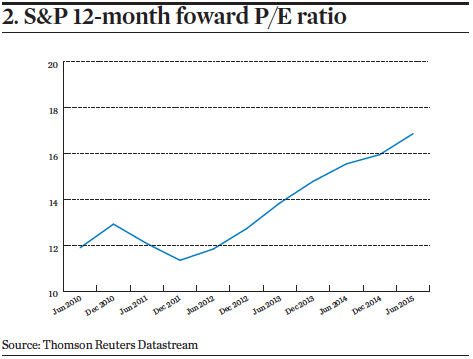 Most economists emphasise the importance of domestic consumption in driving US growth. "Economists may disagree as to why that is the case, but empirically it is very clear," notes Booth.
Thanks to high debt levels, the relationship between household incomes and consumption is not always straightforward. One consequence, Booth says, is that the US may see a sustainable consumption-led recovery only once household indebtedness reduces to at least the pre-bubble 90% level: "The US, once again, is entering recession. The American consumer, the traditional and future driver of growth, is still deleveraging household debt and will continue to do so, perhaps until the end of 2016."
Booth argues that, in the interim, the US has experienced a strong inventory cycle, creating a see-saw pattern of growth around a low trend: "With such volatility, one can always choose a start date carefully to coincide with a dip to produce an optimistic growth number. But the reality is rather more sobering, despite ultra-loose monetary policy, and further credit-sustained bubbles such as that in the auto sector."
While some economists are sceptical about the strength of US growth, Smithers is also scathing about the equity market growth itself. In his view, share buybacks have inflated market valuations.
"US companies are still highly leveraged, as can be seen from Fed data and contrary to reports from investment banks," Smithers says. "Companies are buying back shares when shares are expensive and not when they are cheap and they are doing so to benefit management, not shareholders, as management have contracts that reward them on the basis of measures such as short-term improvements in share prices."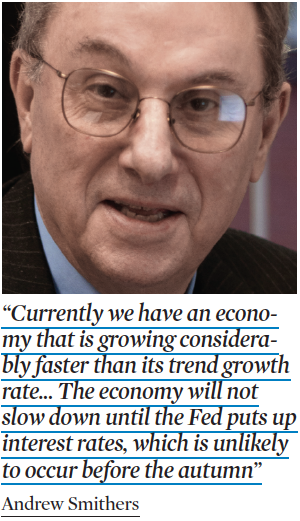 Smithers also argues that management is incentivised to drive up share prices as much as they can and that, when real profits are insufficient, accounting rules enable them to essentially overstate profits: "Eventually when profits go down as they did in 2008, reported company profits go down much more than seen in the national accounts."
Write-offs are required when profits have been overstated in the past but Smithers argues that companies have not just written off enough to compensate for past overstatements. They write off sufficient to overstate profits in the future. This gives rise to cycles of periods of overstated profits followed by dramatic understatements of profits, with management having the ability to renegotiate contracts to reflect the new level of share prices. "We are currently in a period of overstated profits," says Smithers.
Where now?
Should investors then be rushing out of US equities in anticipation of a crash? Not in the short term, according to Smithers, despite the over-valuations. He says that corporate profits are a function of GDP, tax charges, leverage and interest charges which do not change very much, along with profit margins. These are the critical items at all-time record levels and are therefore vulnerable to a profit squeeze, the danger equity investors face.
"As a general rule, profits are not hit when growth is at trend levels or better and tend to rise then," Smithers concludes. "So currently we have an economy that is growing considerably faster than its trend growth rate and is likely to continue doing so. The economy will not slow down until the Fed puts up interest rates, which is unlikely to occur before the autumn." Investors need to be wary that a drop in real profits may lead to an inevitable overreaction as companies use the opportunity to write off more than required.
The US equity markets cannot be ignored but they should not be regarded as a safe haven to park cash. Just because developed market sovereign bonds might be in bubble territory it does not necessarily follow that equities are a good investment: "Some of the better companies are indeed looking healthy, but this is typically not enough to justify current valuations. For this, one has to assume that their sales are growing – in other words, that the economy is recovering," says Booth.
For investors, the key decision may be gauging the state of the economy.