Regulatory pressures and political uncertainty triggered by the Brexit vote and the election of Donald Trump are creating challenges for investors in global debt markets, finds Joseph Mariathasan
At a glance
• Political developments, such as the vote for Brexit and the election of Donald Trump, are driving markets.
• Opinions vary on the relative merits of US and European credit.
• Banking sector debt is an important element of the market but it can be tricky to analyse.
• Liquidity management is becoming critical.
"It was the best of times, it was the worst of times, it was the age of wisdom, it was the age of foolishness, it was the epoch of belief, it was the epoch of incredulity." Those are the famous opening lines of Charles Dickens' A Tale of Two Cities, a novel set against the backdrop of the French revolution. But his words could describe the state of play in the global debt markets today.
Investors are facing particularly difficult challenges at present. There is the end of a 30-year bull market in bonds with unprecedented negative bond yields in 40% of the euro-zone government bond markets. Financial repression by central banks and regulators is distorting markets to such an extent it is making a mockery of the idea of free markets.
Then there are political earthquakes that rocked the world in 2016, including the election of Donald Trump to the US presidency on an openly protectionist agenda. However, many of the president-elect's views appear to be subject to moderation, although the uncertainties will provide an extra risk factor for all asset classes. "The range of outcomes for all assets has increased several-fold since the Trump election. What further surprises may come from upcoming elections in France, Germany and the Netherlands?" says Adam Whiteley, portfolio manager at Insight Investment.
There have already been significant movements in markets based purely on speculation but without time for any strong evidence to emerge about future policies, points out David Torchia, a portfolio manager at Stone Harbor Investment Partners. What it suggests is that for investors in investment grade bonds, fundamental valuations will continue to be overwhelmed by political factors for some time.
Ben Bennett, head of credit strategy at Legal & General Investment Management, argues that 2016 had all been about financial repression up to the US election, which was the turning point. There was disappointing economic growth and serious economic problems from Brexit and Trump's populism.
Yet asset values increased. That was primarily because at the start of 2016, Janet Yellen, the chair of the Federal Reserve, spoke about negative interest rates, Mario Draghi, the president of the European Central Bank (ECB), increased quantitative easing (QE) and the Bank of England embarked on more QE. Bennett says the investment grade bond market was a direct beneficiary of this financial repression. "It is pretty clear that spreads are lower than what would be warranted by fundamentals," he says.
Trump's election has thrown up new political uncertainties. Markets immediately embraced what could be called the 'good Trump' scenario. They looked forward to fiscal stimulus involving greater infrastructure spending and tax cuts. This combination was viewed favourably from an equity market perspective, leading, in turn, to an improvement in corporate fundamentals for bondholders. But conversely, a protectionist Trump scenario could arise, which could turn capital markets completely in the opposite direction.
It is becoming clear that politics is not only driving markets but also constraining the activities of central bankers. "We have seen Trump talking about fiscal policy and the UK's prime minister Theresa May talking about QE leading to the rich getting richer," says Bennett. He points out that there is also an element of inflation coming through. This, in turn, undermines the ability of central bankers to undertake financial repression.
If there are problems over growth and central banks are unable to react to them, Bennett sees fundamentals coming through and a much more bearish market. Legal & General takes the view that a temporary increase in inflation and interest rates would lead to secular strangulation because there is too much debt. "When we start to get out of it and see higher interest rates, we start to get strangled again. We think credit spreads should be higher but it will lead to financial repression once more," he says.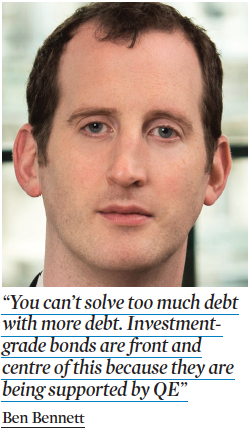 The only real way to reset the structural imbalances, says Bennett, is a period of defaults to reset the debt balance. "You can't solve too much debt with more debt. Investment grade bonds are front and centre of this because they are being supported by QE." Given that view, it is not surprising that Legal & General is underweight credit risk in its active portfolios.
Opinions on the relative strengths of European credit versus the US are, perhaps not surprisingly, varied. Roel Jansen, co-head of euro investment grade credit at NN Investment Partners, sees credit fundamental trends in Europe as looking better than in the US. On the other side of the Atlantic there has been more shareholder-friendly behaviour such as share buybacks. These have led to a meaningful increase in leverage over the past few years.
As the US is ahead of Europe in the leverage cycle, he argues that European investment grade credit compares favourably with the US. The impact of financial repression, however, is much stronger in Europe than the US. As a result, many managers seem to prefer the US over Europe.
"The European markets have been driven by central bank policy," says Whiteley. The ECB started buying investment grade corporate debt in summer 2016 and looks likely to buy €80bn of corporate bonds, accounting for about 4% of the market. The Bank of England will buy £10bn (€12bn) and had bought £2bn by November 2016, which was well ahead of its target, he says.
As Bennet points out, at times the ECB has dominated flows. "When France and Italy were in the headlines in November, our traders said the only buyer in town was the ECB. That is not a healthy market when you have a forced buyer sitting there." As a buyer of credit risk, Legal & General, like many managers, is wary of markets with suppressed credit spreads and, as a result, favours the US over Europe.
One further factor that might have a positive impact on US spreads, Whiteley says, is the Trump proposal of a tax amnesty for US corporates repatriating over $2trn (€1.9trn) of corporate cash held overseas. A lot of corporate bond issuance in the US has been to pay for dividends because corporations were unwilling to incur the tax charges on repartiating overseas cash. Any such repatriation would lead to a lower supply of corporate bonds.
Banking sector debt is an important component of the market but it can be complex to analyse. "Credit markets have been trying to price in far too much of an equity story for banks, so their bonds have done relatively badly as the market struggles to figure out whether banks are growth or income stocks in the future," says Whiteley. As he adds, the regulatory-driven changes have made banks safer and more like utilities.
In the US, as Torchia argues, it looks likely that the new Trump administration will loosen bank regulation. Investors have embraced that view and bank stocks have rallied on the possibility of improved profitability. On a short-term basis, it helped to tighten credit spreads on US banks while the steepening of the US yield curve is also positive for banks.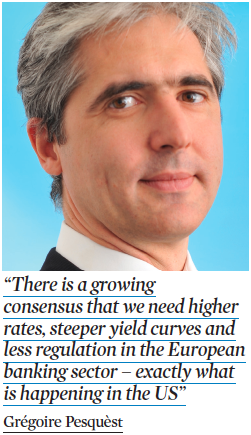 While US bank debt may look attractive, there is more concern about European bank debt where Stone Harbor is underweight in global corporate bond portfolios. European QE has excluded bank bonds while there are several European banks where, as Torchia says, credit fundamentals are somewhat challenged.
Europe suffers from overcapacity in the banking sector and a need for consolidation, says Grégoire Pesquès, the head of the Amundi global corporate credit team. It is not easy to start consolidation because with the new regulations, the bigger the bank, the bigger the capital requirements and the lower the return on equity. "So there is not a big incentive for consolidation as it becomes too costly. Maybe the regulators will amend the rules to make consolidation easier," says Pesquès.
Yet the regulatory environment has certainly increased the attractions to such an extent that banks have been Amundi's biggest position during the last three years. "There is a growing consensus that we need higher rates, steeper yield curves and less regulation in the European banking sector – exactly what is happening in the US."
In the US, corporates have been increasing leveraged during the past four years, but in Europe they have remained cautious. But Pesquès says the signs of more mergers and acquisitions (M&A) in Europe suggest that European companies will be getting more leveraged. "Corporates are becoming more expensive in Europe and banks are the only area where you can find some value," he says. This is also a function of the fact that the ECB is not buying bank debt as part of its QE programme.
Given the financial repression that is distorting the credit markets, liquidity is a key challenge for managers of investment grade debt. "We are as much liquidity managers as credit managers," says Pesquès. He argues that the spread seen in investment grade bonds does not reflect credit risk alone, which is relatively remote, but rather a significant illiquidity premium.
While liquidity premium can be difficult to measure, Pesquès finds it is at least five times higher than a decade ago. That means the illiquidity premium needs to be viewed as a possible performance enhancer in any portfolio management strategy rather than detracting from performance. It results in turnover being lower in certain strategies which relied on capturing only a few basis points through arbitrage.
But new opportunities have arisen as a result of increased market segmentation between different sub-sectors including US and euro credit markets, asset-backed securities and high yield. Markets have become less correlated with banks becoming less involved in certain trades because of capital requirements. Banks used to be active in cross-currency trades, for example, and it can be more expensive for them to invest in foreign currency.
Amundi finds that for funds that have the flexibility to invest across all credit markets, there are opportunities with US corporates. For example, issuing in euros as well as dollars and similarly with European credits issuing dollar-denominated bonds.
Investment Grade Credit: Market distortions
1

Currently reading

Investment Grade Credit: Market distortions

2

3