OVER the past few years, the two big differentiators when it came to investment-grade corporate bond strategies were how managers positioned with regard to peripheral euro-zone risk and where, and how much, they allocated to banks' capital structures.
We will come back to banks later – they may just have become interesting again. But even as Greece starts to complicate the euro-zone story once more, the periphery appears to have run its course as an investment opportunity.
Laetitia Talavera-Dausse, senior portfolio manager at Allianz Global Investors (AGI), recounts how her portfolio made money from an underweight to the periphery during 2011 before playing the long convergence of spreads through 2013 and the beginning of 2014.
She mainly took positions in utilities – where leverage was low relative to peers in the core but spreads were dragged up by country risk – and top-quality financials such as Intesa Sanpaolo and Uncredit in Italy, and names with significant non-domestic business such as Santander and BBVA. There are legacy positions still in the top-10 holdings – Iberdrola and Ferrovial – but they are no longer there on the strength of valuations or technical.
"These positions did come from that euro-zone periphery trade," says Talavera-Dausse. "But we've kept them in the portfolio because we remain comfortable with them from a bottom-up bond-picking perspective."

At Union Investment, one of the big periphery trades was in covered bonds, particularly when they were selling with yields close to the same issuers' senior unsecured paper. But that anomaly did not last long once the ECB declared itself a buyer. "You can still find telcos, utilities and even banks in the periphery that are in better shape, fundamentally, than their peers in the core euro-zone countries, but which have been dragged down by their respective government risk," says head of credit Stephan Ertz. "As long as this government-risk effect is fading we still think there is a little bit of opportunity, although most of the juice has gone."
Indeed, while Ertz maintains an overweight in the euro-zone periphery, a good chunk of that is now government bonds – held for liquidity but also because corporates trading at lower yields than their respective sovereigns is regarded as unsustainable, given the gradual but fundamental improvement in the economic situation.
Trickier
Where, then, are our featured strategies taking risk today? All three are taking on a fair amount of credit duration. The AGI portfolio has more than half of its assets in bonds maturing in seven years or longer, the Union portfolio, almost 40% – both longer than their benchmarks.
To some extent that comes naturally, as issuers feel able to secure longer-dated funding (there has been more 10-year-plus issuance in EUR bonds in 2014 than ever before), and investors increasingly add to their positions in the primary market rather than trying to navigate the illiquidity of the secondary market.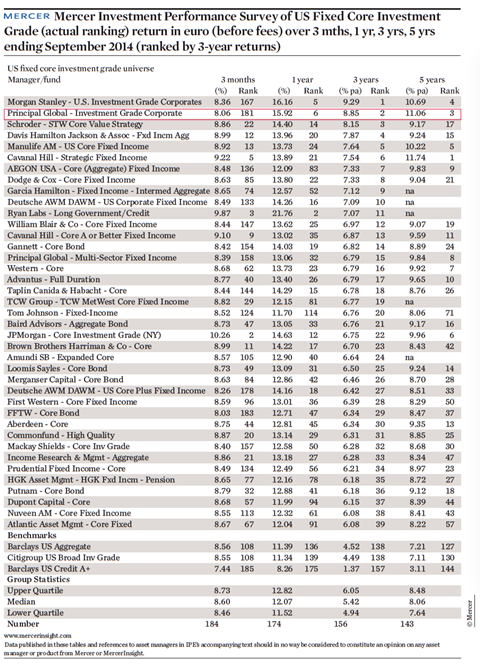 INTEXTLINKTEXT Investment Performance Survey of US Fixed Core Investment Grade (actual ranking) return in euro (before fees) over 3 mths, 1 yr, 3 yrs, 5 yrs ending September 2014 (ranked by 3-year returns)" src="/Pictures/web/h/p/v/Screen-Shot-2015-01-29-at-15.32.3_660.png" />
"Finance directors are taking this opportunity to lengthen their maturity profile, but investors are also prepared to take that longer spread risk as they search for yield," says Ertz. "Our outlook for euro-zone interest rates is that they will be very low for a very long time, which means that we should be able to enjoy these higher spreads at longer dates for the foreseeable future."
That view has played out fine in Europe, where credit-spread curves remained relatively flat through the course of 2014. For Principal Global Investors (PGI) a similar longer-dated position in USD bonds has proven rather more painful as credit spread curve steepness almost doubled through the year, thanks largely to the big downward move in risk-free rates.
"But as rates move higher, we want to be positioned to take some advantage of what we think will be some compression in credit curves in 2015," says Tim Warrick, managing director and senior portfolio manager. "We also think technicals will support the longer end of the curve, as liability-driven investors look for longer-dated corporate bonds and supply remains constrained relative to that demand. That means we are not shy of positions further out on the curve."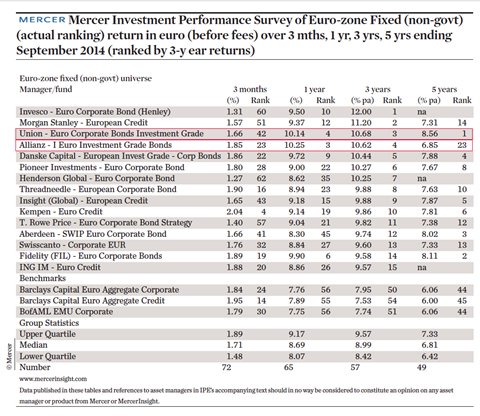 INTEXTLINKTEXT Investment Performance Survey of Euro-zone Fixed (non-govt) (actual ranking) return in euro (before fees) over 3 mths, 1 yr, 3 yrs, 5 yrs ending September 2014 (ranked by 3-y ear returns)" src="/Pictures/web/w/k/f/Screen-Shot-2015-01-29-at-15.46.0_660.png" />
Warrick and his team had built an overweight in US Treasuries in the autumn of 2014 in order to exploit the spread widening they expected would follow on from increased supply – when issues would come to the primary market and immediately cheapen. However, that same dynamic has undoubtedly made life trickier in USD corporates than in EUR corporates.
A similarly significant break between the EUR and USD markets centres on the energy sector, where oil prices have ravaged high-yield issuers but done substantial damage through investment grade, too. This sector, alongside other industrial overweights like autos and cable and media, has been favoured by PGI for some time – and despite anticipating further tough news and volatility through the first half of 2015, Warrick remains convinced by the independent oil and gas sector.
"Some have significant reserves and management teams that have demonstrated an ability to adjust capex and free cash flow generation quite dynamically – but they are still getting beaten up quite badly because of what's happening with the oil price," he explains.
"Examples we like include Anadarko Petroleum, Apache, EOG Resources and Noble Energy. In addition, among BBBs some of these independents will ultimately be acquired by larger integrated oil companies. By the same token, we see a lot of event risk in the integrated oil space, and not much value, either."
The energy sector is smaller and looks very different in the EUR corporate universe, and the outsized presence of Russian issuers meant that many investors were already steering clear before the oil-price collapse got under way in July 2014.
"We don't currently invest in basic materials or energy and oil, where we are very cautious, and we are also not exposed to any Russian issuers," says Ertz at Union. "It's a moving position, but I'd expect that we'd stay out of Russia and basic materials in general for the time being. At some point the opportunity to return will come back, but that time is not here yet and I think we will see more distress from these issuers."
Put the effects of credit-spread curve positioning and the energy sector together, and the relative portfolio yields and performance positioning of our three featured strategies start to make sense. There is not much to choose between the yield on the AGI portfolio (1.7%) and the Union portfolio (2.1%), compared with the 3.5% available from the PGI holdings.
This reflects the divergence in spreads between the EUR and USD universes, for sure, but it also results from differences in active risk profiles: the AGI strategy managed to stay in the top third of its peers in the Mercer universe through the volatility of Q3 2014 and Union has only just slipped out of the top half, whereas PGI has dropped to number 181 out of 184 in its universe.
Selection
This appears to be a stylistic difference, as all three managers share a fairly confident macro view and are positioned in similar ways along the credit-ratings spectrum for broadly similar reasons.
Talavera-Dausse is substantially underweight AAA and AA, and carries a 62% allocation to BBBs. She picks out Groupe Casino, the French retailer, for its big revenue exposure to Latin America, for example. "The BBBs offer the best risk-reward at the moment," she says. "Spreads are very tight in the investment-grade universe but there is still some value in these BBBs." The main risk she identifies at this credit-quality level is the temptation to get involved in M&A – she got out of Anheuser Bush Inbev because of the persistent rumours about the potential acquisition of SABMiller, for instance.
The AGI strategy can allocate 5% to high yield but at the moment deploys only about half that capacity. The PGI strategy goes further, with about 7% in BBs and lower-rated bonds – often 'rising stars' that are de-leveraging balance sheets.
"We don't see this as a reach for yield, really," says Warrick. "We believe BBBs offer the best relative value. They have underperformed over the latter part of 2014 but, on average, they show more fundamentally stable profiles compared to many AA and single-A peers which have considerably more event risk and a more shareholder-friendly outlook and distribution and leverage policies. The modest deterioration we see across the investment-grade universe is primarily coming from the single-A and AA corporate issuers."
The story is similar at Union, which has almost 60% in BBBs and as much as 10% in high yield. Ertz feels that single-A is "expensive" and identifies BBB as the "sweet spot" in investment-grade. The backdrop of Europe just keeping its head above water is ideal for taking a bit of credit risk, he reasons – credit metrics remain stable as long as there is at least some growth and management does not feel inclined to succumb to M&A fever.
Ertz also makes the point that a significant portion of his portfolio's BBB and high-yield overweight is in subordinated instruments from single-A issuers. Banks play a big role in this, of course – he picks out the tier-2 contingent convertibles from UBS as an example of the type of "conservative" structure he likes in hybrid financials, and confirms that the portfolio's 12% allocation to floating-rate paper is mostly old-style lower tier-2 capital from issuers like BNP Fortis and Landesbank Hessen-Thüringen that is likely to be called over the next couple of years. But he also emphasises the attractiveness of many non-financial hybrids, such as those from Telefónica.
"We have only about 2% in genuine high-yield issuers," he reveals. "We are fundamental stockpickers, but we are also very focused on analysing capital structures. Financials always issued a range of instruments and different types of capital, but in the past few years this has developed a lot and we have seen banks broadening beyond the classic lower tier-2, upper tier-2 and tier-1, but also a lot of industrials and utilities issuing subordinated instruments, too. Credit selection and instrument selection are almost equally important in our process."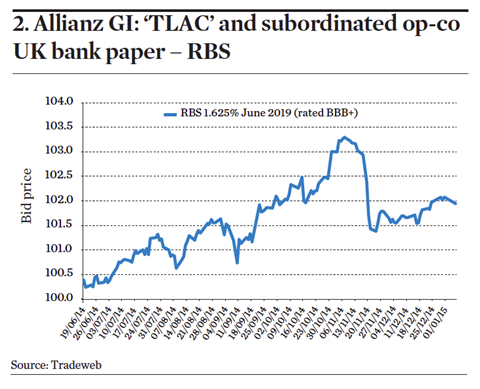 Senior
As well as agreeing on the basics of credit-risk exposure, our three strategists also agree on the other big macro call that corporate bond managers have to make – the financials allocation.
Union has 37% of its portfolio in bank paper, six out of its top 10 holdings are banks and most of its UK and US country overweights come from this sector. Both the AGI and the PGI strategies incorporate explicit top-down risk assessments, both see the allocation to financials as important expressions of their views from that assessment, and both are increasing that allocation at the moment.
"Currently, we are overweight financials and are tending to increase this position due to the macroeconomic context, and ECB policies in particular," says Talavera-Dausse.
"We like European banks right now, as the ECB still has some heavy lifting to do to support them and the economy in general," Warrick agrees. France's BPCE is in his top10 holdings, and he cites its growing deposit base, improving capital structure and financial ratios, and healthy market access. "We expect considerable subordinated and alternative tier-1 issuance in Europe. We focus on the 'champion' banks, and think they offer value across the capital structure. We do think some of that value will be more readily recognised when the new issuance comes along, but we want to be positioned for some of that now."
Until recently, the bank capital structure trade was pretty straightforward; the consensus was that subordinated debt was the place to be as additional tier-1 issuance provided more and more of an equity-like cushion and the uncertainty over the fate of senior bondholders in the event of a resolution made investors wary of taking this 'bail-in' risk.
In November 2014, however, the Financial Stability Board published proposals for the amount of capital plus bail in-able debt that global systemically important banks should have to hold ('total loss-absorbing capacity' or TLAC) that offered much more clarity on which types of liability would be bail in-able and – crucially – where those liabilities have to be issued from and held within the bank's group.
While the details still need to be worked out, it now seems likely that senior bonds will be bail in-able only at the holding-company level of the group: in jurisdictions like the US, the UK and Switzerland, where banks tend to be split into holding companies and operating companies, this could have a profound effect on new issuance.
"We are positioning around the new TLAC regulation," confirms Talavera-Dausse. "Currently we are increasing exposure to subordinated bonds from UK banks, but only at the operating company level – not the holding company level. We are playing the expectation that UK banks will issue at the hold-co level but not issue any more bonds at the op-co level, leading to diminishing supply and probably total disappearance over the next couple of years."
Just as supply diminishes, demand for this legacy paper is expected to soar as investors seek its more solid protection against bail-in – even in the senior part of the capital structure they have spurned over the past three years.
"We tend to trade subordinated at the op-co level against senior at the hold-co level, but at the op-co level we still think there is some value available, even in senior, because of the diminishing supply," Talavera-Dausse explains. "We have already seen some widening of senior bonds at the hold-co level and tightening at the op-co level. We entered this trade early in the regulatory process, but it's a theme we expect to be much more visible through 2015 as we get more clarification on that regulation."
For Talavera-Dausse, this is largely a UK opportunity (AGI's top holding is a bond from RBS). At Union, Ertz's UK overweight is less to do with 'TLAC arbitrage' and more to do with early-issued contingent convertibles from the likes of Lloyds and HSBC.
However, while the op-co versus hold-co trade is technically restricted to UK, Swiss and US issuers, Ertz is convinced that a very similar dynamic will play itself out in the capital structures of other European banks, too. "In countries outside the US, UK and Switzerland we don't have this holding company structure in banks, but our view is that, at the instrument level, we will see more senior issuance at the op-co level that will have some kind of stamp in the contract itself to say 'This is TLAC-available'," Ertz explains.
"The new senior probably won't really be senior – in truth it will be a different animal – so what we are starting to do now is differentiate between different types of senior paper. In the light of the recent TLAC developments in legacy senior we have definitely changed our minds: it has become more attractive because it no longer has these easily bail in-able features. The problem is getting our hands on these old bonds because we are not alone in this view."
The coming months are shaping up to be very interesting for investment-grade credit managers. While the euro-zone periphery trade will probably continue to fade away, the fallout in energy could well go on spreading up from high yield and out from Russia, and the push-and-pull as markets try to price-in new TLAC regulation will certainly throw up opportunities across bank company and capital structures. Tight spreads need not be an impediment to generating alpha in this asset class.
Investing In Investment Grade Credit: A widening spread
1

2

3

4

5

6

7

Currently reading

Investment Grade Credit: Set for new trends

8