Capital markets are fluctuating between optim
Key points
The difficult end to 2018 changed the outlook for 2019
President Trump's trade and tax policies have added uncertainty to the market
Economic factors clearly have a differential impact on the credit markets dependent on sector
Liquidity presents a challenge for managers
Capital markets are prone to violent moves that overturn what, in hindsight, look like periods of complacency. That is certainly the case for the credit markets. The outlook at the beginning of 2018 was of global synchronised growth with the US Federal Reserve on a path for normalisation of monetary policy, and the European Central Bank (ECB) expected to follow alongside the Bank of England six months later. Now, the talk is of a synchronised slowdown or even a recession.
"Capital markets are going from one extreme to another and are too pessimistic for me," says Grégoire Pesques, head of global credit at Amundi Asset Management. Most surprising to him was the brutality of the global corrections in December 2018, when US high yield and US loans fell by 5%.
That has changed the outlook for 2019, which started with average spreads 70bp wider than the tightest levels of January 2018, says Pierre Verle, head of credit at Carmignac. After a strong rally in January 2019, average euro investment-grade debt at the beginning of February offered about 1.4% above risk-free rates, giving a figure of 1.2% in absolute yield as a result of the negative-rate environment in Europe, according to ICE indices. Average US investment-grade offered 1.3% above risk-free rates, which translates into 4% of yield says Verlé. But, as he adds, euro investment-grade yields, below 1.2% with almost five years of duration, are far from being attractive in absolute terms – they only look appealing relative to distorted and negative risk-free rates. Thanks to the repricing of 2018, spreads in Europe are wider than when the ECB started buying corporate bonds and one has to go back to 2012 to find a larger differential versus German Bunds.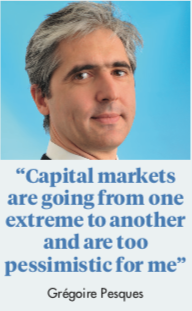 In contrast, yields on dollar investment grade debt, thanks to a small extent on the 70bps spread widening of the past year, and to a larger extent, to higher Treasury yields, offer a yield of 4%, while spreads at 130bps are in the middle of the post 2008-09 crisis range.
The two big macro factors are adding to the uncertainties of the marketplace. First, there are the trade and tax policies of President Trump.
Second, there is the political turmoil in Europe. The latter includes not only Brexit but the 'gilets jaunes' demonstrations in France as well as political uncertainty in Italy and Germany.
Trump's 2018 tax cuts had a knock-on effect on the short end of the US credit market, says David Torchia, a portfolio manager at Stone Harbor Investment Partners. US companies had kept large amounts of cash overseas invested in short-term investment-grade dollar credit. These bonds had a sell-off as companies repatriated cash on-shore, so spreads at the front end blew out.
LDI and IG bonds: questions of demand and supply
One possible source of demand for investment grade issuance is liability-driven investment (LDI). Given the high credit ratings and the ability to switch bonds if credit strength is seen to be deteriorating, it would seem to be a natural fit to match pension fund liabilities with investment-grade debt.
This is certainly the case in the US where, points out April LaRusse, head of fixed income investment specialists at Insight Investment, there is a reluctance to use derivatives to match liabilities.

"The only way, therefore, to have enough duration is to invest in long-dated corporate bonds as pension funds also want some spread," she says. "Investment-grade bonds are fine for LDI as long as you make assumptions on how many defaults on average there would there be in a portfolio and apply the appropriate haircut." Europeans, however, are more comfortable with derivatives and apart from state-backed entities such as Network Rail and quasi-sovereigns such as the European Investment Bank, do not generally include general corporates.
This pronounced difference in behaviour between the US and Europe, affects issuance since if there is less demand for long-dated corporate bonds in Europe, there are less incentives to issue them. The super-long end of the investment-grade credit market (that is, with maturities greater than 10 years) in the US accounts for 30% of the market, while in continental Europe it only accounts for 10%, although the UK does have a significant bucket of 15-year-and-over corporate bonds which have been taken up by pension funds. Ascribing reasons for the divergence may not be straightforward. "When it comes to derivatives versus investment-grade credits, which came first?" asks David Torchia, a portfolio manager at Stone Harbor Investment Partners. Have European investors been forced to use derivatives because of a lack of supply of long-dated corporate bonds? "In the US, given the large supply of long-term investment-grade credits that exists, there is a richer universe of long-term bonds available for LDI investors, so LDI investors did not necessarily have to become comfortable with derivatives," Torchia says. Moreover, he adds, the US public pension sector had no motivations at all to pursue LDI strategies, while the private sector has only more recently than Europe, begun to adopt LDI approaches.
In the UK and Europe more generally, corporate bonds would be kept outside the LDI hedge portfolio. Given the smaller universe available, the problem with using corporate bonds to give the required duration sensitivity for LDI hedges is that it severely limits which bonds can be bought. "The best way to invest in corporate bonds is to not be limited in choice through having a duration requirement," says LaRusse. Credit investments can be made based only on credit fundamentals while interest rate objectives can be satisfied using derivatives rather than choosing sub-optimal bonds.
Meanwhile, with Europe's economy more export-driven than that of the US, Trump's trade disputes with China and the rest of the world are a big negative factor, particularly given the disappointing growth figures for Europe throughout 2018. Torchia says: "Spreads were at a tight level due to technical factors such as the ECB's quantitative easing (QE) programme. Now the technical support is no longer there, spreads are under pressure."

Economic factors clearly have a differential impact on the credit markets dependent on sector. Verle points out that issuers in the energy sector, whose debt is essentially dollar-denominated, have already experienced an economic environment tougher than today's between 2014 and 2017. "The majority of the weak issuers of the sector have already defaulted, and those which haven't were moderately indebted, have reduced their leverage and adjusted their cost bases for a lower oil price environment," Torchia continues. There have also been many defaults in the oil services sector, which is even more sensitive to oil prices.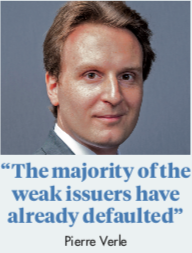 In other sectors, issuers relying on abundant and cheap financing, currently deemed as safe by the markets because of an investment-grade rating, despite a relatively high leverage, are at risk of being downgraded and seeing their cost of debt increase sharply. Issuers challenged by new technologies, who have not been able to deleverage during this boom cycle – notable examples being among food retailers, auto parts suppliers and old media broadcasters – are likely to come under threat when the down cycle adds to their structural problems.
Credit managers also face another challenge that, according to Pesques, severely constrains their strategies – liquidity in the marketplace (figure 1). "Every few years, fund managers discover liquidity is very low and the banks are not providing any – I am as much a liquidity manager as a credit manager," he says. For managers able to adopt medium-term views on investment-grade credit can have a competitive advantage by capturing the liquidity premium. There is no one perfect indicator to assess liquidity, as it is always changing in nature, says Pesques.
But recognising it is a key issue defining strategy. Tactical trading is difficult is you know you will not be able to easily exit a position. Having global portfolios is also advantageous since the US market is more liquid than the European. Pension funds and insurance companies that are able to make firm time commitments with their investment managers have an advantage over mutual funds offering daily liquidity.
Preference shares: attractive spread differential
For yield-seeking investors who want investment grade securities, the US offers one class of fixed-income asset not available in Europe – investment-grade preference securities, with the largest issuers being in the financial sector.
The closest European equivalents are contingent convertibles (CoCos), which fulfil the same function for banks of providing risk capital, but investment-grade Cocos are few and far between.
US preferred debt is over half of investment grade. "Rating agencies look at a company's credit quality and notch down for extra risks in the form of additional subordination and discretionary payments," says Jerry Dorost, a portfolio manager at Cohen & Steers. What makes them attractive is that 2018 saw a sell-off driven to a great extent, says the firm, by technical factors including a mass exodus from exchange-trade funds and mutual funds that had large exposures.
As a result, in January they were offering more than 150bp over yields on BBB rated debt and they usually trade in the range of 100-200bp over, he says (figure 2). During the global financial crisis of course, some preferred securities were impaired and Citigroup stopped paying coupons as the securities were converted to equity.
Investment Grade Credit: Veering between extremes
1

Currently reading

Investment Grade Credit: Veering between extremes

2

3