The global economy appears to be entering a period of greater stability and low volatility but risks remain for fixed-income investors
Key points
• Despite low volatility the market risk remains high
• Europe has not as yet seen any deterioration in corporate fundamentals that would normally be associated with the later stages of a credit cycle
• Central bank behaviour has become central to market expectations
The global economy is experiencing a cyclical rebound that is supporting valuations in corporate debt, argue bond managers. Even Europe looks as though it is finally getting out of a 10-year crisis.
Although there are still many political uncertainties, Hervé Boiral, head of euro credit at Amundi, sees Europe as entering a new era, with far more economic stability and lower volatility. But with spreads approaching historical lows with little dispersion, is there a danger of complacency?
The credit markets have dipped several times since the global financial crisis – the European crisis in 2011, the taper tantrum in 2013 and the US elections in 2016, according to Natalie Trevithick, head of investment grade credit at Payden & Rygel, an independent asset manager. But like most bond managers interviewed for this article, the firm is confident that current conditions are likely to prevail for at least a couple of years.
Andrea Iannelli, investment director at Fidelity International, says credit markets have had a good year. Spreads have tightened and central banks have been more accommodative than markets expected and there has been a lack of inflation and a lack of meaningful wage pressures. "Globally, there is a general sense of calm, with volatility very low as a result of the market believing the central banks will follow through on their very cautious behaviour," Iannelli says.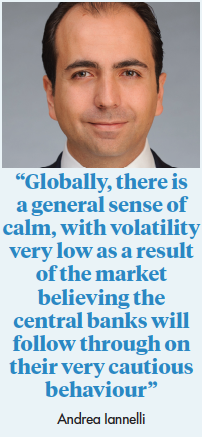 For fixed-income investors, the low volatility does have downsides, with high valuations and a low dispersion in spreads. Yet geopolitical risks remain high. The impact of quantitative easing (QE) has implications that might not always be obvious and could create hidden risks. "Twelve years ago, a CEO would typically tell me the cost of equity would have been between
10% and 12% and borrowing costs were about 5%," says Pierre Verlé, head of credit at Carmignac.
"Today, the equity costs would be similar but now the company can issue debt at 1-2%. This lower cost of capital has not yet penetrated the minds of most management teams for their investments, but they are under pressure from their boards
and shareholders to use this lower cost of debt."
That has led to some releveraging and a slight deterioration in ratings. As spreads have tightened, it is becoming a value creator for equity holders for companies to releverage, leading to a much larger share of bonds rated BBB, the lowest rating of the investment-grade universe, today than in the past.
But while leverage has increased, it has come at a time of dramatically low interest costs, so that there has not been an increase in event risk which would lead to a widening of spreads, argues Alfred Giles, head of corporate research at Payden & Rygel.
Europe has not yet seen any deterioration in corporate fundamentals that one would normally associate with the later stage of a credit cycle, says Iannelli. There has not been a meaningful pick-up in M&A activity yet, while European corporates have preferred to refinance their debt – extending maturities, reducing overall interest costs and increasing interest coverage – making the overall debt more manageable.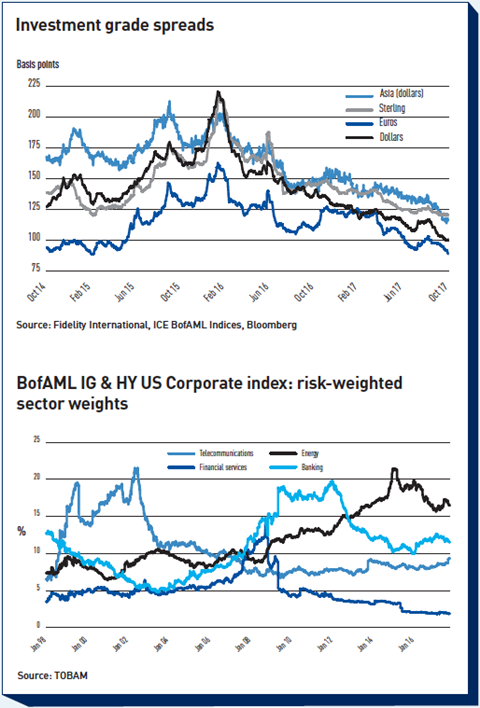 European Central Bank (ECB) purchases of corporate debt are keeping spreads low and even encouraging foreign companies, particularly US ones, to benefit by issuing in euros, says Boiral.
Fidelity is more cautious on the US where corporates will have to face higher funding costs as a result of the Fed rate hikes. US tax changes are likely to be beneficial for bond holders. Reducing taxation of repatriated profits in particular would be beneficial, with $300bn (€250bn) sitting in offshore investments by US companies which could be used to buy back debt. But, as Iannelli points out, much of the good news on the tax front is already priced in and the timing has still to be decided.
"The ECB and the Fed are the big players that are driving the corporate bond markets. The market expects both of them to behave in smooth, predictable ways"

Hervé Boiral
Issuance of new debt has been low, particularly in the US. A lot of the supply has been used to refinance existing debt and extend maturities and reshape corporate balance sheets without adding to leverage. In Europe, besides the ECB, corporates have bought back debt and the focus has been on refinancing, says Iannelli. "This is even more pronounced in European high-yield where net supply has been low and a number of corporates have been upgraded to investment grade. It has led to a shrinkage of the high-yield universe where over 70% is now rated BB, with the average quality much better than a couple of years ago."
The hidden danger for many investors, particular those sticking close to benchmarks, is that the low dispersions of credit spreads may mask the underlying risks in certain sectors. As Christophe Roehri, head of business development at TOBAM, points out, issuer-weighted corporate bond indices do not provide a neutral risk allocation. Weightings of sectors have varied substantially in the past and bear no relationship to any assessments of risks and rewards.
Spread dispersions have narrowed considerably over the past year. Certain sectors such as the auto sector and retail sectors have come under pressure, reflected in wider spreads. As Iannelli says, there are big changes in the retail sector where the traditional bricks and mortar businesses are being threatened by the likes of Amazon, with on-line competitors causing downward pressures on margins. Traditional auto producers are also facing challenges to adapt to a world where car ownership may look different from what it used to be because of car-sharing trends and developments in the electric car industry. But, as TOBAM said in the July 2017 issue of its Diversification Dashboard, spreads do not significantly discriminate between issuers and credit quality, with the overwhelming majority of the market trading within a few basis points: "Compared to other years in history, this lack of dispersion is remarkable. It is comparable in amplitude to 2006 and 2007, the years preceding the financial crisis."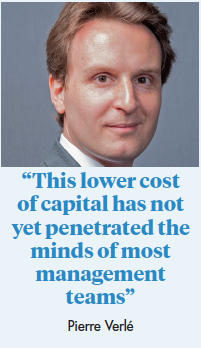 TOBAM also points out that there is a concentration in ownership of US credit. The top 20 managers own 30% of the investment-grade universe and close to half of the high-yield universe. "Market moves can therefore be driven by a limited number of managers, exacerbating the concentration of positioning and hence the risks of rapid unwinding of positions," TOBAM says.
If volatility and spreads all look unusually low, what should keep investors awake at night? Apart from the obvious geopolitical issues that hit the headlines, for Boiral the most frightening scenario would be an error by central banks. "The ECB and the Fed are the big players that are driving the corporate bond markets. The market expects both of them to behave in smooth, predictable ways," he says. As the taper tantrum showed, central bank behaviour has become central to market expectations. Yet QE has caused enormous distortions in capital markets and, many argue, are a prime factor in the rise of populist political parties in Europe and the US.
To hope that central banks will always act in a predictable manner in the face of political disruptions ahead, such as Brexit, may be optimistic. It is probably right to worry that we may be seeing the calm before a storm.
Investment Grade Credit: Will the global rally last?
1

Currently reading

Investment Grade Credit: Will the global rally last?

2