The shift to ESG has inadvertently led to divergence of opinion over the best metrics to use
Key points

There are several pitfalls to ESG ratings methodologies.
These include a lack of disclosure in some markets, a selection bias towards larger firms and a shortage of credible information
The US Business Roundtable now says it backs a fundamental commitment to all stakeholders
Institutional investors and asset managers are moving away from the shareholder value maximisation philosophy as famously espoused by Nobel economics laureate Milton Friedman in 1970. Instead, they are moving towards the recognition that corporations have duties and responsibilities towards all stakeholders affected by their businesses.
There is growing acceptance that businesses have to be sustainable for them to be acceptable to all their stakeholders. Indeed, recent surveys indicate that the vast majority of the millennial generation considers ESG when making investment decisions (see figure).
Large institutional investors are increasingly becoming advocates of ESG and sustainable investing. But the challenge for them is determining how to do so. This problem has been around for decades. John Elkington, a leading advocate of sustainability and most recently the founder of consultancy Volans, came out with the phrase "the triple bottom line" in 1994. He referred to "the three Ps": the first is the traditional financial measure of profit; the second relates to people, a measure of how socially responsible a company is; and the third relates to "planet" – a measure of the environmental responsiblity of a company.
Elkington's framework and similar ideas are effective in establishing a framework for thinking, but the problem for institutions lies in the huge variability of measurements.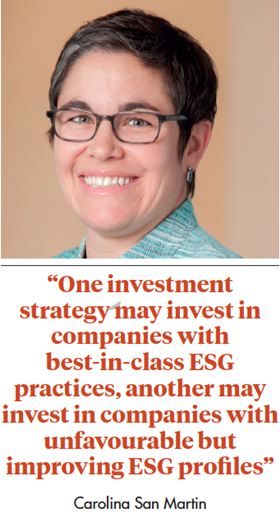 Jim Hawley, head of applied research at TruValue Labs, pointed out in a recent critique many of the pitfalls of ESG ratings as they stand. These include a lack of standardisation of approaches and hence of results with no comparability; a lack of transparency with rarely a full disclosure of methodology; geographical bias since, as ESG is more developed in Europe, there is a tendency to use these standards.
Neuberger Berman finds that the MSCI ratings are highly correlated with the level of disclosure of different markets. "If you look at a market like China, with relatively low levels of disclosure, average ESG ratings are low, whereas South Africa with high levels of disclosure has higher ESG ratings and you can extrapolate from there," says Jonathan Bailey, head of ESG investing at the asset manager.
Other problems include:
• a factor bias, as in some cases there is no transparency regarding weighting of various categories – for example, ethical versus environmental;
• a selection bias with, for example, a bias towards rating larger firms more positively as more publicly available information is available on them;
• trade-off problems in comparing different elements of ESG;
• a lack of credible information with the use for example, of corporate reports;
• a lack of independence between rating firms and indices they create.
A striking example of the lack of comparability can be seen in work produced by the Government Pension Investment Fund of Japan (GPIF) on comparing ESG ratings of Japanese companies by different providers including MSCI and FTSE. A scatter plot of ESG ratings of 430 companies produced by FTSE and MSCI shows zero correlation. "The problems of consistency will get worse as more and more entities enter the space for commercial reasons," says Elkington. There are already more than 600 products from over 150 organisations providing ESG data.
This raises the question of whether ESG rating providers are producing a flawed product. The answer, perhaps surprisingly, may be no. "I get frustrated with this debate as it starts off from the premise that there should be an objective truth that we can all agree on as to how sustainable one company is relative to another. That is just not how I think markets work," says Bailey. As he argues, there is no objective truth on what the fair value of a company is. There is a price discovery mechanism through market trading. "Our view is that there should be an analogous ESG discovery mechanism regarding how sustainable a particular company is perceived to be, what that company's management team should be doing to improve it and where they should be spending capital in environment activities."
"We are not using ESG data to define investments, but rather, what does the research tell us?" says Ben Constable-Maxwell, head of sustainable and impact Investing at M&G.
Moreover, as Carolina San Martin, director, ESG research at Wellington Management, points out, the way ESG is integrated into an investment strategy should determine how ESG metrics and outcomes are measured. "One investment strategy may invest in companies with best-in-class ESG practices, another may invest in companies with unfavourable but improving ESG profiles, and yet another may actively engage with portfolio companies to influence positive change to its environmental, social or governance practices." The value of the rating providers is not in the actual ratings, but as aggregators of data, providing investors with information in a clear and systematic way.
There are two purposes for integrating ESG into an investment process, according to Bailey. The first is when assessing the fair value of a security as holistically as possible, which means incorporating ESG data to give a fuller picture. "In that context, I don't care what any ESG provider actually says," Bailey says. The second is in identifying the impact externally of a company's activities and that is a different type of analysis.
Incorporating ESG data as part of the investment process in the context of the other risks and rewards associated with that investment is entirely different from getting an absolute objective view on whether or not a company is generating positive outcomes for people and the planet. "Sometimes this debate can conflate those two ideas. By doing so, it misunderstands how markets work and how investors use the ESG data," Bailey says. His view is consistent with many fund managers who are anxious to publicise their ESG credentials.
Firms such as Neuberger Berman can use data from dozens of ESG data providers including data from NGOs and activists looking at US campaign finance, for example. It finds that determining whether a company should have an ESG rating of BBB or AA is of no relevance.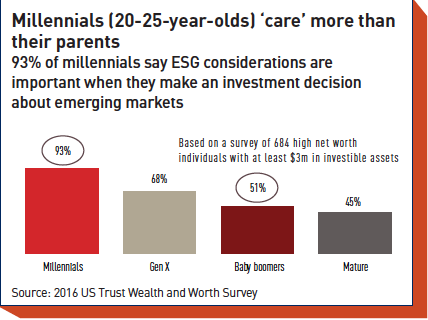 For many investors, the knowledge that ESG data has been used to better determine likely financial outcomes may not be enough. The influential Business Roundtable, which represents the CEOs of large US companies, issued a new Statement on the Purpose of a Corporation in August. It explicitly states: "While each of our individual companies serves its own corporate purpose, we share a fundamental commitment to all of our stakeholders." But to ensure that stakeholders interests are being advanced requires measurement of the impacts, both positive and negative, on the world outside that corporates are making through their activities.
A key differentiator between impact and other forms of responsible investment is 'measurability'. "This is one of the central tenets of impact investing, and also one of its most challenging aspects, especially so for investors in public equity markets where measurement can be less clear," says Constable-Maxwell.
For many, the trends seem clear. Capitalism, in their view, needs rejuvenating if it is to be able to tackle the most intractable problems of the world today such as climate change, pollution and extreme inequality. That means removing a narrow focus on shareholder value maximisation.
For companies to be operating in a sustainable manner, the total value of the impacts, both positive and negative, they are having on the world needs to be measured. Benefiting shareholders while not paying for polluting the environment is no longer considered acceptable. But to ensure that is being done means measuring the impact of corporate activities on all stakeholders. That may be difficult, and few firms are as yet equipped to do it well. But perhaps there is no alternative.