Firms are under competitive pressures as the market for investment research takes shape
Key points
MiFID II introduced a market for investment research in Europe
Asset managers have had to decide whether to pay for research internally or pass on the cost
The average decrease in research budget since MiFID II is 6.3%
Investment banks appear to be cutting analyst numbers
Respondents say MiFID II is not improving outcomes for end-investors
The European financial services industry underwent its biggest regulatory overhaul in more than a decade with the introduction of the revised Markets in Financial Instruments Directive (MiFID II) in January 2018. The legislative package introduced significant changes to investment firms and financial markets, including enhanced 'inducements' rules governing the payment for investment research.
The changes to portfolio management inducements rules disrupted the provision of investment research. Under MiFID II, providers of research, such as investment banks and brokers, are required to set prices and charge for research separately from trading costs (commissions and spreads). Investment management firms – users of research – have had to determine whether to absorb the cost of research or to pass on those costs to clients. The changes broke the historical business model of investment firms bundling research with transaction costs, which are deducted from the client's account.
The nascent market for investment research has undergone a period of price discovery, with research providers seeking to establish prices for different research products and services, and investment managers developing research budgets that align more explicitly with the investment strategy being pursued. A key business decision for investment managers has been to determine whether to pay for costs internally (against the firm's profit and loss) or to pass costs on to clients (by way of a research payment account). As investment managers have calibrated their budgets, research providers have had to adjust pricing estimates and to consider the scope of coverage across asset classes, sectors, and geographies.
One year on from the introduction of MiFID II, CFA Institute sought to assess the state of the research marketplace through a survey of investment professionals. It set out to gauge the industry's perceptions of the impact of the rules on research budgets, costs, quality, coverage, and other aspects, building on work undertaken with buy-side investment professionals published a year ago.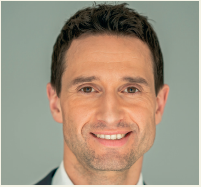 This approach enables a comparison of market expectations before the introduction of MIFID II with perceptions of the research marketplace one year into the new regime. The latest survey also incorporates the view of sell-side professionals in addition to buy-side professionals to provide an industry-wide perspective. Sentiment among investment management professionals revealed by the survey portrays several drawbacks with the MiFID II regime for investment research.
Survey results
In the months leading up to the introduction of MiFID II, industry professionals observed a general trend toward firms opting to pay for research (charged against the firm's profit and loss) as opposed to charging clients and our 2018 survey data affirm that trend (figure 1). The clear majority of respondent firms pay for research, which holds true across all assets under management (AUM) size categories.
With clients (asset owners) of large investment firms expecting research costs to be paid by their managers, competitive pressures have forced most asset managers to absorb research costs. An additional factor behind the decision of firms to absorb these costs is the administrative convenience of doing so. Firms that opt to charge clients must establish research-payment accounts, which carry additional regulatory requirements. Furthermore, booking the research cost against the firm's profit and loss may confer certain tax advantages.
Since the introduction of MiFID II, there has been little evidence of investment firms increasing their management fees to compensate for the absorption of research costs, which typically amount to a few basis points of AUM. This outcome is largely positive for end-investors, but it implies additional margin pressure which most likely will be felt by smaller firms, which incur proportionately higher research costs per unit of AUM, suggesting a potential competitive tilt benefitting large firms.
To understand the effect of MiFID II on research budgeting, we asked: how has your firm's research budget changed since the introduction of MiFID II? Across the full sample of buy-side respondents whose firms pay for research, the average decrease in research budget is 6.3%. The reduction in budget, however, increases with firm size: for firms managing more than €250bn of assets, the average budget reduction is 11%, whereas for firms managing less than €1bn of assets, the budget change is negligible.
With firms absorbing research costs, these results suggest a greater focus on profitability and efficiency with regard to research procurement, and potentially a scaling back of the number of research inputs and external providers used to support a firm's investment strategies. The disparity in the size of budget reductions between large firms and small firms may allude to the ease with which a firm can substitute externally procured research for in-house research.
Other possible factors behind the budget reductions include a narrowing of the scope of what constitutes 'research' under the inducements rules as well as tax considerations with research being invoiced separately from other brokerage services. More generally, against the backdrop of rising demand for passive investment products and strategies in relation to active strategies, firms may need marginally less research to support clients' investment objectives.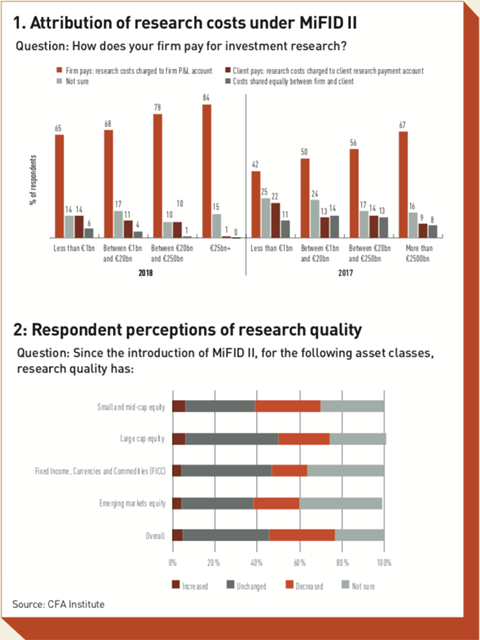 The results also suggest independent research providers have not benefitted much from the introduction of MiFID II. More transparency and separate pricing of research are intended to create a more level playing field among research providers, yet it appears independent houses have not been able to grow their market share. As bulge-bracket investment banks have cut prices to maintain client business and squeeze competitors, independent providers appear to have realised little, if any, market share gains at this stage.
We next sought to determine the opinions of both buy-side and sell-side professionals on research quality and research coverage, respectively, under MiFID II. The results are shown in figure 2.
Across all asset classes, less than 10% of respondents on both the buy side and sell side say research quality or coverage has increased. Moreover, the results show a perceived reduction in research quality and coverage for small and mid-cap equities which, if sustained, could hurt liquidity and capital formation in that sector.
Overall, the findings suggest that research provision is retrenching and focusing on the large-cap segment. Investment banks also appear to be scaling back analyst headcount, with most of survey respondents opining that there has been a reduction in sell-side analysts employed.
Finally, we asked survey respondents whether MiFID II reforms are delivering better outcomes for end-investors. A clear majority of respondents answered negatively, which suggests that, at this stage, MiFID II is not meeting its principal objective in the eyes of the industry. This result also points to general industry discontent with the disruption to business models and practices as well as the significant compliance costs associated with implementing MiFID II.
On the positive side, however, a relative majority of investment professionals surveyed perceive the research marketplace to be more competitive overall, which perhaps reflects the extent of cost pressures and changes to research pricing, at least in the short run.
Conclusion
The survey findings suggest a competitive tilt favouring large firms as research budgets and profit margins come under pressure from client demands, increased competition, and business model disruption.
These competitive pressures are best illustrated by the findings that asset managers are overwhelmingly absorbing research costs against their profit and loss, and they are scaling back research budgets accordingly. In turn, sell-side firms are recalibrating analyst coverage. Overcapacity in the supply of research is being removed, but it is an open question as to whether an equilibrium has been reached that serves the best interests of end-investors.
Rhodri Preece, CFA, is head of research at CFA Institute
Thought Leadership: Investment in the age of geo-economics
1

2

3

Currently reading

Investment Research: MiFIDII – a year of adjustments

4

5