MiFID II is affecting smaller company research in unexcepted ways
Key points

22 months since the introduction of MiFID II there is no consensus on its impact on small and mid-cap research
Buy-side research budgets have already been slashed and face further cuts
Coverage is steady but this could be the result of increasing an individual analyst's coverage or farming out to junior analysts
A reduction in SMID coverage will lead to reduced liquidity
The EU's MiFID II directive came into effect in January 2018, but its effects on European small-cap research remain uncertain. Two reports in particular get referenced regarding these effects and they have diametrically opposed findings. MiFID II: The Search for Research, a survey conducted by small and mid-cap (SMID) broker Peel Hunt, found 62% of investors were reporting that less SMID research was being produced and 86% expect there to be fewer broking houses in the next year.
On the other hand, a report by investment research firm Hardman & Co found "coverage of small-cap stocks and UK Alternative Investment Market (AIM) companies has bucked the broader post-MiFID II trend so far", with coverage of main market small caps and AIM companies increasing by 15.6% and 7.9%, respectively.
The UK is by far the biggest single country weight in the MSCI Europe Small Cap index at 32%, ahead of Germany at 11%.
Andrew Bailey, CEO of the UK regulator the Financial Conduct Authority (FCA), has said "the evidence is, so far, inconclusive," but that it "does not suggest the dramatically negative impact that some predicted". While he notes that research budgets have fallen by about 20-30%, he also reports a reduction in charges incurred by investors in UK-managed equity portfolios of about £180m (€200m) last year, and that analyst coverage levels on the London Stock Exchange Main Market and on the Alternative Investment Market "have remained broadly consistent".
Regulators are mindful of the potential damage to SMID coverage, and are playing wait-and-see. The European Commission has itself commissioned a survey, Impact of MiFID II on Investment Research. This concluded over the summer and is yet to be published.
Schrödinger's broker
What, then, is happening? Are we in a quantum world of Schrödinger's broker, where SMID analysts can be simultaneously increasing and decreasing in number until they are counted by the European Commission?
Steve Kelly, CEO of the European Association of Independent Research Providers, says the two contending research pieces "are a reflection of the situation, as it's still unclear as to what effect the law has had", and adds that regulators will wait before they take any action, "although I suspect these conclusions will still be unclear".
One reason for this lack of clarity, Kelly says, is because "it's hard to determine any reduction of analyst numbers, or whether brokers are reducing costs by increasing the number of stocks and analyst covers, or passing coverage to more junior analysts".
A further complication, he says, is that there has also been a secular decline in analyst coverage over the past 20 years, "so regulators have to determine not only if coverage has changed, but also whether or not this is down to MiFID or other previously existing factors".
But for Henk Slotboom, managing partner at Dutch independent research provider, The Idea, there is no doubt as to the legislation's effect: "We've noticed that the number of analysts is falling rapidly. In the Netherlands, it has decreased from 170-175 before MiFID II to less than 70 now." Slotboom points to the recent announcement by Dutch bank NIBC that it would change its focus on a few sectors to a pan-European basis only, from one of Dutch stocks.
"We're seeing coverage on UK small-cap companies dropping, and feedback from institutional clients suggests that it's not affecting just quantity but the quality of research," says Hester White, head of client strategy & CRM at Peel Hunt. "Small-cap companies has always been an under-researched area, and MiFID II is exacerbating the situation as buy-side cost-cutting is leading to brokers shrinking their research teams."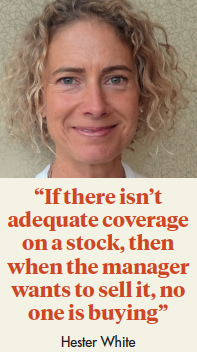 While headline numbers are, on balance, static, says James Ridgewell, co-founder of research firm Hiddensee Research, "this obscures key dynamics". As a result of the well-documented contraction in their revenue, research houses are responding with joint brokerships, "so, although the headline number of brokers is the same, more will be conflicted, reducing the independent research available", says Ridgewell. As a result, he says, stock notes are getting shorter, and a deep analysis is in decline.
Slotboom says that this is having a negative impact on the 130 stocks to cover in the Benelux region. "You might think that's doable. But most of the research undertaken is simply maintenance: there's hardly anything in terms of fundamental, in-depth research being done, which is what we were set up to do," he says, adding, "We're starting to feel like the last of the Mohicans."
White has also noticed that many brokers are reacting to lower research payments by moving to corporate-sponsored research. Regarding this development, Slotboom says: "Sponsored research is all very well, just so long as you're sure that you can tell your side of the story. If you write a report that's all rosy, but turns out not to be true in 12 months, what's the point in sponsored research, even for the company?"
This reduction in genuinely independent research is leading to sell notes on small companies becoming rarer, says Ridgewell, who notes a "trend towards the 'juniorisation' of research, with broking firms under pressure to delegate companies to less experienced analysts, or to get senior analysts to cover more companies". He says that the deterioration of the quality of research may be contributing to the number of blow-ups occurring in the small-cap space, pointing to that of Goals Soccer Centres, an operator of small-sided football pitches, as "in the past, small cap analysts could identify anomalies such as lack of cash conversion, and bring them to investors' attention."
White emphasises the negative impact of research budget cuts, as portfolio managers are being forced to decide which brokers they continue to pay. She says: "They have to make tough choices as buy-side research budgets are being cut even further – we are hearing about 10% reductions for the coming year," White says investment institutions are drawing up "beauty parade lists", with many smaller brokers losing out, adding: "the squeeze will continue".
Lobster pots
This squeeze may result in lower liquidity and increased volatility. Research on analysts and stock liquidity finds that "stock turnover is positively associated with the frequency of coverage" as "more analysts following a firm result in a production of more information available about the firm and then result in higher stock liquidity".
"Fund managers need their stocks covered by analysts to promote liquidity," says White. "If there isn't adequate coverage on a stock, then when the manager wants to sell it, no one is buying." This increases the danger of what Ridgewell calls "lobster pots" – companies that are easy for investors to get in, but hard to get out.
"For companies, lack of coverage means that visibility is a dilemma," adds Slotboom. "The dilemma for pension funds, on the other hand, is that they cannot invest in a company that doesn't have analyst coverage." He says The Idea is "working on a solution" on how coverage can be maintained.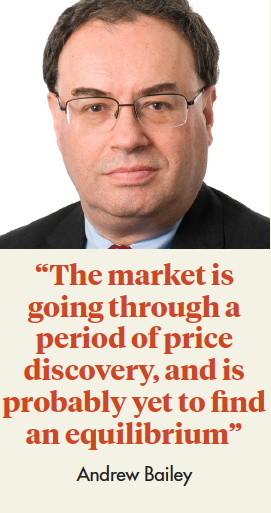 Reduction of coverage might not only depress liquidity, it could deter companies from listing publicly. "After all, why go to market if you're covered by just one broker?" says Kelly. This, alongside the increase in private equity funding, represents an incentive for companies to stay or go private, he says.
It is questionable whether alternative funding will adequately fill this vacuum, because the impact of small-cap research on a diversified portfolio will be commensurately small. "The buy-side, such as pension funds, can pay €15,000-20,000 for an in-depth research report," says Slotboom, explaining that each side of a 30-page report can take four hours of an analyst's time, so "if you've got a stock with a cap of €100m and you buy 5%, the cost of the research relative to the investment is high – it's too much."
Ultimately, this is a question of how much bang for their buck an institutional investor can expect for such research. "There is a cost-benefit issue for the end investor, in that if a small cap doubles in value, it might add 0.01% to my portfolio," says Kelly. "That's great, but I'm going to be much more concerned with what Glaxo does."
As Bailey notes, "the market is going through a period of price discovery, and is probably yet to find an equilibrium". What, then, might this equilibrium look like, and what support can be given for SMID coverage? Exchanges could provide money to pay for one or two brokers to cover a stock, suggests Kelly. However, he reiterates, "regulators want hard evidence before they draw any conclusions".
In the best of worlds, it may be that all will be well. But the weight of opinion is that even if the quantity of SMID coverage is maintained, it can only be at the expense of quality and liquidity.
Investment Research: The small-cap research squeeze
1

Currently reading

Investment Research: The small-cap research squeeze

2

3

4