---
Denmark's ATP leads investment returns with 29.5% gain
Top five Dutch funds in positive territory but earned less than 2016
Developed and emerging market equities posted strong gains last year
In a year full of records for equity markets, European pension funds posted positive results – with most improving on their 2016 investment returns.
The standout performer was ATP, Denmark's biggest scheme. Its portfolio posted a 29.5% return. Almost a third of this gain was down to the performance of the fund's Danish and overseas equity allocations.
Christian Hyldahl, ATP's chief executive, said: "The strong performance is due to positive contributions from virtually all asset classes, which has made it possible to increase pensions for all members, while also being able to build up our bonus potential by DKK17.3bn."
ATP, which uses a risk-factor approach to manage its investment portfolio, produces results not easily comparable to other pension funds because it is able to operate in a hedge fund-like manner.
Fellow Danish funds PFA and Danica also posted double-digit returns for the year, with some customers in more adventurous portfolios seeing returns of 13.5% and 12.3%, respectively.
PFA said it planned to increase its exposure to alternatives, having gained 7.1% on this asset class in 2017. This planned expansion was on top of the DKK13.5bn (€1.8bn) it had allocated in 2017.
In the Netherlands, the country's five biggest funds rode the equity market rally to improve their funding levels and reduce the likelihood of having to cut pension payouts.
Civil service scheme ABP led the way for the top five Dutch funds, increasing its funding level by almost 10 percentage points on the back of equity and real estate returns.
PFZW, the Netherlands' healthcare workers scheme, suffered losses on its insurance portfolio (-13.3%) due to the hurricanes that hit the US last year. The scheme also had to write off millions on structured loans, following an adjustment of the valuation model. It nevertheless booked a 5.1% return overall.
Building sector scheme BpfBOUW added €3bn to its asset base due to an investment return of 6.4% for the year. Equities gained 10.9% while its sizeable real estate allocation added 9.9%.
PME, one of two giant metalworkers' schemes, recorded a 15.3% return on its equity investments. However, its liability-matching portfolio – which accounts for almost half its assets – lost 2.8%. PMT, the other metal industry fund, gained 4.1%, having also lost money on its matching portfolio.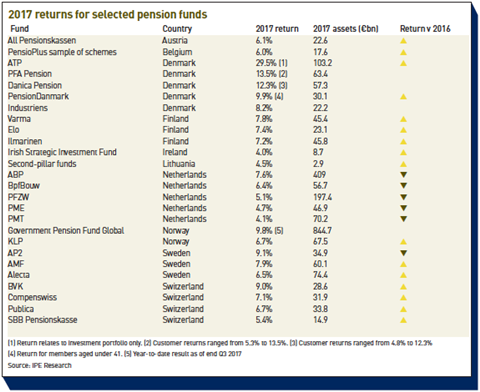 Finland's pension insurers registered impressive returns on their private equity portfolios last year. In common with most European funds, Ilmarinen's equity portfolio was the main input to its 7.2% return.
Unlisted equities contributed a 26.8% gain, the company reported. Ilmarinen's overall return was boosted by the 6% gain registered by Etera, the smaller rival it bought last year.
The purchase of Etera saw Ilmarinen overtake Varma, which for years has been Finland's largest pension provider by assets. While Varma gained 7.8%, its assets reached €45.4bn at the end of December – just behind Ilmarinen's €45.8bn.
Varma also recorded a strong private equity performance. Directly held unlisted equities and co-investments produced the highest return, generating 18.5%, while its allocation to private equity funds gained 7.9%.
AP2 was the first of Sweden's buffer funds to report its 2017 results. Its emerging market equity allocation gained 20.6%, while developed markets and Swedish equities also posted double-digit returns.
The SEK345.9bn (€34.9bn) fund has overhauled the investment strategy for its internally managed equities – 29% of its overall portfolio. It created a pair of multi-factor indices in a bid to improve returns and take more account of environmental, social and governance matters.
Eva Halvarsson, chief executive of the Gothenburg-based pension fund, said the fund had been working "intensively" in the area of sustainability in 2017.
She said: "An important step in integrating sustainability as part of the investment decisions is that we have continued to implement ESG in the global equities asset class in our internal quantitative management.