The way UK pension schemes receive investment advice could change following an investigation by the financial regulator
Key points
• The UK Financial Conduct Authority has finalised a study of asset management and investment advice.
• Pension schemes may be in jeopardy owing to low levels of competition between advisers.
• The FCA plans to refer the matter to the Competitions and Market Authority.
• The findings should prompt pension schemes to scrutinise their advisers.
The UK Financial Conduct Authority's (FCA) examination of the asset management market is pushing pension funds and investment advisers to rethink their relationship. The regulator has found evidence of low levels of competition, as well as a conflict of interest in the investment advice sector. Pending further evidence, the FCA may regulate the way pension schemes receive investment advice. Trustees will need to ascertain whether or not their advisers are putting the pension fund's interests first.
The FCA's findings did not come as a surprise, as the way investment advisers and fiduciary managers acquire and treat pension funds has been under scrutiny for years.
The evidence is detailed in the FCA's Asset Management Market Study, a comprehensive 18-month review of the asset management market. The study found that the UK investment consultant market is "relatively concentrated" and that pension schemes rarely switch between providers.
According to the FCA, investment consultants are unable, on average, to recommend managers that outperform, and do not appear to drive price competition between managers. The regulator highlighted the lack of a standard framework to determine the performance of consultants. This means investors cannot assess well enough whether consultants are providing good quality advice and value for money.
The report emphasised the FCA's concerns about fiduciary management, a sector where the regulator worries that a conflict of interest is not being managed properly. This occurs when firms offer both investment advice and fiduciary management, and advise their clients to switch to a fiduciary management model.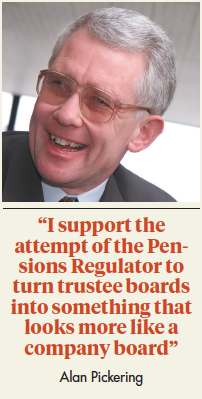 The report added: "Fiduciary managers' performance and fees appear to be among the most opaque parts of the asset-management value chain. A lack of publicly available, comparable performance information on fiduciary managers also makes it hard for investors to assess value for money."
However, the FCA says the findings are not conclusive, and is deciding whether to refer the matter to the UK's Competition and Markets Authority (CMA) – a decision is expected in September, but it seems the FCA will call for the CMA to conduct an investigation.
In July, the Pensions & Lifetime Savings Association (PLSA), the main association of UK pension funds, said it supported a CMA investigation of the sector. The PLSA said some of its members had "consistently expressed their concerns about the potential misalignment of incentives in the industry", although many were happy with the service they received from consultants.
There no guarantee the CMA will find strong evidence of a poorly functioning market, and in reality there are at least two separate issues for the CMA to clarify. On one level, there is competition between firms for generic investment advice mandates. Then there is competition for fiduciary management mandates, which only a handful of investment advice firms offer. These vertically-integrated firms compete for those mandates with fiduciary management specialists and asset managers.
Three: a magic number?
The dominance of three firms – Aon Hewitt, Mercer and Willis Towers Watson – is seen as evidence of a lack of competition for general investment advice mandates. The FCA estimates the market share of the three firms is about 56% based on revenues; other sources say it might be lower. Less prominent firms, however, have grown revenues organically in recent years, which shows the market power of the big three firms is being challenged.
Redington, the UK's fourth largest consultant, which has grown significantly since its launch 10 years ago, has said a CMA investigation is not needed. Dan Mikulskis, the firm's head of defined benefit (DB) pensions, explains: "We think there is evidence that competition for mandates is alive and well. The growth of our firm is evidence of that. Innovation in certain areas, as well as the quality of thought leadership, also show that the industry is competitive." Other firms, such as Punter Southall, have made strong calls for a CMA investigation.
Many would argue that a market where it is nearly impossible to compare products is inherently uncompetitive. Richard Butcher, managing director of PTL Trustees, says: "The problem is the quality of the supply, which needs to be improved. The FCA has found that consultants are good at doing due diligence on fund managers. However, there is no sensible way yet of measuring the quality of investment consultants' recommendations. At the moment, it is difficult to assess whether there is correlation between recommendations and improved performance."
He adds: "What we need is a consistent and agreed methodology for measuring the quality of investment consultants' advice. There need to be agreed performance metrics."
Lack of competition is more apparent in the market for fiduciary management mandates. The 'big three' consultancies took most of the 719 fiduciary mandates in the UK, according to a 2016 survey by KPMG. Many clients of these firms have appointed them as fiduciary managers without an open tender. As a result, these pension schemes may have entered fiduciary management arrangements without properly analysing what is on offer in the market.
Some dismiss the idea that the conflict of interest is hurting pension schemes, as trustees are aware of it. According to KMPG, last year 33% of appointments of fiduciary managers in the UK were advised by an independent third party, compared to 23% in 2015. Many pension schemes recognise that independent third-party advice in appointing and monitoring fiduciary managers is useful. But as Anthony Webb, head of fiduciary management research at KPMG, puts it, awareness varies from scheme to scheme.
Webb explains: "There is a massive range, from trustees who are really on the ball in terms of regulation, legislation and latest investment thinking and those who are less up to speed. And even for trustees who are really engaged, there is still a question mark in terms of how to engage with a fiduciary manager."
According to the FCA study, it is not just the dominance of the big three providers that is making the fiduciary management market work badly for pension schemes. There are also problems in how advice is being delivered.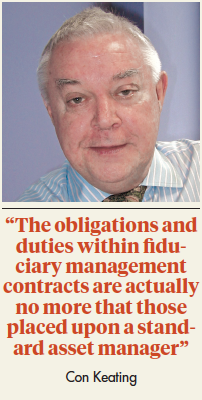 Butcher says: "Fiduciary management is not defined in law. No two products are the same. All products embody broadly the same concept – the delegation by a board of trustees to an external third party of the day-to-day decisions around investment. But because there is no standardisation of term or of service, it is very difficult for any buyer to buy knowing what they are buying."
He adds: "Furthermore, there is an awful lot that happens beneath the surface of a fiduciary management mandate that is not always made clear to the legal owners of the assets. That creates significant amounts of risk."
Butcher recalls what happened at a pension scheme on which he serves as trustee. He was surprised by the response when he asked how many counterparties were involved in the multi-billion-pound fiduciary management contract the scheme had with one of the large consultancies. "It took 10 weeks to come up with an answer, and the answer was that 140 counterparties were involved in the authorisation or auditing of movement of cash," he says.
Butcher was astonished by the response. With such a high number of counterparties involved, it is difficult to understand who has legal liability and whether there is value leakage.
He concludes: "Most trustees don't appreciate they have that level of complexity within their fiduciary mandate. To be clear, that particular firm is doing a cracking job for us. They are well ahead of their target as measured relative to the value of liabilities. I just don't know whether they could be doing a better job."
Undertakings in lieu
Getting independent advice when appointing and assessing a fiduciary managers is good practice, according to Webb. But there is no agreement on whether regulation would improve competition. Besides, change will occur even if the CMA investigation does not find evidence of a damaging lack of competition.
The big three investment advice firms have already implicitly committed to changing their practices. In February the firms submitted 'undertakings in lieu' (UIL), or voluntary measures that would ensure better competition. If adopted, they argued, such measures would render the CMA's intervention unnecessary. However, their bid to avoid what they see as a costly and time-consuming CMA review was not considered strong enough. Christopher Woolard, the FCA's executive director of strategy and competition, wrote to the firms saying the regulator was not confident the UIL would solve competition issues in the market. Only a CMA investigation, he said, would identify and remedy the potential issues.
Tim Giles, head of UK investment consulting at Aon Hewitt, says the firm did not necessarily expect the UIL to be accepted. Nevertheless, they were put forward to assist with the regulatory discussion.
Now that the UIL have been made public, the industry has glimpsed what the future of investment advice and fiduciary management may look like. The three firms proposed that schemes are encouraged to regularly review and tender out investment advice contracts. They showed willingness to publish more information about the managers they recommend. They emphasised they are in favour of standardised performance and fee reporting for fiduciary management services. They are also willing to better manage the conflicts of interest in fiduciary management.
Furthermore, the big three consultancies have shown support for the FCA's proposal to bring investment advice under the regulator's control. This was one of the FCA's main statements of intent in its study. The outcome of the decision depends on the results of the CMA investigation. But regulation of investment advice to pension schemes could have dramatic consequences.
Lack of detail
The regulator has not offered much detail of how a regulatory framework for investment advice would work. It could mean designing and enforcing standards that investment advisers have to comply with. This already applies to actuaries, who operate within a framework that is similar to other regulated professions, such as lawyers.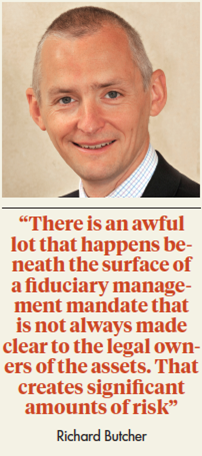 Giles points out that his company already complies with FCA rules in many areas of its business. These rules are applied evenly across the board, including investment advice, which is yet to be regulated. Other firms have also showed support for the proposal.
The prospect of regulation is often met by scepticism from practitioners. Bart Heenk, UK country head at Avida International, says regulation of investment advice may have adverse effects. "A lesson from regulating the banking industry is that a client-focused mentality is replaced by a compliance-focused one. Regulated entities may shift their focus away from their real purpose, which is providing proper advice to their clients. Regulation also increases costs. If advisers have to build a large compliance department, guess who is going to indirectly pay for that."
Some trustees are equally sceptical. Marc Boone, head of pensions asset management at HeidelbergCement, which has several UK schemes, says: "The investment consulting industry benefits significantly from regulations that appear to be the products of regulatory capture and serve largely to drive business to the consulting industry. I am sceptical that more regulatory influence will swing things more to the favour of the client."
Alan Pickering, chairman of independent trustee firm BESTrustees, says: "The last thing that the pension sector needs is more regulation. What we do need is a more robust buy-side line up. Therefore, I support the attempt of The Pensions Regulator (TPR) to turn trustee boards into something that looks more like a company board, so that the trustee boards will vigorously manage their subcontractors, whether those subcontractors are asset managers, consultants or a combination of the two."
He adds: "Regulation can often have unintended consequences and can staunch innovation. I think that those consultants who want to sell fiduciary management should have the confidence to subject their offering to the scrutiny of an individual consultant. There is already evidence that this is happening."
However, ensuring that trustee boards are challenging advisers adequately is a huge task for the Pensions Regulator. "There is a long tail of schemes that do not crop up on the regulator's radar," says David Weeks, co-chair of the Association of Member Nominated Trustees (AMNT), an association representing about 700 pension schemes with over £650bn (€712bn) in collective assets.
Trustees may not be challenging advisers strongly enough. "The worry is that the standards of knowledge in those schemes are not as good as they should be, and these schemes should be investigated more thoroughly. In some schemes, lay trustees do not apply critical judgement to the advice they receive, and that is not a good system in our view," adds Weeks.
He says the members of his association are at the "upper end" in terms of knowledge, according to the Pensions Regulator's standard, the Trustee Toolkit. The association, he adds, intends to work closely with the regulator to make sure trustees have the right skills.
According to a survey of AMNT members, three quarters say they understand what advisers talk about. However, members were split on cost and charges, with half saying they were too high. "There is a bit of a feeling sometimes that advisers do not listen to the trustee," Weeks explains.
Wide-ranging discussion
In any case, the FCA's work has prompted a discussion that will probably reshape the way pension schemes receive investment advice and hire fiduciary managers. Although the FCA's report was focused on the UK, the discussion is relevant to pension schemes in other countries.
The question goes to the heart of what investment advice to pension schemes ought to be. Con Keating, head of research at Brighton Rock Group, points out that, although UK trustees are required by law to appoint advisers, there is no formal definition of what constitutes investment advice. Regulation is simply necessary, argues Keating, if advisers are required to put their clients' interest before their own. "The challenge to investment advisers is to behave as professionals," he says.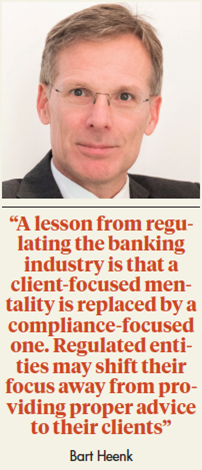 When advice becomes fiduciary management, the duty of care to clients becomes even stronger, says Keating. But at present fiduciary management mandates do not mean any additional fiduciary duty. "The obligations and duties within fiduciary management contracts are actually no more that those placed upon a standard asset manager," he explains.
"The problems come from the fact that consultants have seen that earnings from traditional investment advice are imperilled by the sharp decline of the DB pensions market. It is a situation where it may be impossible for them to make the same profits they did in the past. This is why the model many of them have chosen wholeheartedly is to manage the assets themselves rather than advising on strategic asset allocation or similar areas," says Keating.
Ultimately, the KMPG survey suggests that the fiduciary management industry is certain to grow further. It also suggests the way pension schemes approach fiduciary management in the UK is already changing. However, the concept is still controversial.
Boone says it adds an unwelcome layer of abstraction between trustees and investments. "It makes it much harder to assess value for money," adds Boone.
"I have heard all the arguments for fiduciary management, including how it might reduce costs, but a lot of the benefit will likely be captured by everybody but the client. As for performance, you will get reasonable results, enough perhaps to discharge your fiduciary duties as a trustee. But you will essentially be buying into the middle range of what can be extracted from the markets, so it is your call if that is really value for money."
Boone adds: "If the competition in the fiduciary management space is heating up, it is because there is significant opportunity to make money there."
With such a complex set of circumstances in the industry, it is hard to predict the outcome of the FCA's investigation. It also remains to be seen whether regulators in other countries will follow the FCA's example and investigate investment advice and fiduciary management in their markets.
However, it is likely that firms, particularly international ones, will be asked to apply the same standards to clients outside the UK.
Other countries, however, show how regulating the buy-side has achieved results. Avida's Heenk says: "In the Dutch pension market, the regulator has increased the requirements in terms of what constitutes a good board of trustees. Trustee boards should be able to judge and appraise value for money they are getting from any supplier. If the trustee board in aggregate is not sufficiently equipped, the pension regulator can actually take strong action and ask to change the composition of the board or to look for other solutions, including closing your pension fund."
Heenk says: "The regulator has become a lot more demanding of trustee boards as a whole, which has led to a lot more transparency and quality from suppliers."
Investment Solutions: No turning back
1

Currently reading

Investment Solutions: No turning back

2

3