IPE's 2015 investment solutions survey explained
A wide range of services can be defined as 'solutions' by asset managers, from multi-asset funds to full-service fiduciary management, with partial mandate outsourcing or one-off projects in between.
IPE's annual survey focuses on the constellation of services around investment delegation by larger institutional clients and the defined value chain surrounding that. There is a clear division of specific services into three groups:
• Strategic advice, including fiduciary management;
• Investment implementation, which includes manager selection and portfolio construction; and
• Governance-related services like oversight or funding level reporting.
But many other services could be included within the constellation of solutions services. A recent report by Greenwich Associates* lists solutions and "outcome products" including multi-asset, absolute return and target date funds, risk management and liability-driven investments, longevity hedging and fiduciary management.
Greenwich Associates research demonstrated that relations institutions considered to be 'advisory' in nature are more durable. No wonder most asset managers have identifiable teams working in dedicated units. These range from those focused on pooled multi-asset funds, typically with a small team with a large AUM figure and client base, to larger teams, possibly with over 100 members, focused on an international and institutional client base. Dutch pension managers are included in the survey. Having evolved from the in-house management operations of the large pension funds that are still their beneficial owners, they dedicate their entire resource to serving a small number of large pension funds.
Large pension funds are transforming the way they use managers under the mantra that 'less is more'. For explicit governance reasons, funds like APG have reduced the number of external parties (often private equity managers) they deal with. CalPERS recently announced it was seeking to reduce the number of direct relationships with real estate, private equity and other managers from 212 to 100.
Railpen, which is featured in our Special Report on Pension Fund Governance in this issue, has undergone an investment transformation project that will involve a reduction in the number of asset manager relationships. "What we want is intellectual capital sharing," says Paul Trickett, chairman of Railpen Investments. "We want to have managers with whom we are able to work and who are not disintermediated, who are not prevented from talking to us and sharing ideas."
For Spence Johnson, the UK-based consultancy, asset managers divide into two groups – solutions providers and product specialists. The former are the large groups with dedicated teams to advise clients; the latter are smaller managers whose strategies, or funds, may be selected either for multi-asset funds or as sub-advisers in a fiduciary management arrangement.
The Greenwich Associates report highlights the challenges for asset managers in creating solutions-orientated teams. These include personnel issues – securing the right talent; operational and technological issues; hiring the right sales people and, not least, turning a profit.
JP Morgan Asset Management (see case study below) runs separate teams for defined benefit (DB) pensions, defined contribution, insurance clients and sovereign wealth funds, with dedicated DB specialists in different global markets, recognising the need for local expertise.
While it may be hard to make the economics work for a solutions team, at least at first, the benefits of a consultative approach to investment management are not confined to a single, one-year P&L. Asset managers want to learn from their clients and think they can apply that learning to other clients, or will be able to derive new products or approaches from what they learn.
A familiar problem is the disintermediation of asset managers where institutions appoint a manager for a specific mandate or project with the intention of exploiting their intellectual capital and taking the activity in-house later or setting up a new in-house capability from scratch.
The path to a client-orientated relationship is not a straightforward one for managers. For investors, the proof of the pudding is in the eating. But, unlike single-strategy funds or mandates, whose performance can be isolated and analysed, the outcomes of solutions may well be less tangible and best evaluated over the longer term using more qualitative criteria. As Railpen's Trickett says, this business is as much about the quality of the relationship as the quality of outcome.
*From Products to Solutions: The Evolving Role of Asset Managers, 2015
Case study: JP Morgan Asset Management
"First and foremost, 'solutions' are about showing you have the capacity to engage and build something that is designed around the client's requirement. Our industry to a large extent has been product led. We have built a product, marketed it, and the client has had to work out how to use it to solve their problems. The wholesaler, retailer or institution is pushing its requirements back on us. This is putting the onus on us to speak their language. We need to build technical skills in two areas as an industry.
"First, we need to offer technical expertise relevant to specific clients. For pension funds it is pensions actuarial knowledge; in insurance it's specialised accounting, regulating, reporting, legal and compliance support; and for some of the big sub-advisers in the US it's about what they require for their clients. Ultimately a lot of this translates into asset allocation. Therefore, as an industry, we need to build asset allocation teams. Some may be active asset allocation teams, total return or yield-oriented multi-asset. Others will be asset allocation advisers.
"So when we are sitting with a big sovereign wealth fund or insurance company we are usually working with them as to the asset allocation that best suits their requirements, given their technical issues. But it's also about being able to engage with them on asset allocation issues that don't necessarily translate to any solutions product.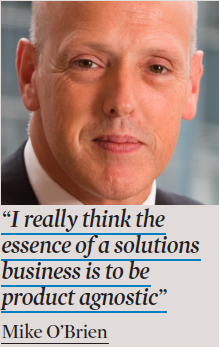 "For instance, if our pensions advisory team is working with a pension fund and we win a mandate off the back of that, then that's fine. A lot of solutions will have a line of sight between the engagement point and a multi-asset mandate. But I really think the essence of a solutions business is to be product agnostic.
"Second, we need to change the habit of a lifetime in our industry by doing more listening than talking. That is a change in mindset for us towards being more consultative. The real success we have found in solutions is having the analytical capabilities and the willingness and bandwidth to engage and learn, and to debate the client's issues. That is not easy because with a pension fund 80% of the conversation could be around the pension obligations, the nature of the funding level, the driving factor of the funding level volatility, interest rates and the current state of the markets.
"Now we are finding that the engagement piece is becoming more important, and a lot of pension funds and insurance companies want to talk about asset allocation in the context of their liabilities and, more importantly, in the context of today's market. I think there are new challenges because you are getting close to the client, working with them to customise strategies that reflect their requirements.
"We see a lot of the biggest investors in the world starting to become more selective in terms of the number of close relationships they have with managers. Such strategic partnerships constitute solutions in my world. They work very well for us in terms of having insight into how the client is thinking and we learn from that, especially in Asia and in the US. Where consultants tend to be more dominant you tend to find that strategic partnerships don't work."
Mike O'Brien, co-head of global solutions and CEO of investment management, EMEA