The investment industry has successfully lobbied against many new requirements in the investment tax reform law. Barbara Ottawa says it might not be so fortunate in the future
At a glance
• The amended investment tax law could affect investment decisions.
• There is change for Spezialfonds but some inconveniences.
• The definition of preferential investors is widened.
"A lot has happened, but simplification was certainly not part of it," says Michael Schneider, CEO at the German real estate service KVG IntReal.
He is referring to the amendments made to the Investmentseurerreformgesetz (InvStRefG) currently before the German parliament. Following changes to the tax regime for investment funds, for instance in the wake of the implementation of the Alternative Investment Managers Directive via the Kapitalanlagegetzbuch in Germany and legal proceedings based on tax, the government has decided to overhaul the exisiting investment tax law.
Among other amendments, a capital gains tax is introduced on all domestic gains from investment funds – with some exceptions, especially for certain institutions – to pre-empt possible EU proceedings against tax inequality between domestic and foreign investment fund returns.
Before Christmas a revised expert draft was published after an initial proposal published in July 2015 had led to industry criticism. And this February the government presented its final draft for a parliamentary vote. Most of the provisions of the InvSTRefG are scheduled to come into effect from 2018, although some might come into effect earlier.
Interested parties are still hoping for amendments. Thomas Richter, CEO of the German investment association (BVI), agrees the final draft is heading in the right direction but says some details need correction – especially when it comes to Spezialfonds and the administrative burden placed on them. At least, the originally intended introduction of a tax on gains from domestic derivatives in Spezialfonds was staved off.
Schneider agrees that some of the tax calculation and notification burden has been transferred from the finance ministry to investment funds and their service providers like KVGs (capital management companies). "Luckily, products like the Spezialfonds still remain attractive enough not to affect demand just from a tax point of view", he adds.
Regarding other provisions, Andreas Drtil of Willis Towers Watson, says: "It might make little sense to force investors into decisions and hold German equities in the dividend season solely based on tax issues rather than market developments," he says.
A loophole that the new law aims to close is the practice of lending German stocks around the dividend ex-date to German domiciled investors, so-called cum/cum trades. This is done by foreign investors unable to gain a full tax credit with respect to German dividend taxation (KESt) of 25%. This will no longer be possible as it will become mandatory for investors to hold a security for at least 45 days within a 91 day period around the time of the dividend payout in order to be able to credit KESt on dividends. However, the legal provision also stipulates that during that time investors have to prove they are exposed to an economic risk in those investments of at least 30%, which might be complicated for institutional investors with hedging, or overlay, structures in place.
"Luckily, products like the Spezialfonds still remain attractive enough not to affect demand just from a tax point of view"
Michael Schneider
If the law goes through according to the February draft it might be less attractive for Pensionsfonds to invest in open-ended mutual funds as they do not qualify as preferential investors. The latter category includes church organisations, non-profit foundations as well as Pensionskassen – with respect German real estate gains – and support funds (Unterstützungskassen). The latest draft was amended to include Versorgungswerke (professional first pillar funds) as preferential investors.
Pensionsfonds are not among the preferential investors as these vehicles are not tax exempt under German law, while the other retirement vehicles are. To exempt Pensionsfonds from income tax for mutual funds (Körperschaftsteuer or KöSt) would create a problem on an European level because foreign pension funds similarin structure to Pensionsfonds could demand the same exemption.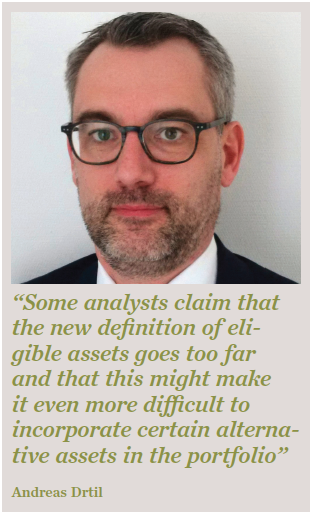 While those preferential investors will be completely or partially exempt from the 15% KöSt which is to be imposed on some German gains under the InvStRefG, Pensionsfonds are unable to credit KöSt paid at the fund level. "Mutual fund investments would hence become less attractive for Pensionsfonds from a tax perspective", explains Drtil.
So from a tax angle, Spezialfonds will be the choice for Pensionsfonds rather than mutual funds. But smaller changes to the taxation of Spezialfonds could create difficulties. Under the new regulations, it will be harmful for some Spezialfonds investors to have fund-of-fund constructs with more than two layers. "This might become complicated for some Versorgungswerke with often multiple segments to account for the different needs of incorporated smaller Versorgungswerke which all have different asset allocation needs," Drtil points out.
Another limitation on investment might derive from the narrowing of the definition of securities under the taxation rules for Spezialfonds. "Some analysts claim that the new definition of eligible assets goes too far and that this might make it even more difficult to incorporate certain alternative assets in the portfolio," says Drtil.
Another inconvenience for Spezialfonds investors might be the introduction of a tax on some accumulated profits when they have been 'parked' for an unlimited number of years. Now these accumulated profits are to be taxed after a period of 15 years.
For chartered accountants and auditors times might also get tougher as they are to determine whether tax-motivated trades have taken place and are to be made liable for these assessments.
Overall, however, Drtil expects Spezialfonds and institutional investors to suffer little direct impact from the new regulations. "A lot of the work and costs will lie with the KVGs", he says.
At the time of writing, lobby groups and industry representatives were still combing through the draft to try and bring further amendments in the parliamentary sessions scheduled to take place before the summer.
Pensions in Germany: The joys of negative rates
1

2

3

4

5

Currently reading

Investment Tax Reform: A simplification gone wrong